I don't know about you but I've always enjoyed the TV adverts were the grouse trots on screen to the same familiar music and proves to us all why the Famous Grouse is so Famous.
The grouse is those ads is actually called Gilbert and represents the brand across a range of platforms, from bottles to adverts and even on twitter.
Most recently he is making an appearance on the Famous Grouse's latest release Mellow Gold.
The Famous Grouse's own Master Blender Gordon Motion has carefully put this blend together.  It was created with the aim of introducing fans to a subtler and sweeter blend than the Famous Grouse itself.
And that has certainly been achieved!
Like most of the Famous Grouse's expressions, the malts in this blend have been matured in charred American oak Bourbon and Spanish Sherry casks.
The emphasis here has been placed on first fill Sherry barrels, with the liquids being given that bit longer in these particular casks.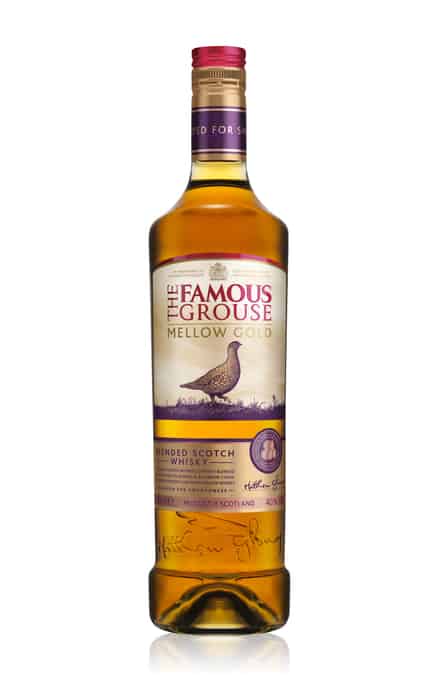 The use of mellow in the name is very apt, as this is a smooth and tender expression that just begs to be compared to its more refined siblings.
It comes out strong in that comparison, brimming with the desired sweetness and just enough fruit to make it feel like one of your five-a-day.
The nose opens this dram with an obvious dash of Sherry.  It is sugary sweet and filled with ripe, juicy fruits.
There is a heavy hint of desserts, from a vanilla sponge to black forest gateau all covered with thick, creamy custard.
Each of these brings their own little additional flavour that gives for a richly complex drink.  The vanilla has a spicy note that comes directly out of the oak wood while the black forest gateau emphasises the crisp cherries with a sweet marzipan flavour.
These flavours are all given a dramatic boost on the palate and the extra time spent in those Sherry casks really comes through.
The sugary sweetness of the nose becomes a rich, thick caramel that gives an excellently smooth mouth feel.  This is drizzled over ripe green apples and pears, with a slight hint of banoffee in the background, complete with a biscuit base.
The sweetness develops into a wooded spice, filled with cinnamon and nutmeg, dusted over tangy citrus fruits.  Orange comes through quite strongly and emphasises the great spicy warmth.
The sweet and spice harmonise wonderfully with the pungent fruits and make for a mouth-wateringly lovely dram.
The casks play a big part in the palate and you can really taste the Sherry oak coming through at all points.
The finish wraps up well with a long linger.  The spicy vanilla makes a final appearance and intertwines with the caramel sweetness to end this fantastic journey in flavour!
This is a mellow and easy-going dram that ticks all the boxes of a very fine blend.
If you're looking to spice it up even further then the Famous Grouse suggest is be paired with lemonade and slice of orange to bring out its tang and full fruity body!