With just a few days to go until Father's Day 2017, thought I'd put together a little round up of my top whiskies for Father's Day 2017, on the off chance that you have not bought your dad something yet - there's still time!
This year's Father's Day will be my first as a father myself, bit of a strange feeling as my own father passed away twelve years ago so is one of the plethora of 'Clinton Cards days' that I have not really had to deal with, or remember for a very long time!
But this year is different now that our boy, Archie, is with us as now I assume that I will be being treated to something nice so figured you should be too.
Bottle cost: £60.79
There is something special about Aberlour, I often think it is underrated, or at least not spoken about enough in whisky circles. For me, their range shows what can be done with whiskies of different ages and vintages aged in sherry casks, mostly without breaking the bank.
The Aberlour A'bunadh in particular is stunning, A'bunadh has a hefty ABV and is bottled in batches, but do not be put off. This is a great value dram that has been matured in first fill sherry casks that packs a punch; a full-bodied palate, meaty, lots of dried fruits and dark Christmas fruits. Scrumptious. In case you were wondering, it is pronounced "ah-boo-na".
2. BRUICHLADDICH THE CLASSIC LADDIE SCOTTISH BARLEY WHISKY GIFT PACK
Bottle cost: £60.00
Beautiful presentation box containing the Wee Laddie collection 3 x 20cl Classic Laddie, Islay Barley & Port Charlotte Scottish Barley. Three fantastic examples of what the hardworking stills at Bruichladdich can make.
Found on the rough rocky shore of the isle of Islay, Bruichladdich is very proud of its seaside home and seeks to emulate that in its Whisky. It creates smoky malt filled with brine and sea air in unpeated, heavily peated and super heavily peated editions. Part of the effort to capture Islay and its Scottish roots is found in the distillery's Scottish Barley Range, which explores the effect of using different variations of barley on the final product.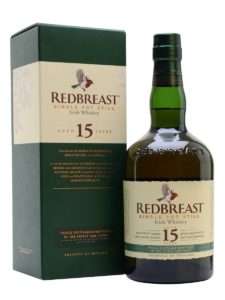 3. Redbreast 15 Year Old Single Pot Still Whisky
Bottle cost: £76.95
One of my absolute favourite Irish whiskies, a seriously good whiskey with oomph and finesse in equal measure.
In their words: One of the most decorated Irish whiskeys, Redbreast is the largest selling Single Pot Still Irish Whiskey in the world. Regarded as the definitive expression of traditional Pot Still Irish whiskey, Redbreast dates back to 1903.
Bottle cost: £76.95
This is an exquisite expression. Just like its siblings, this is an easy-going dram that still offers a complex and exciting palate. The nose begins with a kick of honeyed sweetness and a slight citrus tang. There is also a biscuity malted quality that chimes perfectly with the zesty citrus. These flavours are exploded in the mouth. The sweetness becomes a full-bodied vanilla with herby notes of heather and basil. The citrus expands and becomes lemons, limes and candied oranges that burst over the taste buds.
The malt remains subtle and somewhat delicate, but definitely has a presence. It combines with delicate wisps of smoke to create the perfect dullness to complement the piquant citrus fruits. The honey of the nose returns in the finish, which is gentle and lasting. The lemons and limes dissipate slowly and leave a fresh reminder of this complex and intricate dram.
5. The Dram Team Father's Day Tasting Set or a Six Month Subscription