The 36th release in the Midleton Very Rare collection, this is a highly sought after dram and an excellent addition to the line up.
Created in 1984, the Midleton Very Rare series has always been much lauded by whiskey lovers. The quality of the blend is always the very best and the collection stands out as one of Ireland's proudest whiskey achievements.
Let's get this out the way; I'm a big fan of Midleton and Midleton Very Rare, in fact the 2014 bottling was one of my wedding whiskeys, with a lot of it consumed by the wedding party and myself throughout the weekend, and even today, a few years later, I enjoy a drop of that same bottling on our anniversary each year after whatever we are doing to celebrate another year of marital bliss… or survival.
So when an invitation email popped into the inbox saying that in a few weeks there was an event happening at the Midleton distillery to celebrate the launch of the Midleton Very Rare 2017 whiskey and new brand aesthetic (bottle, label etc.), I was so excited that I cleared the diary and accepted the invite before before reading the line that said I was supposed to wear a suit & tie for the event so neglected to pack one, ending up in nice jeans, shirt and tweed jacket, oops.
Anyway, the weeks passed and I found myself in Midleton for the launch. Owing to a pretty fortunate flight schedule from Manchester to Cork, on the way out anyway, I ended up at the Castle Martyr 5* Hotel & Spa mid-morning so I got to chill out, hit the pool, steam room and sauna, have a nice lunch and then get on with work and whatnot… not your average start to a press trip, but wow it did not have an average finish either, but we will get to that.
After what felt like too long an indulgence, the welcome drinks began, which is when I discovered my aforementioned attire issue. What a welcome we were treated to, a glass or two of either Midleton Barry Crockett Legacy or Midleton Dair Ghaelach, which were stunning, and to be enjoyed in such esteemed company as the fantastic IDL brand and production team as well as Charlie Maclean, Colin Hampden-White, Dave Broom, Nate Brown of The Merchant House of Fleet Street and Matt Chambers.
A little while later, after some incredibly positive and encouraging words on my first book, The GreatDrams of Scotland from Charlie and Colin, which was both heart-warming and very kind, we headed to the Midleton Distillery for a walk through one of the warehouses to meet up with Billy Leighton (Master Blender), Brian Nation (Master Distiller) and Barry Crockett, (Master Distiller Emiritas) for an introduction to the evening and the brand.
And why was this such a momentous night? There are only four full sets of the Midleton Very Rare collection left in the IDL archives / warehouses, and we opened one on the night to sample, discuss and be enlightened by, and there is apparently some regret within IDL that more were not kept back for archival purposes.
As they introduced the night, we enjoyed a glass of the very first Midleton Very Rare, the 1984, arguably the world's first luxury Irish whiskey which was so soft, notes of raisins and soft ground spices, banana. The palate was waxy, oodles of treacle. Lovely with a velvety texture, exuding notes of juicy pineapples and cloves, soft and smooth with stunning spices. What a start, what a toscan.
From there we were split into groups and sent off to bays made out of casks within the warehouse to sample some of the gems from the Midleton Very Rare vault. The set of whiskeys I was fortunate to go through with Brian Nation included: Midleton Very Rare 1986, Midleton Very Rare 1996, Midleton Very Rare 2001 and Midleton Very Rare 2014.
Interestingly, when we went through the decades, we saw a step up in complexity due to the availability of stronger aged stock components that have been included within the blend as it has progressed over the years.
Midleton Very Rare 1986 – limited to 400 cases
The nose was spicy, lovely toasted oak with pangs of vanilla and a slight lemon citrus and sharp pineapple notes, with the palate opening up those toasted vanilla oak notes into a creamy, silky, luxurious whiskey packed with pot still spices, especially cinnamon and a currant-y fruitiness. So much more depth than the 1984.
Brian noted that the blend was made from nine to eleven year old whiskey, and noted that they were all screw cap until 1990 when they went to cork closures.
Midleton Very Rare 1996 – limited to 4,000 cases
The blend for this one is a step up, including whiskeys aged between thirteen and twenty years old, and because of this increased age and maturity we experienced a more mellow, apple-fresh nose that was so much softer, a really light nose and a slight blackcurrant note, like a fruit juice with a whiff of menthol. The palate was like one of those Umbongo fruit juices from my childhood, lots of coconut, pineapple, kiwi and a slight honey note and an overall fresher, greener whiskey with only a hunt of spice.
Midleton Very Rare 2001 – limited to 4,000 cases
Might be worth moving on from this one. As agreed by the whole group, we think it was corked, or at least oxidised. Shame, not even water could resurrect it, but all good as the others were stellar.
Midleton Very Rare 2014 – limited to 6,000 cases
Containing whiskey aged between fifteen and twenty-two years, and Brian's excitement at this being his first exudes through, like a beaming, proud lion. The nose again brought notes of toasted oak, honey and sweet fruit, but was quite muted. The palate was creamy, sweet, spicy with cinnamon and liquorice, with subtle honeycomb notes on the back palate. Lovely, luscious.
Brian took some time to tell us how the recipe is set each April, with bottling taking place in July. All the Midleton Very Rare releases are woven together from ex-bourbon cask matured whiskey, and it has been like this from day one.
Now for the main event. The Midleton Very Rare 2017
For this release Brian Nation nosed and sampled 400 of the best barrels within the complex and vast array of warehouses within the distillery site to choose the top twenty-four to blend together into 8,000 cases for this release.
A point to note on Midleton Very Rare is that I believe it has been overlooked somewhat over the years as it has, to a degree, looked tired, dusty and not had a lot of attention from the IDL management in nuancing and updating the look and feel of the product until now, which is a shame as it is a big success in terms of creating a luxury sub-category within the Irish whiskey market. But now, with all the renewed chat about single pot still it is going to get to its right place.
Midleton Very Rare 2019 Vintage Edition
The latest edition to join the Midleton Very Rare collection is an especially interesting one. For the 36th year, Midleton have released a Vintage blend, made up of rare and exclusive Single Pot Still whiskies and Single Grain whiskies. Each has been set aside at the distillery in anticipation of this release and the finished results is excellent.
The youngest whiskey in the blend is 13 and the oldest was first distilled in 1985, making this the oldest expression in the Midleton Very Rare range.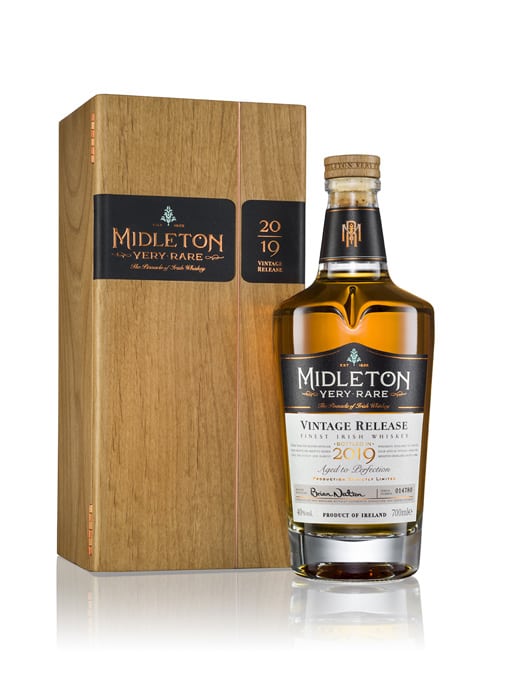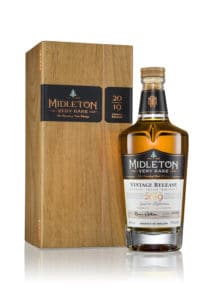 Tasting Notes for Midleton Very Rare Vintage 2019 Blended Irish Whiskey
Bottle cost: €180.00
The nose is wonderfully sweet and luxurious. Notes of sweet caramel, vanilla and oak come through, with lots of bold fruit flavours. There is a richness to the aroma, with hints of spicy cinnamon and nutmeg.
The palate is full of oak wood and fruit, with delicate hints of floral notes in the background. Apples, pears and apricots brighten up the flavour and go perfectly with a thick caramel note. The body is warming and smooth.
The finish brings in final notes of oak and a lovely vanilla note.
This is another brilliant addition to the Midleton Very Rare family. The legacy of two Irish whiskey Masters is solidified in this bottling.
Do you enjoy the Midleton Very Rare collection? Start the conversation in the comments