From the underrated Bladnoch Distillery comes a 10 Year Old that is full of character and sophistication.
Scotland's southern-most distillery
Based in Wigtownshire, Bladnoch is the most southerly distillery in Scotland. They are relatively small and have an intriguing past.
The distillery was first founded in 1817 by brothers John and Thomas McClelland. They had it licensed in 1825 and the distillery enjoyed a relatively easy life for a number of years after, despite changing hands a number of times.
By 1983 it had ended up under the ownership of Arthur Bell & Sons and then United Distillers Group, who eventually mothballed it in 1993. It had been in and out of business for a long time, having been shut during the war, as many distilleries where. In 1993 it was passed on to Raymond and Colin Armstrong, private owners who worked on it for years before reopening in 2000.
Unfortunately, the Armstong's did not own it for long and not a lot of malt was produced during their tenure there. Bladnoch again changed hands in 2015 when Australian entrepreneur David Prior bought it.
In two years the distillery was producing high quality malt and a new range of exciting whiskies was released.
Bladnoch 10 Year Old Single Malt Lowland Scotch Whisky
One of those was the Bladnoch 10 Year Old, which is one of the distillery's flagship malts. This excellent bottling ia an example of the expertise at Bladnoch and the quality of the malt they produce.
This malt is a great exploration in both spicy and sweet notes. It has been matured in ex-Bourbon casks, giving it a wonderfully diverse flavour profile.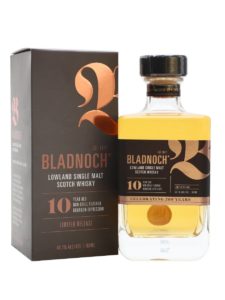 TASTING NOTES FOR BLADNOCH 10 YEAR OLD LOWLAND SINGLE MALT SCOTCH WHISKY
The nose opens with dashes of honey and heather, giving it a lovely floral note to begin. There is a delicate hint of fennel and mint, bringing in a nice refreshing edge.
The palate is full of citrus fruits and more floral notes. Lemons, oranges and limes give an excellent kick to the flavour. You can really taste the caramel notes of the bourbon barrels here too. Vanilla and oak wood also develop into a lovely cinnamon and nutmeg spice.
The finish is strong and warming, with more cinnamon and vanilla.
This is a brilliant expression from a distillery that has been given a second (or third, or fourth) chance at life. We're looking forward to see what else comes out of Bladnoch Distillery.
Do you enjoy Bladnoch malts? Let us know your thoughts in the comments!