I was recently at a whisky conference, yes they exist, and one of the most fascinating talks was by Erik Juul-Mortensen on global travel retail, or GTR for those of us in the trade, below are my notes and thoughts on one of the most lucrative marketing & sales channels available to whisky brands.
Formerly a loss-leading branding exercise but now it is expensive but highly lucrative for brands and immensely immersive for consumers. 
A global distribution channel worth over $60 billion. The biggest emerging market. 
Why? 
Travel is becoming affordable for millions of families in India, China and all over the world so now brands are investing big time in installations as they are seeing huge opportunities for brand exposure and getting known in new markets. 
Defined: Duty free means the sale of brands and products without the local taxes, so excise tax included but local sales taxes do not apply. 
Travel retail was a term created around 1999 to describe the sales of products in a travel retail environment where local taxes do not apply even if travelling locally between EU countries. 
Modern duty free industry born in 1947 with the opening of duty free shop in Shannon, Ireland as this was a big hub for trans-atlantic refuling of planes. 
1947 – $0.2million
1960s – $65million
1985 – $6billion
2015 – $60billion 
Air France pioneered in flight duty free sales in the 50s and the first land-side duty free store was in Seoul during the 1970s. 
9/11 hit GTR sales really hard, took 12 months to return to pre-attack levels of revenue, attempted attacks between UK and US meant a clampdown on liquids, also impacting the industry's revenues. 
US GTR seems a lot more sluggish than Asia and Europe, the offer there is still a little behind with a vast difference to Asia and Europe. The American duty free consumer still does not quite get GTR as the area is referred to as 'sterilised zones' and gate delivery can be prohibitive as people don't necessarily trust it as they have had the tactility taken away. 
Wines and spirits have a 16% share of revenues. 

Airports makes up 57% of revenues ($35billion) of sales. 

Asia is the biggest region 

Europe highest sales of £3.8billion

Whisky accounts for 4 of the top 10 sold brands in GTR

If duty free was a country, it would rank 16th in terms of 9-litre case volumes. 

Over a million cases of Scotch whisky bought in 2013

For brand owners looking to reach premium oriented customers, GTR is a lucrative marketplace.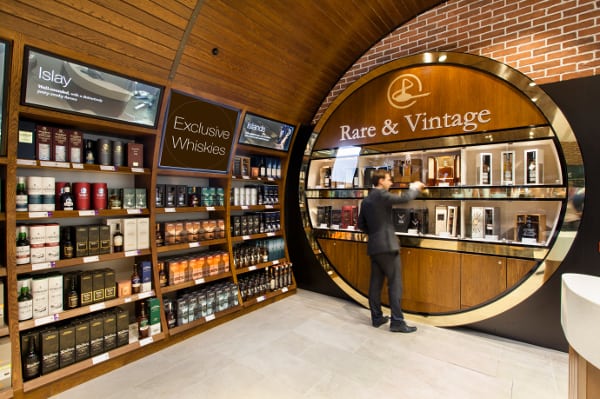 Passengers take a different frame of mind, regardless of being on business or personal trips, when entering an airport they are swayed by pack design and opportunity to gift colleagues, family or even themselves. 
Pricing has traditionally been an important part of the duty free equation due to savings on tax, particularly where alcohol tax can be high. 
That and 1 litre bottles vs. 70cl and 75cl on the high street. 
What travellers increasingly see are product propositions that they cannot find at home; GTR exclusives that expose them to different expressions of their favourite brands or encourage take up of a new brand. 
Many brands use GTR and travel retail as a test market for product innovations as well as brand activations with a captive audience willing to spend time taking brand messages in, driving sales and awareness in both great and quirky activations. 
They also have time to interact with difital displays and read print communications. 
Their natural propensity to trade up and brand owners appetite for premiumisation are pushing prices high but noteworthy to remember that many new travellers are migrant workers and the emerging middle class who are just as interested in entry level products with authenticity as seeing these huge brands delivering something at the super-premium end. 
A much higher traveller penetration of 37% than traditional retail but a lot more can be done. 
Millennials see shopping as entertainment and expect engaging elements to each shopping trip as they have made the effort to move away from their screens to venture in to a store so seek a reward for their efforts. 
Can travel retail flex and communicate differently depending on time of the day to match mood perameters of flight times? 
Breath-taking activations are the exception rather than the rule. 
In the face of terrorism, conflict, disease and economic uncertainty, GTR and travel tourism has grown at 3-5% pa for decades so there is scope for optimism. 
Customer base 1.1billion in 2014 (+4.7% yoy growth) so the base for sales growth is there and strong. 
Receptive. 
Relatively affluent. 
Engaged. 
Brands can take advantage of an economy that has grown exponentially since 1947, is a great testbed for new innovations and is only going to become more and more important for revenue growth going forward. 
The recommendation? 
Go in carefully, not a scattergun approach. Also use GTR as market testing as much as revenue generation.