Rather poetically named, Stjärnrök, or "Star Smoke" in English, is another exciting release from Swedish distillery Mackmyra.
Mackmyra first opened in 1999 and were the first whisky distillery to open in Sweden. They led the way back then and today they are leading the way again, with lots of interesting releases and collections.
Stjärnrök is part of their Seasonal Collection but they also have a core range and the Moment Collection. In the Moment Collection, each cask has been handpicked by Master Blender Angela D'Orazio.
The Seasonal Collection is a range of seasonal whiskies, with two released each year. Stjärnrök Single Malt is part of that range and was released in September of this year.
The name means Star Smoke and refers to the beauty of the Swedish skies, where this smoky, mellow whisky gets its inspiration from. Like a lot of Mackmyra whiskies, the maturation process is intriguing and includes time spent in Oloroso, Bourbon and American Oak casks. There are some really well developed sherry notes here, with excellent sweetness, all wrapped up in the delectable Swedish malt.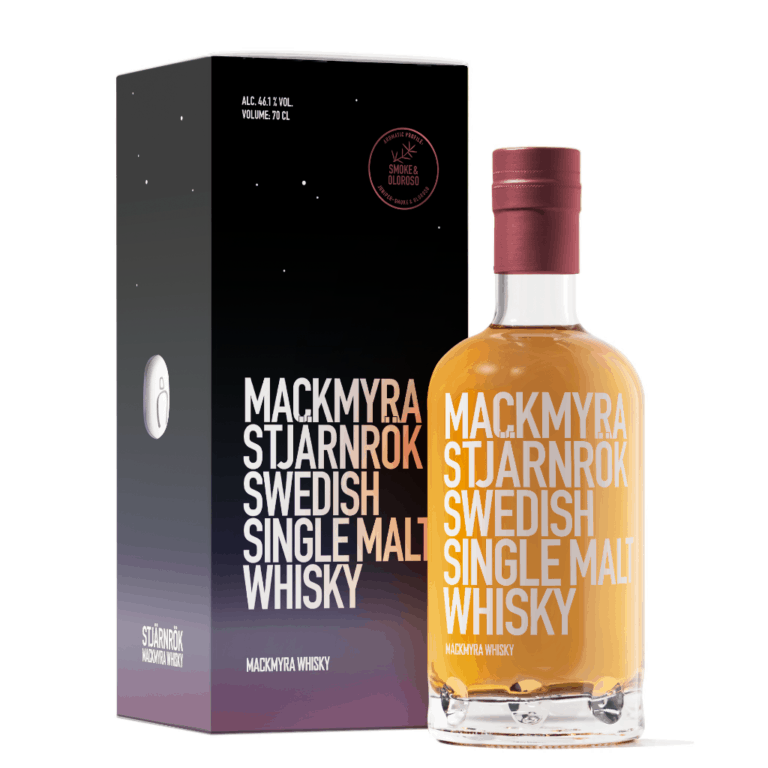 Tasting notes for Mackmyra Stjärnrök Swedish Single Malt Whisky
Bottle cost: €60,49
The nose starts with notes of dried fruits, sweet nuts and vanilla. It is sweet and mellow, with a complex but gentle flavour. A soft note of peat wafts across caramel and oak wood.
The palate brings out more juniper, smoke and peated notes. The body is full of oak wood and aromatic herbs. There is also a sweet citrus and chocolate flavour throughout. A warming note of cinnamon and ginger also comes out and gives it a well rounded feel. 
The finish is bold and lingers on peat, juniper and dried fruits.
This is the perfect whisky for cold winter months and brings in some really fantastic sherry flavours, with the sweetness and smoky aroma of Bourbon.
Are you a fan of Mackmyra? What do you think of their Stjärnrök Single Malt? Let us know in the comments!