It has a long past in the Whisky business, stretching back all the way to 1815 when it was started by Donald and Alexander Johnston.
The Johnstons were from a Scottish clan called Clan Donald and Laphroaig remained in their hands right up until 1954.
This was when then owner, and descendant of the Johnstons, Ian Hunter, passed away.  He had no children and the distillery was left in the very capable hands of Bessie Williamson.
In the 1960s it changed hands again and eventually ended up in the Suntory Holdings family in 2014.
It remains close to its island community, nestled tightly along the shore of the Isle of Islay.
And of course part of that island shore is captured in every bottle.
The distillery's most recent release is a rich and peaty Laphroaig 21 Year Old.
This expression was matured in first fill ex-Bourbon barrels and was first distilled in 1993.  Air and kiln dried American oak barrels were also used in order to impart a subtle change in flavours.
It was released as part of Laphroaig's 200th Anniversary celebrations and was first sold to members of the Friends of Laphroaig.
The first fill Bourbon barrels come through with first whiff of the nose.  There is a gentle sweetness with a cinnamon, vanilla spice in the background.
This adds a nice depth to the fruity flavours that are apparent in the overtones.  There are tangy pineapple and citrus fruit flavours that bounce off the more subtle peated tones.
The smoke and sea brine that is so well known in Islay malts are also present in the nose, but only slightly.
The palate is lovely and smooth, owing to the Bourbon barrels and the long time spent maturing.
The flavour is not overwhelmed by the smoky and ocean wind hints.  They move over and allow the sweeter, fruitier flavours to take charge.  There are plenty of tropical fruits including mango and melon.
The spiciness of the oak is always present and gives a nice kick to the fruit.
Towards the end, there is the tell tale whiff of peat smoke, giving the dram a nice depth and sophistication.  It is all tied together with an ocean spray soaked rope that brings us back to the rugged rocks of Laphroaig's island home.
The finish has a medium linger and is filled with sea salt and ginger notes.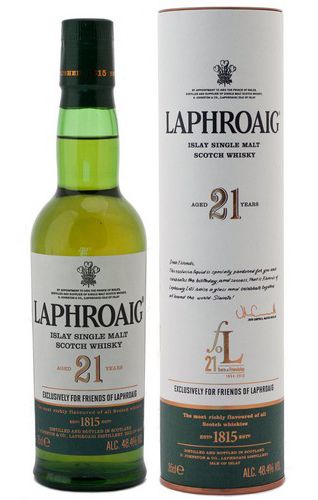 This Laphroaig 21 Year Old is a great dram that may not have done quite so well when originally released but now it has been let out to the wider public it has a chance to flourish.