Kingsbarns Distillery is one of the newest distilleries to open in Scotland and their Balcomie malt should give us all hope for great things to come.
Scotch has been around for centuries. Many of the distilleries still in operation today have been active since the late 1700s and have weathered many a storm in that time. From the Pattison Crash, to Prohibition, two world wars and countless individual events in between, there has been a lot for the industry to deal with.
These days, things are slightly more smooth sailing and in fact the Scotch industry is having somewhat of a golden period right now. This essentially means that more people are drinking it, and sales are growing all the time.
With this comes more opportunity for new brands to enter the market and that is certainly happening in Scotland. There have been lots of new distilleries opening recently.
One of those is Kingsbarns Distillery, just outside St Andrews in the Scottish Lowlands. They have perhaps chosen the best place to start a distillery, considering the Lowlands is one of the least distillery populated areas in Scotland.
Kingsbarns was started by the Wemyss family, who have been independent bottlers for a long time. They have historical connections in the area and to distilling, so it made sense for them to start their own brand.
Balcomie Single Malt Lowland Scotch
Named for the Balcomie Castle, Balcomie Single Malt is the latest release from Kingsbarns Distillery. It is leading the way in their new yet-to-be released range that will celebrate landmarks throughout Fife.
Matured in Oloroso Sherry Casks made from American Oak, Balcomie is full of Sherry notes and is a confident start for the distillery.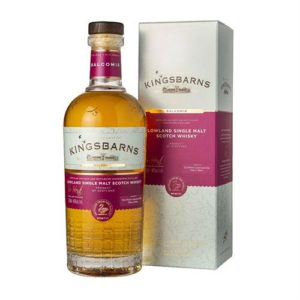 Tasting notes for Kingsbarns Distillery Balcomie Single Malt Lowland Scotch Whisky
Bottle cost: £40.79
The nose begins with lots of cinnamon and malted grain notes. Warm pastries and maple syrup appear and add a lovely sweetness to the overall aroma.
The palate is rich and full of citrus fruits and caramel. Tart and zesty lemons, oranges and clementines appear, giving it a fantastic tang against the sweetness of the caramel. Vanilla cake, cinnamon and hints of oak wooks also come through.
The finish is strong and warming, with more cinnamon and oak.
Balcomie is a great malt from Kingsbarns. It promises plenty more flavourful and interesting malts to come.
What are you thoughts on Kingsbarns Balcomie? Let us know in the comments!