The NEW Johnnie Walker Blue Label expression is finished in former XO Cognac casks for a unique taste experience and is exclusively for travellers
Johnnie Walker, the number one Scotch Whisky brand in travel retail*, today unveils an exciting new luxury Scotch Whisky exclusively for travellers across the globe – Johnnie Walker Blue Label Xordinaire.
The all-new blend has been created using only 1 in 10,000 casks from the unparalleled Johnnie Walker reserves of aged Scotch from across Scotland. Finished in former French XO Cognac casks, this is a Scotch with all the depth of flavour you would expect from Johnnie Walker Blue Label, but with an inherent smoothness and sweetness. These elements come together for an extraordinary finish in the new Blue Label Xordinaire. 
The arrival of this travel retail exclusive began today at Singapore's Changi Airport, Terminal 1. A new one-of-a-kind immersive experience that is available to Changi passengers which is the centrepiece of a series of activations coming to airports around the world over the coming months including Paris, London, Dubai, Taiwan and Hainan. The first of its kind is in Asia at Changi as Xordinaire reaches out across the globe.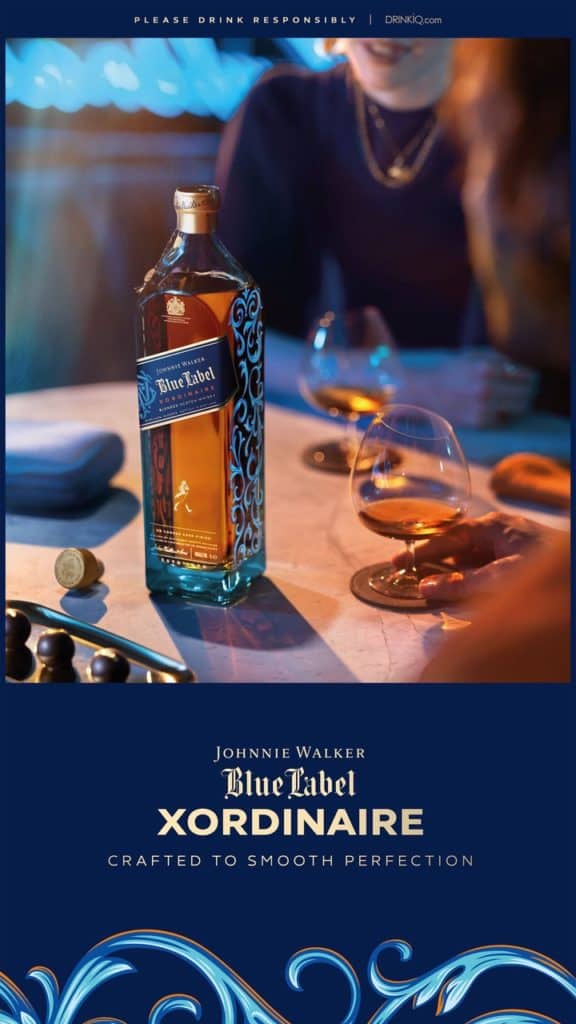 The Diageo Global Travel team invited key stakeholders, media and influencers to be among the first to explore the new experience. The vibrant activation in Changi, inspired by a Parisian hotel features a unique elevator experience. Travellers are invited to enter the elevator to explore the Johnnie Walker Blue Label Xordinaire world before being directed to the stunning sample bar, where they will open the digital guest book for an immersive tasting with a bespoke chocolate pairing created by renowned French chocolatier, Arnaud Larher and Johnnie Walker. Passengers can then purchase a bottle of Johnnie Walker Blue Label Xordinaire and explore the luxury gifting and personalisation station, including a personalised luggage tag. 
A striking 3D interactive installation in the Jewel retail complex will support the campaign alongside impactful OOH media placements throughout Changi airport. A highly targeted social media campaign will also engage with Changi passengers.
Commenting on the launch of this new beacon of luxury from Johnnie Walker Blue Label, and Diageo Global Travel's biggest exclusive to date, Andrew Cowan, Managing Director, Diageo Global Travel, says: "Johnnie Walker Blue Label Xordinaire represents a new variant for the Johnnie Walker Blue Label house, it is our biggest global launch in Travel Retail ever. And, of course, Travel Retail was the original launch place of Johnnie Walker Blue Label just over 30 years ago.  
"Our vision is to confirm and enhance Blue Label's position as an enduring icon of luxury, expanding its allure by welcoming spirits enthusiasts of all kinds into the world of Johnnie Walker. By introducing this exciting new expression of Blue Label, we have created a global travel exclusive that caters to aficionados seeking exclusivity as well as for those searching for something with a sweeter and smoother flavour profile."
Johnnie Walker Blue Label Xordinaire is a permanent part of the iconic Johnnie Walker portfolio of Blended Scotch Whiskies produced in limited quantities and meticulously blended in small batches to ensure its exceptional quality and rarity.
Emma Walker, Johnnie Walker Master Blender, says: "This is a luxurious and vibrant Scotch bursting with notes of dried fruit, toasted toffee and sun-ripened black cherry. Bright orchard fruits shine through velvety smoothness, with flashes of peach and soft spice surging upward. A sumptuously smooth Scotch with a soft spice after-taste, Johnnie Walker Blue Label Xordinaire truly is an exuberance to be shared."
Johnnie Walker Blue Label Xordinaire is bottled at an ABV of 40% and is available across key airports across the globe at a RRP of £335/$399 for a 1L bottle.
For further information, please contact: Smarts: [email protected]
Notes to Editors:
Source: *IWSR 2022
Tasting Notes
NOSE: Luxurious bursting notes of dried fruit, toasted toffee and sun ripened black cherry.
PALATE: A symphony of bright orchard fruits, gracefully intermingling with velvety smoothness.
FINISH: The delicate whispers of peach and gentle spice surge forth, adding layers of complexity to the after taste.
Suggested Serve:
Best enjoyed neat with a chocolate pairing. Perfect for the after-dinner occasion. 
About Johnnie Walker:
Johnnie Walker is the world's number one Scotch Whisky brand (IWSR 2021), enjoyed by people in over 180 countries around the world. Since the time of its founder, John Walker, those who blend its whiskies have pursued flavour and quality above all else.
Today's range of award-winning whiskies includes Johnnie Walker Red Label, Black Label, Double Black, Green Label, Gold Label Reserve, Aged 18 Years and Blue Label. Together they account for over 14 million cases sold annually (IWSR, 2020), making Johnnie Walker the most popular Scotch Whisky brand in the world.
About Diageo & Diageo Global Travel
Diageo is a global leader in beverage alcohol with an outstanding collection of brands across spirits, beer and wine categories.  These brands include Johnnie Walker, Crown Royal, J&B, Buchanan's, Smirnoff, Cîroc and Ketel One vodkas, Captain Morgan, Baileys, Don Julio, Tanqueray and Guinness.
Diageo Global Travel is the division of Diageo responsible for travel retail and duty free active in airports all over the world and partnering with air and cruise lines. It brings exclusive brand extensions and malt category products to travellers as well as in airport experiences and limited editions.
Diageo is a global company, and our products are sold in more than 180 countries around the world.  The company is listed on both the London Stock Exchange (DGE) and the New York Stock Exchange (DEO).  For more information about Diageo, our people, our brands, and performance, visit us at www.diageo.com.  Visit Diageo's global responsible drinking resource, www.DRINKiQ.com, for information, initiatives, and ways to share best practice.
Celebrating life, every day, everywhere.