How lucky do I feel? Not only do I get to met one of the longest-serving people in the whisky industry and all round legend, Dennis Malcolm, but I get to spend an evening with him and a bunch of others for the launch of the Glen Grant 50 Year Old masterpiece.
I arrive at Vinopolis, in London Bridge, after getting slightly lost having always entered through the store into The Whisky Exchange, never the guest entrance before on a surprisingly mild late October evening in London and am led to the store.
I spend a while perusing the store, forcing myself to suppress the instinct to buy a bottle or few from the 800-plus they have in stock, chatting to a few people as I go, anticipation building with every glance at a super premium whisky, especially those in kept in glass cabinets commanding prices of over five, maybe even ten thousand pounds.
We are led into a large tasting room where tables are laid out with five tasting glasses at each place setting.
I can see the Glen Grant 50 Year Old box, but alas we all must wait until Dennis himself allows us to see and sample the culmination of his own life's work.
Before I go into the tasting, it is probably a good idea to tell you a little about the man behind Glen Grant 50 Year Old, as it is a fascinating story.
Born on the distillery grounds in 1946, Dennis was destined for a life at Glen Grant. He started his career at the distillery in 1961 as an apprentice cooper at the age of 15 and from there onwards dedicated his life to perfecting the art of whisky-making.
Today, Dennis manages and directs Glen Grant for Gruppo Campari with uncommon passion and unrivalled knowledge of the industry and the art of whisky-making.
Dennis has worked with Gruppo Campari to develop an exceptional Glen Grant range of six delicate, fruity and smooth expressions: The Major's Reserve, 10 Year Old, 16 Year Old, 1992 Cellar Reserve, 170th Anniversary Limited Edition, Five Decades, and most recently a single malt of distinction, the Glen Grant 50 Year Old.
Most importantly though, he actually hand-filled the cask that has now, fifty years later, been bottled at cask strength to create the Glen Grant 50 Year Old. How lovely that must be, to have seen this come to fruition over a half century of service to the brand.
Back to the tasting, and we are ready to try the range.
We heard stories around how the Grant brothers taught the Chivas brothers everything they knew, tongue in cheek to an extent, and how the brand was massive in Italy for years before Campari bought it and how it had mainly been used as blend fodder over the years until 2006 when it was given a new lease of life by both Campari and Dennis himself.
Lovely stories around provenance and being able to tell a true barley to bottle story, along with a few stats:
Glen Grant produces 6.2 million litres of spirit a year, working out to roughly £180 million in potential duty being paid to the UK government (from just one distillery; no wonder Mr. Cameron et al wanted to keep this Kingdom United)

They use 40,000 tonnes of malted barley per year

28 million litres of water per year are used to distill

From 1978 when Chivas owned Glen Grant to 2006 when Campari bought the brand, stock and distillery for £130 million, not one penny was spent on marketing
We tried the Glen Grant 10 Year Old, 16 Year Old, 170th Anniversary Expression and the Five Decades Expression, which were all incredibly unique and interesting in their own way but are not the focus of this article.
Enter the Glen Grant 50 Year Old.
On 28 October 1963 a rather special cask was hand filled by a young man who, at the time, was unaware that this liquid gold would ultimately shape his destiny. It would slowly mature for 50 years until 25 November 2013, when it reached its zenith – a robust, full-bodied and perfectly balanced single malt of distinction.
That young man, Dennis Malcolm, became the Master Distiller of one of Scotland's finest distilleries, Glen Grant. The cask he watched over for half a century, containing a true masterpiece, is now ready to be presented to the world – once again proving that Glen Grant excels at making single malt – from barley to bottle.
We begin to nose the 50 Year Old, how incredible, heavily sherried but not at all over-sweet, arguably a near-perfect nose and not one I was expecting from a single malt this old.
Dennis told a rather humble story about how he sees his life in the distillery:
"I'm like a gardener, I plant oak trees knowing I will never see them come to fruition but I look to the future generations, their enjoyment and their success, that's effectively my job. To build this for future generations."
The palate is warming, like a hug on a winter's day it just feels soothing and laden with a thousand stories spanning these fifty years of maturation, not overpowering, not harsh, especially smooth for a cask strength five decades-matured liquid, what a dram.
Then we learned the price: £8,850 (or £314 per measure) and is available here if you would like a new trophy piece for the cabinet.
Only 150 bottles of this exclusive timeless collector's item will be released globally. Each piece is unique and handcrafted in every sense – presented in a hand-blown crystal glass decanter, masterfully created and individually refined by the skilled craftsmen at Glencairn Crystal, the last family owned crystal glass company in Scotland. Each decanter is hand engraved, hand numbered and finished with the number 50 in 18-carat gold lettering.
The design of the decanter is an exact replica of Glen Grant's tall, slender pot stills – a creation of Glen Grant's legendary innovator, James 'The Major' Grant.
It is housed in a copper-lined Scottish oak box – made from new oak, worked by a skillful cabinetmaker with a practiced carpenter's hand and an astute eye for detail.
Each Glen Grant 50 Year Old comes with a certificate of authenticity, signed by Dennis Malcolm and every craftsman involved.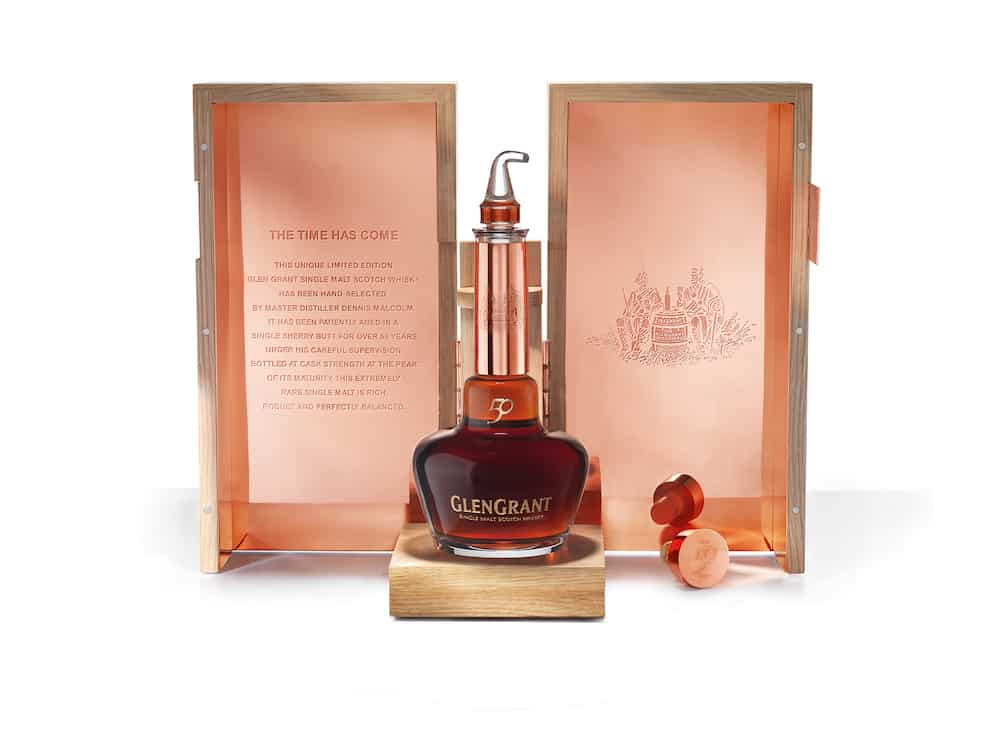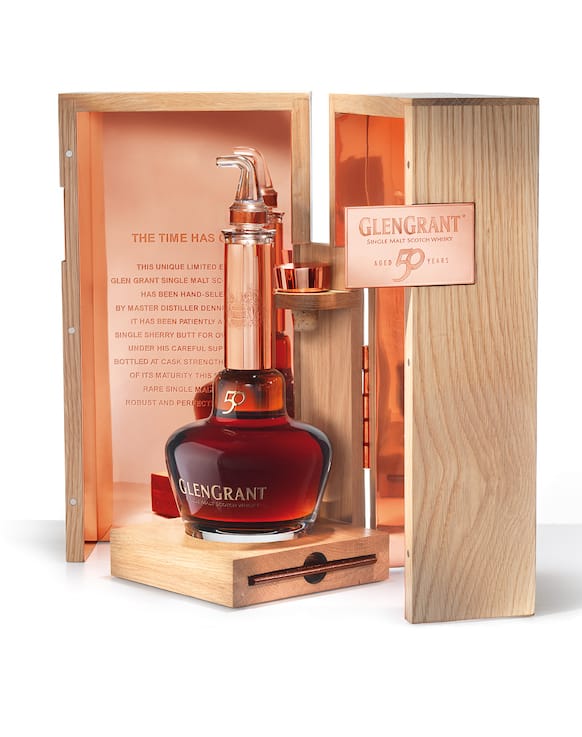 Many thanks for Campari and Glen Grant for not only inviting me to this event but for putting on such a lovely evening dull of charisma and smile-raising storytelling.
Appearance: Warm golden brown, sun-kissed tones.
Bouquet: Soft and delectable with alluring aroma of toffee, caramel and subtle hints of dried fruits.
Palate: Wonderful mouth-feel with sweet sherry notes, combined with hints of orange and baked apples.
Finish: Rich, robust and full yet smooth with soft lingering aftertaste.