50% ABV REVEALS ADDED DEPTH AND RICHNESS TO MULTI AWARD-WINNING JAMESON BLACK BARREL
Hot on the heels of its recent 'Best Irish Whiskey' trophy at the 2021 International Spirits Challenge, Jameson is launching a 50% ABV, or 100-proof ,limited edition of its triple-distilled Black Barrel whiskey – great to gift (and even better to keep) this Christmas.
Jameson Black Barrel Proof is made from pot still and grain whiskey matured in a combination of American oak, sherry casks and double charred ex-bourbon barrels to give an even deeper flavour experience. Uniquely, this expression will be bottled at 50% ABV and without chill filtration. The result is a rich, smooth expression that showcases the benefit that the tradition of barrel charring can add to the world's favourite Irish whiskey .
"Jameson Black Barrel is a triple distilled blend of our small batch grain and traditional single pot still Irish whiskey and boasts a robust spiciness, with flavours of butterscotch and fudge. Paying tribute to the cooper's skill, maturing a portion of our whiskey in double charred barrels brings out sweet and spicy characteristics in abundance as it penetrates deeper into the charred oak," explains Irish Distillers' Master Distiller Kevin O'Gorman.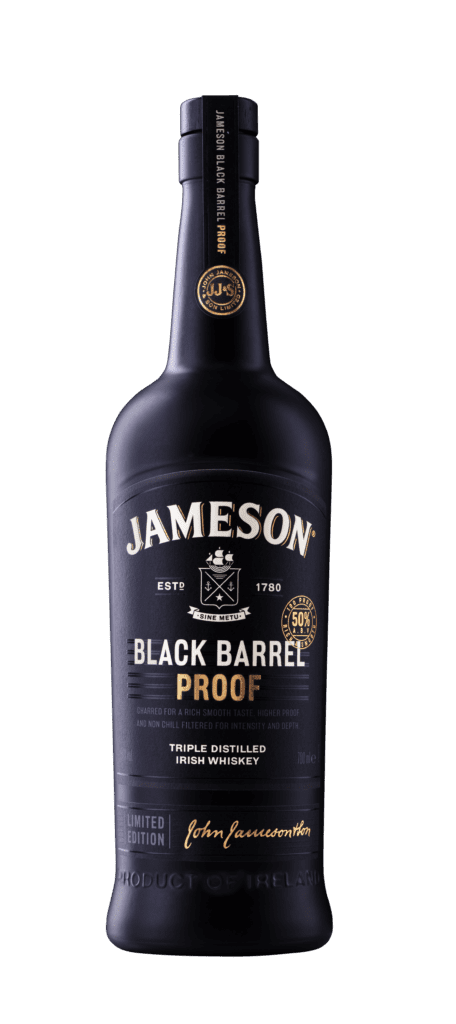 "Like every family, Jameson is made up of individual characters with their own distinct personalities. Bottling Jameson Black Barrel at a higher strength is a great way to accentuate the already beloved characteristics of this unique whiskey to create a totally new experience for whiskey enthusiasts.
"So, if a full strength whiskey that's bursting with aromas of toffee and fudge, complemented by a spicy character and a rich vanilla finish, sounds like it's for you – or maybe even for someone you know –
then you'll find that Black Barrel Proof is a great addition to the Jameson family this Christmas. Slainte!"
Set to appeal to whiskey fans seeking to explore a more intense flavour experience this Christmas, the limited-edition release of Jameson Black Barrel Proof will be available online at JamesonWhiskey.com and via select outlets in Ireland and at Dublin Airport from early November at RRP of €60.
Best served in a cocktail or maybe over ice, but always with friends!
Tasting notes by Master Distiller Kevin O'Gorman:
Nose: Butterscotch sweetness and creamy, toffee, fudge aroma.
Taste: Rich smooth taste with a deep intensity and dialled up spicy notes, complemented by vanilla sweetness.
Finish: Smooth and rich finish with a hint of vanilla lingering on the palate.