Huntsman Savile Row, the iconic bespoke tailor, is delighted to announce a new partnership with the House of Hazelwood, the esteemed whisky maker, to mark an historic milestone – Huntsman's 175th anniversary. Together, they present an exceptional blend and an exquisite tweed cloth, both paying homage to craftsmanship, heritage, and bespoke practices.
To celebrate this momentous occasion, House of Hazelwood has meticulously crafted a limited-edition 50-Year-Old Blended Scotch whisky – The Huntsman Blend – that exemplifies the essence of both brands. Drawing inspiration from Huntsman's rich legacy, House of Hazelwood's masterful whisky makers have artfully combined their finest aged malts to create an extraordinary blend of which there are just 75 bottles available. 
In perfect harmony with the whisky, Huntsman, in a mark of mutual creativity, is releasing a House of Hazelwood tweed specially designed by Huntsman's Head Cutter and Creative Director, Campbell Carey. Inspired by the timeless allure of the Speyside home from the rolling hills, dunnage whisky warehouses and highland flora and fauna which surround the grounds of Hazelwood House. Through Huntsman, the tweed cloth is available for bespoke commission for jackets and suiting and has been realized for the collaborative campaign as a beautiful sports coat, a symbolic celebration of their upcoming 175th Anniversary.
This same tweed is used to create a fabric-bound hip flask to accompany the special edition of The Huntsman Blend 50-Year-Old Blended Scotch Whisky, which is offered in a gift pack, showcased in an engraved wooden box and two generous sample bottles of the whisky – the ideal gift for the collector who likes to both savour and save.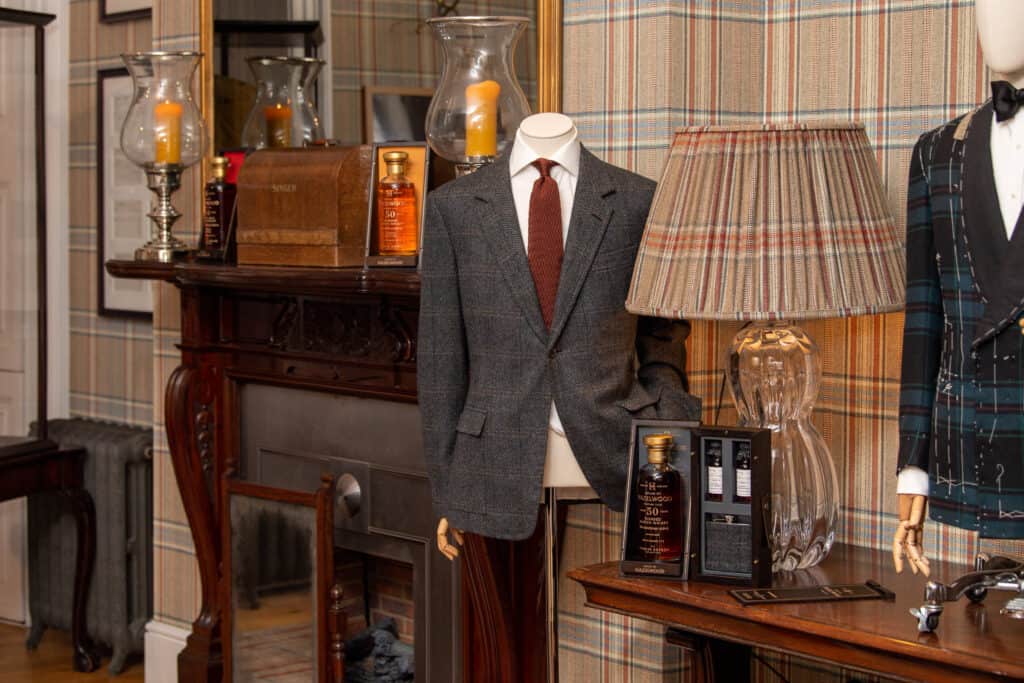 Expressing his enthusiasm about the collaboration, Campbell Carey said,
"As we celebrate Huntsman's 175th anniversary, we are thrilled to partner with House of Hazelwood on this extraordinary venture. By combining our expertise in tailoring with their mastery in whisky-making, we have crafted something truly exceptional that captures the essence of our heritage and showcases our unwavering dedication to craftsmanship."
Jonathan Gibson, director of House of Hazelwood, said:
"It's a privilege to have partnered with the Huntsman to celebrate their 175th anniversary. Both the tweed cloth and limited-edition blended whisky beautifully showcases the craftmanship which both brands are known for and is an embodiment of our shared commitment to luxury and elegance."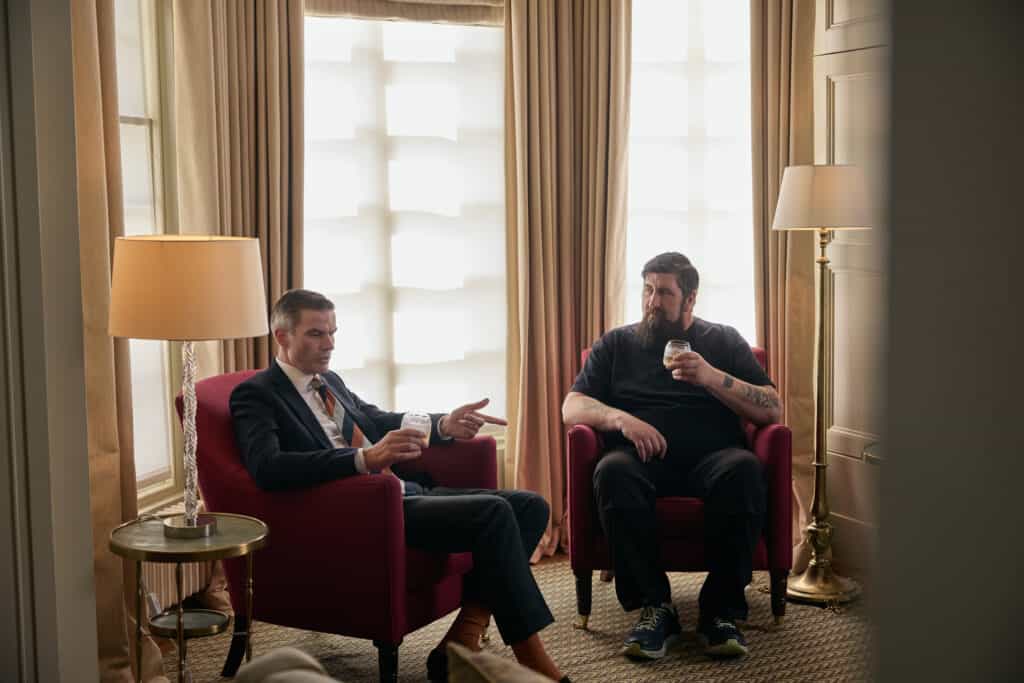 The Huntsman Blend, 50-Year-Old Blended Scotch Whisky, 75 bottles worldwide, RRSP £5,900.
Tasting Notes
Nose: A rich, oak character greets the nose, offering notes of wood spice, honey and toasted coconut.
Palate: The palate develops into a style akin to a Speysider, offering up mouth-watering juicy, bursting red fruits and blackberries. 
Finish: The finish is long, extending the presence of oak, lightly spiced – a tribute to the exclusive American Oak maturation.
Just 75 bottles are available and are offered at a natural cask strength, free from added colour and chill-filtration.
The limited-edition whisky blend and the exclusive tweed cloth will be available through www.houseofhazelwood.com and www.huntsmansavilerow.com.
The Huntsman Blend, 50-Year-Old Blended Scotch Whisky Gift pack will be available to pre-order from Friday 27 October from www.houseofhazelwood.com or https://hedonism.co.uk/spirits/whisky.