A mini-festival celebrating Speyside's food and drink will play host to a hat-trick of new product launches, underlining the innovation and ingenuity of the region's producers. Visitors to Spirit of Speyside: Distilled, which takes place this week, will be among the first to sample two new gins and a collaboration between a small craft brewery and one of the world's best-selling single malts.
Tickets for Spirit of Speyside: Distilled, which will be set up in Elgin Town Hall
on Friday
 and 
Saturday
, have been selling at a brisk pace. Over 30 exhibitors showcasing spirits, beer and food will be attending, along with food and drink venues serving their own special cocktails and Speyside snacks.
Avva Scottish Gin will be taking the wraps off its new limited edition expression, which has been created to celebrate Spirit of Speyside: Distilled. The locally produced gin, which is also bottled in Elgin, will be available to buy in very small quantities. Distiller Jill Brown, who launched the Avva brand last year, will also be telling the story of her products at one of the festival masterclasses.
Husband and wife team Bob and Silvi Duncan have chosen the event to launch a new brand of fine artisan spirits. The couple behind Duncan's Spirits will be giving gin-lovers a chance to taste their first batch; Duncan's Gin – a product so new only a very small number of people have tried it.
The Duncans have put the Speyside region at the very heart of their new product, which contains the freshest Highland juniper with five other foraged and handpicked local Scottish botanicals. The result is a gin which they feel reflects the very essence and flavours of the Speyside landscape through its freshness and simplicity.
Spirit of Speyside: Distilled will also be used as a platform to showcase a new experimental IPA – an incredible collaboration between the Speyside Craft Brewery and Glenfiddich Distillery, which is one of the top-selling malts in the world.
Glenfiddich IPA Finish is being launched later this autumn, but those who go along to the festival will have an exclusive opportunity to taste it before it goes to market.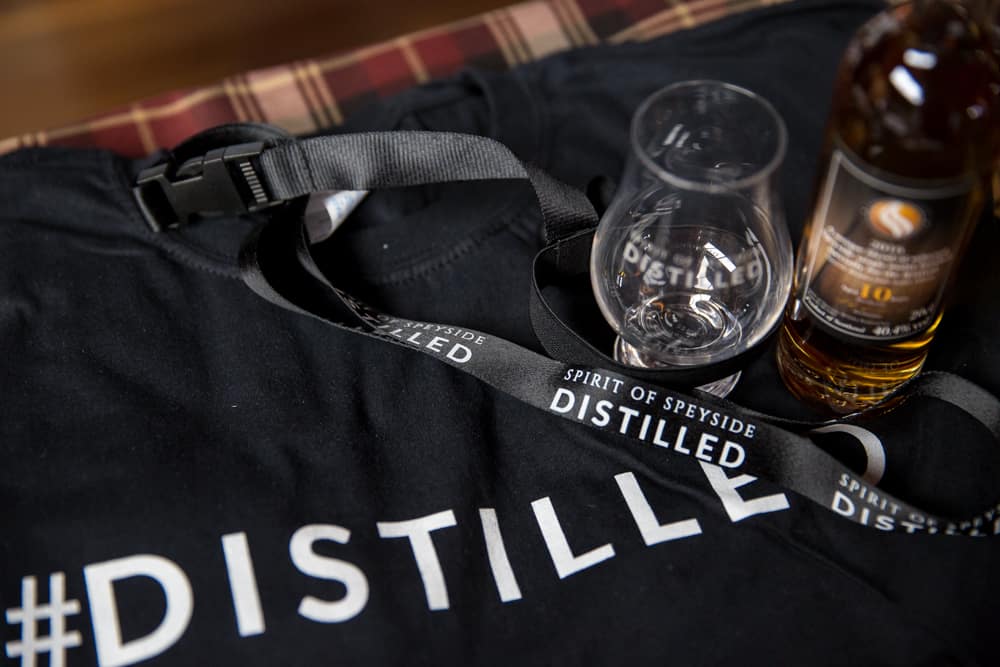 Spirit of Speyside: Distilled is a sister event of the Spirit of Speyside Whisky Festival, which has been running for almost 20 years. Organisers see it as an opportunity to highlight the region's world-class food and drink producers, in addition to whisky distillers.
Event chairman James Campbell says, "We are honoured that we will have three different product launches taking place over the two days of Spirit of Speyside: Distilled. I think this underlines that the producers already see this event as a very important one in terms of the profile it brings, which is very encouraging given that this is only its second year.

"The producers are genuinely interested to learn what Spirit of Speyside: Distilled visitors have to say about their products. Many of them are very passionate and knowledgeable about food and drink, while others simply enjoy it for what it is – either way they are the people who go out and buy these products so it's important to get feedback from them.

"Tickets have been selling online very quickly in these last few days leading up to the event, but we will be holding some tickets back to sell on the door. We don't want anyone to miss out on this fantastic opportunity to sample Speyside's food and drink and to meet the people at the very heart of the industry."
Distilled is sponsored by Bruce Stevenson Insurance Brokers and will run for four different sessions, one from 1-5pm and one from 6-10pm on Friday and Saturday. Tickets are priced at £20 which includes entry, six vouchers for tasting samples of gin, whisky or beer, a lanyard and a Glencairn crystal nosing and tasting glass.
For more information and to book tickets in advance, visit www.distilled.scot Distilled is active on social media at www.facebook.com/distilledscot on Twitter and Instagram @distilledscot. Follow the festival at #distilled17