Capping an incredible awards season, independent bottlers, GreatDrams has picked up their second Double Gold at the San Francisco World Spirits Competition as well as a 98/100 Gold Outstanding from the IWSC and two Gold Medals at the London Spirits Competition… on top of this, GreatDrams was named Business of the Year (under £1m turnover) in the Manchester Evening News Business Awards, the biggest regional business awards in the UK.  
Achieving a Double Gold at San Fran is rare, and is only 'awarded to the entries that receive a Gold medal rating by all members of the judging panel; these are among the finest products in the world'. 
Husband and wife team, Greg and Kirsty Dillon founded GreatDrams five years ago with the aim to make great whisky more approachable & available. Their range specialises in single cask limited editions, rare casks which are finished or ancient whiskies to add to the unique character of the spirit and high quality blends. Receiving Double Gold and a Gold Outstanding in one awards season signals that the duo are cementing themselves as experts in finding incredible tasting rare casks of whisky.
At a black tie event held in Central Manchester at the beginning of April, Greg & Kirsty were brought on stage to receive their Business of the Year (under £1m turnover) award, given out for showing 'incredible resilience' through the covid pandemic as well as opening up new revenue streams and business opportunities around the world whilst everything was going on during the midst of the lockdowns, especially the virtual tasting business they built that helped grow revenue 80%.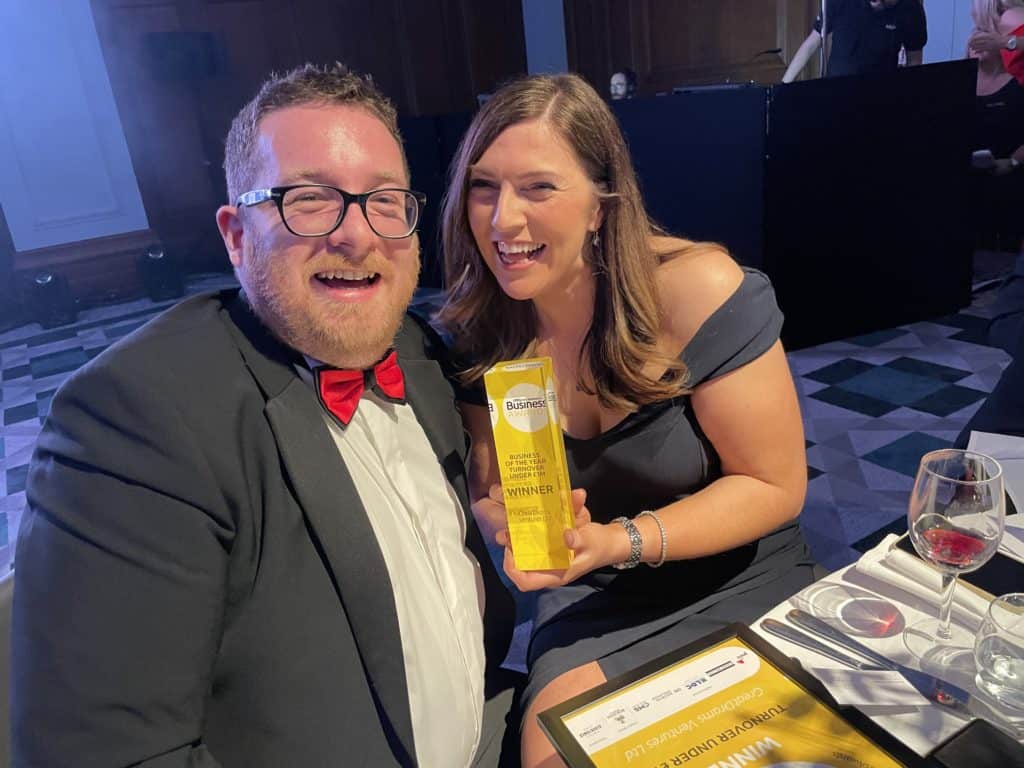 Greg Dillon says: "We never expect to win awards, we enter them in the quest for validation for what we are doing and to use as a barometer for the quality and flavour of the releases we are bottling. To win the two highest medals you can in world whisky and to be named Business of the Year has been a whirlwind – we truly are humbled and blown away by three separate whisky awards panels giving us gold medals this year as well as the MEN Business Awards. This gives us the impetus to kick on and produce even more awesome whiskies for our awesome customers".
Kirsty Dillon adds "It has been a dream awards season for GreatDrams. We work tirelessly to make rare whisky more available to people and the combination of taste and business awards cements our position in achieving this. As a family business based in the North West of England we are very proud of our achievements to date and will do our best to grow further, striving to produce high quality releases for our customers to enjoy and to build a business that can provide for our family for generations to come." 
GreatDrams releases available at https://greatdrams.com/whisky-shop/ and select retailers. 
OUR CURRENT RANGE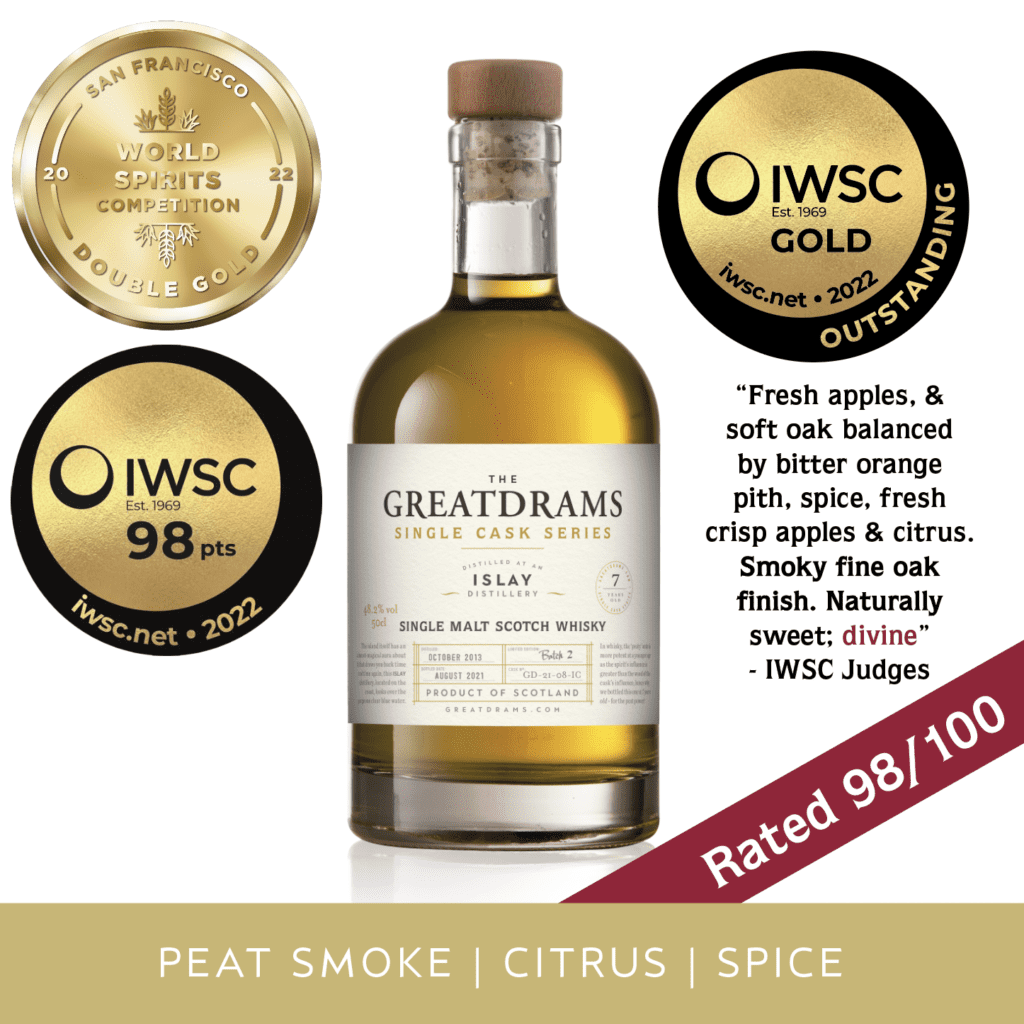 Islay Multi-Award Winning Single Cask Single Malt
One of the best Islay whiskies in the world? I mean… It is not for me to say… those shiny gold awards are pretty compelling tho eh? Awarded Double Gold at the World Spirits Competition and rated 98/100 by the IWSC, who awarded it the Gold Outstanding Medal… their highest medal award. A peated whisky from the mystical island of Islay, matured in First Fill Bourbon Barrel and laden with beautifully balanced, classic Islay peated whisky notes as well as lovely soothing vanilla and citrus fruit notes along with cinnamon and warming spice notes too. 
Available here: https://greatdrams.com/product/islay-single-cask-single-malt-scotch-whisky/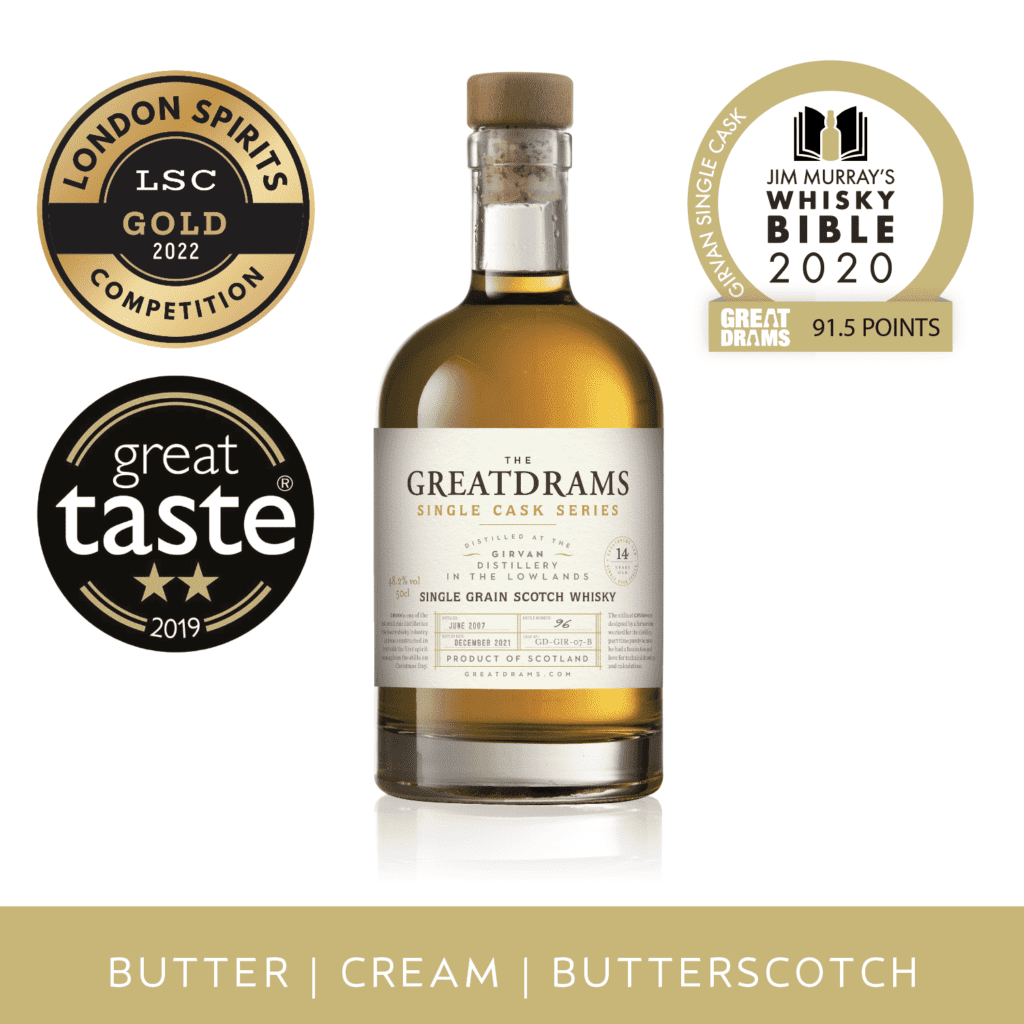 Girvan Single 14 Year Old Grain Scotch Whisky Single Cask Series
Described by the Great Taste Awards judging panel, who awarded this product a 2-star Great Taste award, which means judges dubbed it above and beyond delicious as having "remarkable smoothness for its ABV. Rather extraordinary and hugely sippable. A surprising whisky, well deserving of its two stars".
Back by popular demand, an ex-bourbon single cask single grain limited edition from the Girvan Distillery in the Lowlands of Scotland. This one garnered so much attention from its 'boozy butter' description, and it the one whisky we have produced where people actually repeat that line back to us at events years later that we just had to hunt down another cask from the same batch; distilled on the same day, same distillery, filled into the same style of cask… but matured for three years longer than the original. The result? You guessed it… its like drinking boozy butter, with hints of fruit and is impossibly smooth on the palate.
Available here: https://greatdrams.com/product/girvan-single-14-year-old-grain-scotch-whisky-single-cask-series/ 
English Whisky Co. 7 Year Old PX Sherry Cask Single Malt
Our first 'new world' whisky, this cask has been matured for its entire maturation at the English Whisky Co. in Norfolk, England. Initially in an American oak ex-Bourbon barrel for four years, this whisky was then filled into a first fill Pedro Ximénez cask for its finish, or second maturation
Available here: https://greatdrams.com/product/english-whisky-co-7-year-old-px/