Hailing from one of the most popular Scotch brands across the world, the Glenfiddich Reserve Cask is rich and luxurious.
Glenfiddich is well known amongst those who love Scotch and those who might not. It is one of the most popular brands on the market, for various reasons.
They have been around since 1886, so they definitely know a thing or two about distilling Whisky.
Today they are owned by William Grant & Sons and are the "World's Most Awarded Single Malt Scotch Whisky". Well, at the International Wine & Spirit Competition and the International Spirits Challenge.
So you can see one reason why they're so popular; they're good at what they do.
They also make exciting and accessible drams, especially with their release of an IPA barrel matured malt as part of the Experimental range. Despite being well over 100 years old, the brand is still innovative and thinking of new ways to do things.
THE GLENFIDDICH RESERVE CASK
Looking at the Glenfiddich Reserve Cask malt, you can see why both quality and innovation are their biggest selling points.
This dram has been matured in Spanish Sherry casks which have been hand selected by Malt Master Brian Kinsman, before being married in their solera vat.
It is rich and elegant, with an amazing sweetness and warming kick.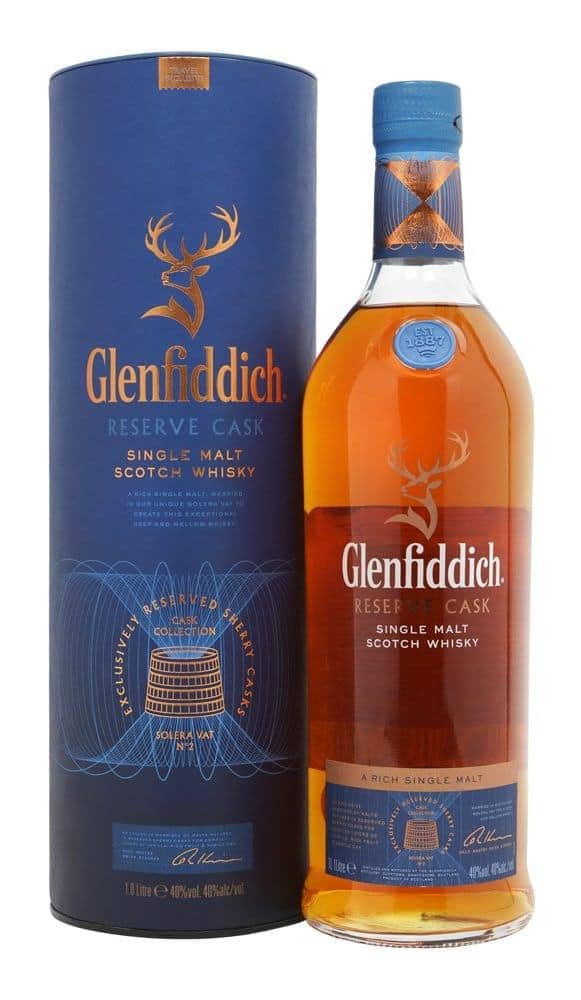 Tasting notes for the Glenfiddich Reserve Cask
Bottle cost: £49.96
The nose opens with citrus, marmalade and a whole Christmas cake of dried fruit and spice. Cloves and cinnamon abound, with plenty of raisins, apricots and a hearty helping of sherry as well.
The palate brings in richer flavours of malted grains, vanilla oak and caramel sweetness. These flavours are bold and big. Marzipan, sweet nuts, more oak wood and bitter dark chocolate combine to give this malt a lovely edge.
The bitter notes really reflect off the sweeter flavours and bring everything together wonderfully.
The finish is bold and sophisticated, with clove spice, vanilla sweetness and dried fruits.
A perfect example of everything that makes Glenfiddich so good and so well loved. Highly recommended if you want to understand just why people love Glenfiddich so much (and enjoy a great dram at the same time).
What do you think of the Glenfiddich Reserve Cask? Let us know in the comments!