Artisan producers Dingle Whiskey Distillery bring us another edition of the Small batch Single Pot still Whiskey. How does it rack up to the others?
The idea behind Dingle Whiskey Distillery, when it first opened in 2012, was that it would be an artisanal distillery, making the finest of drams from the best ingredients. They release all of their drams as batches, each numbered accordingly. They have also released a line of Single Pot Still Whiskies, again, each being numbered relative to the order they were released in.
So far they have five batches of Small Batch Single Malt and four Single Pot Still releases. This is quite a unique way of releasing whiskies. Although many distilleries do small batches and release them chronologically with batch numbers, Dingle seems to do it as part of who they are. It feels like it's key to their brand that the release batches and don't deviate from the model. The method gives them a stripped back feeling, like they are uncomplicated and only interested in good whiskey.
And up to this point their drams have proved the point. They are good quality and don't waste time with bells and whistles. If you want small batch, here it is. If you want Single Pot Still, here it is too, without all the marketing and the flashy back story. With Dingle, you know what you're getting.
With that, we have the Fourth Single Pot Still Whiskey from Dingle. It is exactly what you'd expect, simple and easy going but with a hint of quality and appreciation for the art of distilling. There are two versions, one of which is cask strength.
This whiskey has been matured in Bourbon and Oloroso Sherry casks, giving it a lively flavour profile. Dingle's Master Distiller Graham Coull commented: "It has been an absolute pleasure to play my part in creating the latest whiskey release from the Dingle Distillery. Our Fourth Single Pot Still Release combines fully matured ex bourbon and ex Oloroso sherry casks to produce a whiskey which allows the uniqueness of the Pot Still spirit and the quality of the wood to shine through."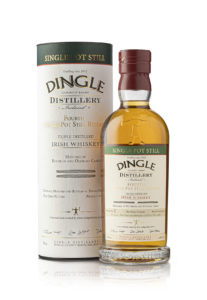 Tasting notes for Dingle Distillery Fourth Single Pot Still Irish Whiskey
The nose begins with notes of cherries, dried fruits and cinnamon. There is almost a Christmas cake quality to the combination. Oak wood and roasted coffee also comes through.
The palate is sweet and earthy, with walnuts and hazelnuts adding some life to it. Caramel, chocolate and mahogany mix to create a lovely dark yet sweet flavour. Oak comes through more strongly here and goes perfectly with the sweet notes.
The finish lingers on chocolate and oak.
This is an exceptional dram from Dingle and certainly does the distillery proud. We can't wait to see what the fifth edition and beyond hold!
Are you a fan of Dingle Distillery? Tell us about it in the comments!