Dingle Distillery is based in the most beautiful part of Ireland, so how could they not make the best whiskey?
Dingle is on the west coast of Ireland, part of what is known as the Wild Atlantic Way. This dramatic name, of course, is how the tourism board of Ireland describes "a really nice view".
Not to be too sarcastic, the Wild Atlantic Way actually is one of the most beautiful scenic routes you'll ever take. It's got some of the best views you could ever imagine, and some pretty excellent distilleries along the way.
Dingle Distillery is one of those, having been founded in 2012 in the small village of Farrenredmond, in the Dingle area of County Kerry. The distillery was started by Oliver Hughes, Liam LaHart and Peter Mosley, who already owned and operated the Porterhouse Brewing Company.
It made sense to open a distillery. Whiskey, especially Irish whiskey, was becoming increasingly popular at the time and is still growing in popularity today.
Dingle Distillery have released a number of whiskies wince opening, each with a different batch number (starting and 1 and now at 5). Lots of distilleries do batched whiskey, but not all do it as well as Dingle. It gives them a nice niche, were people are looking for truly artisan drams made in small batches by independent makers.
Small batch is a label a lot of new distilleries attach to their malts, but simply by identifying their drams as Batch 1, Batch 2 etc., Dingle look like they are actually upholding that description.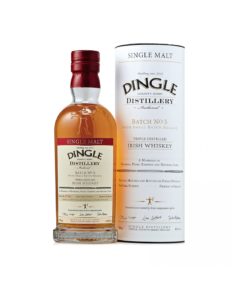 Tasting Notes for Dingle Distillery Batch 5 Single Malt Irish Whiskey
Bottle cost: €69.95
Matured in a wonderful combination of Madeira, bourbon and Pedro Ximenez casks, Batch 5 is a brilliant malt.
The nose opens with bright vanilla, caramel and oak. It is rich and smooth, with a lovely elegance to it. There is a definitively sweet side that you can ferally taste the bourbon elements coming through from.
The palate is full of honey, caramel and cinnamon. Dried fruits give it a slightly chewy note. Raisins, apricots and dates are beautifully sweet and bring in a little bit of warmth. The sherry notes are well developed and go perfectly with the sweet bourbon.
The finish is dry and gentle, with lovely notes of vanilla throughout.
Dingle Distillery is doing the Wild Atlantic Way proud with the quality of this malt. An excellent way to embrace Irish whiskey.
Have you enjoyed a Dingle malt before? Let us know what you think in the comments!