Craigellachie Distillery is one of the shining stars in Dewar's crown, and this 21 Year Old single cask single malt is a particularly fine example of their drams.
Owned by Dewar's, Craigellachie is based in Craigellachie, in the Scottish region of Speyside. It's history goes back to 1891, when it was first opened by Peter Mackie and Alexander Edward. Both had some history in the Whisky industry. Mackie owned the White Horse blend and Edward had built the Aultmore Distillery in Banffshire.
The malt produced here was primarily used in White Horse's Old Smuggler and Old Gaelic blends. Eventually, the distiller came to be owned by Dewar's, who in 2014 released a range of Craigellachie malts which has won a plethora of awards since launching.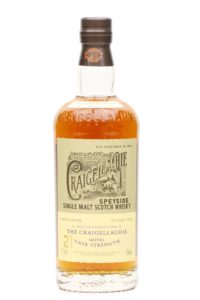 Tasting notes for the Craigellachie 21 Year Old
This 21 Year Old Single Cask malt was bottled exclusively for the Craigellachie Hotel (above), and is not the first expression that has been made for the hotel, either by the distillery itself or from independent bottlers.
The hotel's bar, the Quaich, is incredibly famous in the Whisky world and has an expansive collection of drams. The bar manager, Lyndsey Gray, has worked with both Dave Broom and Charles McLean to bring together the impressive selection.
This dram, a 21 Year Old cask strength malt, is a wonderful addition. It opens with a nose of orchard fruits, caramel sweetness and deep earthy aromas. Apples, pears and some citrus tang all come through, with a real rich flavour to them. They are juicy and ripe, with lots of flavour. There is also a lovely warming note that is slightly spicy and a little bit charred. It goes especially well with the sweet caramel.
The palate is equally as rich. It has dessert sweets, creamy butter and lots of oak. The oak is thick and chewy, with earthy flavours developing from it. The caramel becomes slightly spicier and has a vanilla edge. Again, this goes hand in hand with the oak wood, and gives it a wonderful depth. The spice and charred notes grow; becoming toasted oak and white pepper. They add a lovely bite to the dram. Desserts like pastries, crumble and fresh fruit compote all add a sweet, sugary quality that really picks up on the tang from the citrus fruits.
This is an excellent dram, but you'll have to travel to the Aberfeldy Distillery now to try it as that's the only place it is still available… make the trip, it's definitely worth it!
What do you think of the Craigellachie 21 Year Old? Let us know in the comments!