On a pleasant August's evening in Central London, a gathering of brand ambassadors, trade and bloggers took place in the vaults of The Sign of the Don, near Bank station. For the launch of Bowmore's second Devil's Cask expression.
Being one of the first to arrive I had the auspicious task of choosing which table to sit at, hoping others would not leave me stranded.
Thankfully one of my favourite bloggers, Miss Whisky, sat at my table with a friend of hers. May sound strange but it was lovely to hear that she had heard of GreatDrams and we later discussed what each of us do, having a common ground in the randomness of some of our clients and client projects.
As we sat anticipating the sampling of the second Devil's Cut expression, the servers brought round canapés of black face lamb burgers, peppers with chorizo, duck scotch eggs, fish pies and smoked salmon. As those closest to me will tell you, I'm literally never happier than when eating miniature food so this was a already a great start to the evening.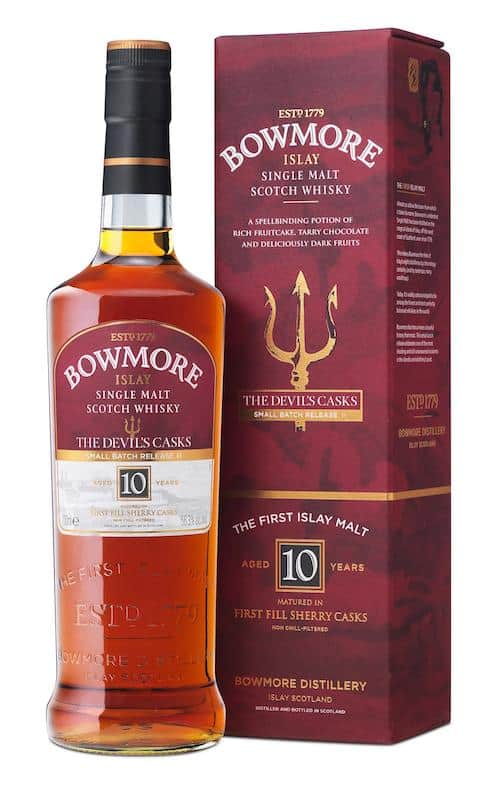 To accompany our delicate canapés we were each presented with a Blood & Sand cocktail or two, woth the whisky component being the Bowmore 15 of course.
Bowmore's brand ambassador, Alasdair Dickinson – referred to as Ali from now – introduced himself and the evening by explaining that Blood & Sand is in fact Bowmore's Master Blender, Rachel Barrie's favourite cocktail, hence why we were being warmed up with it.
Music to my ears was when he stated, and in doing so found a kindred spirit, that he was above all a "whisky geek" and loves whisky from all distilleries in different ways, not just those he's paid to talk about, which was refreshing to hear having spent time with many whisky folk who will only drink whisky their company produces.
From there we had a brief overview in Bowmore, seeing as we were not punters there was not much point labouring the brand stories so early, then a visit to the vaults of The Sign of the Don to see some ridiculously old port and tunnels formerly used to move illicit spirit around London.
Chat swiftly turned to last year's Devil's Cask that, like this year's sold for RRP £60 but still goes for about £180 – 200 on the auction sites.
Ali let slip that Bowmore as a brand were shocked by how well it did and it's incredibly limited volume perpetuated a sense of urgency and collectability. Then we got down to business.
There was an interesting discussion as we got to the liquid side of the evening about how we as trade, bloggers and brand guys are oftentimes on the hunt for the next great thing, the latest limited edition and the elusive dram without ever stepping back and enjoying the fantastic products in most brands' core ranges.
We did not labour the point, nosing, sipping, enjoying the start of our Bowmore journey.
Dram Two - Bowmore Tempest Batch 5
Ali explains this dram as the antithesis to Devil's Cask in nearly every way.
Visually: It is very pale, out of character for whiskies in the the 56.9% ABV territory
The nose was tangy, orangey, more subdued than I expected.
The palate brought to life fruit and spice as you'd expect.
Ali passionately explains the he is trained to say stories about the brands and products when conducting consumer tastings such as "it reminds me of taking a walk in the wood, tripping over a golden brogue. I then rubbed it and remember a flourish of whisky flowing from it". Random, but his honesty is good to hear.
Dram Three - Bowmore Devil's Cask II - 56.3% ABV
We were told a story I had heard on Islay earlier in the year where the Devil visited the island trying to get into the round church but the nature of the church's design means the Devil had nowhere to hide so took shelter in the nearby Bowmore distillery.
Legend states that he hid in a Bowmore cask in order to be shipped back to the mainland.
The nose was very velvety, it drew us all in with a hint of toffee previously unexpected from a spirit this dark that instantly brought to life the depth of character we had been teased with earlier.
Oddly enough there was not a great deal of burn or harshness considering the strength, with an immersive and well balanced palate that really did match the hype, especially considering there are only going to be 90 cases released in the UK so, taking collectors and hoarders into account, very few true whisky lovers will get to try this dram.
I have to be honest, I've tried a few Bormores in my time and haven't been fanatically excited by any, to the point of rarely buying unless I'm in the distillery but this Devil's Cask has changed that. I've fallen in love with my first Bowmore and at £60 RRP, its'a steal.
Colour: Deep mahogany
Nose: Breathe in rich sherried sweetness with dates and sultanas smothered in the indulgence of treacle toffee, pecan and maple syrup.
Taste: Sip the sublime velvet taste of dark chocolate fudge infused with sherried dark fruit, sea-salt and walnut oil.
Finish: Savour the long-lasting finish with sun-dried raisins and salted treacle.