Having captained the Ardbeg Distillery as Distillery Manager for 13 years, Mickey Heads is retiring, and what better way to celebrate his time at the distillery than with an Ardbeg Committee release.
Released exclusively to the Committee (Ardbeg's exclusive customer membership club) Arrrrrrrdbeg! is a single malt that has been matured only in ex-Rye casks. As with everything Ardbeg, the bottling is not without novelty and is released with a pirate theme, hence the name Arrrrrrrdbeg!
Mickey commented on his departure and Arrrrrrrrdbeg! saying, "It was an absolute pleasure to spend the last 13 years heading the crew at the greatest distillery on earth. I had the best team of people anyone could wish for and I'm proud that we've been responsible for producing so many wonderful Ardbegs along the way.
"As for this bottling, well I'm honoured that a place that has already given me so much would celebrate my retirement in such a thoughtful way. And to have my image on a bottle, that's a dream come true.
"Who knows what retirement holds for me, but I know I'll be spending a lot of time out fishing. And, as ongoing chairman of the Ardbeg Committee, I'm sure I'll be dropping by the distillery often."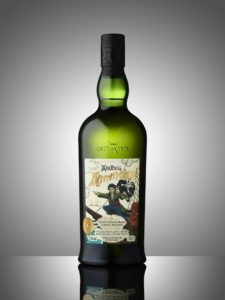 Tasting notes for Arrrrrrrdbeg! Single Malt Islay Scotch Whisky
Bottle cost: £143
The nose is full of exotic fruits, hints of rye spice and vanilla. It is sweet and warming. Banana, peaches and pears all bring in a lovely fruity flavour.
The palate is rich and complex, with lots of peat, more rye spice and caramel. Biscuits, sea salt and peat appear and complement the fruit notes perfectly.
The finish lingers on peat smoke.
This is yet another fantastic release from Ardbeg and Mickey must be honoured to have been celebrated with such a unique malt. We only wish we all got an Ardbeg malt on our retirement!