William Grant & Sons has brought two new editions to the Whisky market with the aim of simplifying the language of malt; Aerstone Land Cask and Sea Cask
The Endeavour for Accessability
Lots of brands these days are trying to bring new drinkers into the fold, either through branding or by creating malts that are less complex, but still enjoyable.
With Aerstone, William Grant & Sons are trying to do the same.
Sean Wiemann, GlobalInnovation Brand Manager for the company has said; "We wanted to create abrand that would allow consumers to make a confident choice and offer a greateveryday single malt to complement the rest of our premium portfolio,
"We recognise that for some consumers, the category is complex and can be intimidating.
"With Aerstone we want to break down some of those barriers and help simplify single malts, inviting existing malt drinkers and new entrants to learn about all the different flavours and styles of single malt Scotch."
Aerstone is aiming to bring Whisky to the masses and they have created two exceptional malts to do justthat.
Consisting of Land Cask and Sea Cask, theses expressions capture two different flavour profiles and do it well.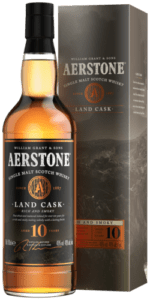 TASTING NOTES FOR AERSTONE LAND CASK
Bottle cost: £24.13
Land Cask is a 10 Year Old, peated malt made from Highland Scotch it has big notes of smoke throughout.
The nose begins with peat smoke and citrus fruits. It's like bonfire night, with a lovely warmth and refreshing breeze running through it. The smoke is excellent and seeps into every inch of it.
The palate is packed with charcoal and wood smoke. It wafts through the oak, picking up vanilla and caramel notes on the way. The citrus fruit is gentle and slightly tart adding a nice edge to the overall flavour.
The finish is bold and long, with more smoke and an exceptional tang of peat.
Tasting Notes for Aerstone Sea Cask
Bottle cost: £24.13
The Sea Cask is similarly bold in its flavours, only this time the profile is lighter, with more floral and seaside notes. it is also a 10 Year Old and has been matured in warehouses on the South West coast of Scotland, in Ayrshire.
The nose begins with sweet nut, heather and oak wood. there is a biscuity base, with a slightly buttery note. Malted grains and a hint of vanilla come in, adding a little bit of sweetness.
The palate brings in yet more sweetness, with vanilla, caramel, oak wood and sweet nuts. The sweet flavours are offset by a delicate floral note and hints of tannin.
The finish is bold on the oak and adds a lovely richness to end.
These are some really exciting malts from William Grant & Sons, whether you are new to the Whisky game, or a seasoned expert.
As for simplifying the language of Whisky, they work to introduce two very distinct flavour profiles to people who might not have a lot of knowledge of the subject.
They are a wonderful introduction to good Whisky, but still enjoyable even if you're well versed in it. Definitely worth a taste.