This distillery exclusive malt is almost worth taking the trip to Aberfeldy just to buy one.
Known as the "spiritual home of Dewar's" Aberfeldy is the site of their visitor centre, the World of Dewar's. It's also where the incredible Aberfeldy 1999 19 Year Old is crafted.
Dewar's as a brand are very well known and loved throughout the Whisky world. They've brought us the likes of Aultmore, Craigellachie, Royal Brackla and The Deveron.
And of course, Aberfeldy. Each brand has been allowed to flourish on its own, and Dewar's produce blends using a combination of their malts under the Dewar's name.
So the family is pretty large, and Aberfeldy has become sort of the flagship for the brand.
The brand itself dates back to 1846, when John Dewar first started blending Whisky to sell from his grocery store in Perth.
From there it has become highly respected in the Scotch industry and each of the company's distilleries has become famous in their own right.
The Aberfeldy 1999 19 Year Old Self Fill Distillery Exclusive Cask 20658 Single Malt Scotch Whisky
The Aberfeldy Distillery is in the Highlands of Scotland and produces malt with a sweet and fruity flavour profile.
The Aberfeldy 1999 19 Year Old Self Fill Distillery Exclusive Cask 20658 Single Malt Scotch Whisky, a 19 year old Single Malt that was bottled and released in 2018, has been matured in Sherry casks and is a distillery exclusive.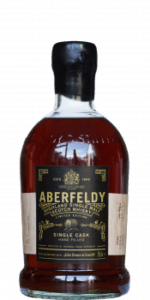 Tasting notes for Aberfeldy 1999 19 Year Old Single Malt Scotch Whisky
The nose begins with big notes of Sherry spice and sweet dried fruits. There is a slight hint of vanilla wood and caramel.
More honeyed hints come through and add a nice earthy sweetness to the overall flavour.
The palate is rich and sophisticated. Notes of orchard fruits, raisins, dried apricots and figs appear. They are smothered in caramel and a smattering of cinnamon. Oak wood develops really well here and has a sweet edge to it. Vanilla and more Sherry spices come through.
There is a Christmas cake note, with chewy dried fruits and a hint of marzipan. More honey appears to give a really smooth mouth feel.
The finish lingers on vanilla, cinnamon and oak, making for a well rounded end to a great dram.
Like we said, this malt is exquisite and warrants a trip to the distillery just to get a bottle of it.
What are your thoughts? Leave a comment below and let's have a chat!