I'm not normally a beer drinker and often find craft beer too hoppy or overpowering, that was, until I found the brilliance that is the Weird Beard Brewery near where I live in West London.
It was pure coincidence that Kirsty and I were walking around Ealing, West London, a few weeks ago when we saw an A-board outside a pub displaying the brand's name which promptly raised a smile, encouraged us in and made a sale or two.
A few of their 'Faceless Spreadsheet Ninja' beers later and a couple of Instagrammed photos later and I was getting recommendations all over the place for what of the Weird Beard beers to try next and found out they age a lot of their beer in ex-whisky casks.
That's when Weird Beard were crowned my new favourite beer. 
And a few days later myself and Kirsty were hanging out with the founders Bryan amd Gregg and their awesome whisky-loving events manager Natasha at the Weird Beard Brewery.

I won't lie, we tried very many beers, their full range and also beers that are in casks still ageing so listing them will be a bit of a challenge but some highlights include:
A Macallan finished beer, up to a year resting in the cask called Double Perle.
An Ardbeg finished beer called Boring Brown (also the Heaven Hill bourbon version).
Holy Hopping Hell
Faceless Spreadsheet Ninja
and pretty much all Weird Beard 's soon to be bottled cask finished varieties.
We went back to their open day a couple of weeks later to try the, all again and pretty much restock our home bar with Weird Beard brilliance. 
We even bumped into and had many-a-great beer with a formerly-bearded friend of  GreatDrams, Mr Billy Abbott. Great times.
Seriously check Weird Beard out, well worth hunting for their products, you won't regret it.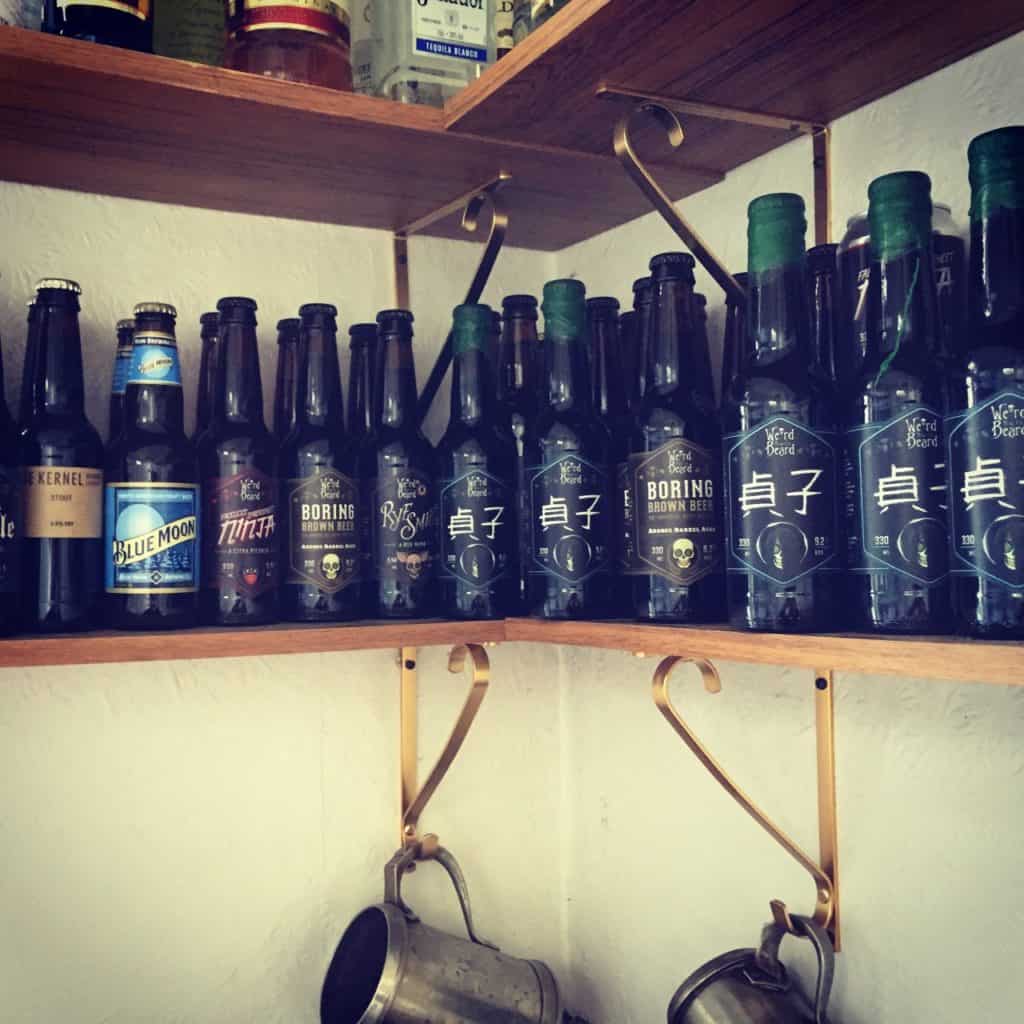 I first spotted the the Weird Beard brand in the Star and Anchor in West Ealing, my life is currently dominated by Greg's new facial hair. I've not been a fan. Although for once he seems to be 'on trend' it's a trend I would be happy for him to miss. Beards at the minute seem to be the ultimate man-accessory, to be its laziness. Greg could never be described as a lazy man, however the beard is the one expression of lazy behaviour. [Greg note: Pffft, its crafted, not unwieldy… takes time… ]
I digress, the brand intrigued me and Greg's eyes lit up.
I'm really more of a wine and gin drinker. But when invited down to the brewery I was really looking forward to finding out more from behind the brand. The tasting process was fun, Natasha guided us through the vast array of beers they produce.
My favourite, bearing in mind I've never really explored stout, was the Double Perle. For me the coffee, milky tones just reminded me of an espresso martini. On the open day they had the version that was barrel aged in Macallan casks, this just made it even more drinkable for me.
Cheers to beards! 
You can watch my YouTube review below: