Known for its easy drinking nature, Tomintoul malt is perfect for beginners and old hat whisky lovers alike.
Tomintoul Distillery, based on the Glenlivet Estate in Speyside, pride themselves in the easy going nature of their drams. They refer to it as "the gentle dram", referring to the drinkability of the malt and the "smooth and mellow spirit". This makes it easy to enjoy, and easy to quickly fall in love with.
The distillery itself is relatively young in comparison to most. Having been built in 1964 it doesn't have the same history as many Scotch brands, some of which are around two centuries older than Tomintoul. However, that doesn't mean it doesn't have character. The 55 years that the distillery has existed have been plenty for it to have built up a loyal following and a name for good quality malt.
The distillery has an fascinating range of malts, with some unexpected expressions. This includes a Cigar Malt, peated malt matured in sherry casks and Seiridh, a sherried malt that won Gold in 2020.
Tomintoul has a wonderfully typical Speyside flavour profile. The softness of the dram adds to the flavour and the smoothness really brings out the warm notes. They also have a lot of peated expressions, something that is especially rare from Speyside distilleries. Usually they leave it to Islay or the Highlands, but Tomintoul fully embrace their peated malt and have a great collection of Speyside peated expressions.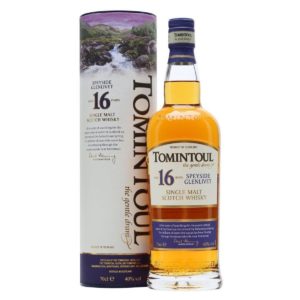 Tasting notes for Tomintoul 10 Year Old Speyside Single Malt
Bottle cost: £25.31
The Tomintoul 10 Year Old is part of their core range and has been matured in ex-bourbon casks for 10 years.
The nose begins with soft grain notes, oak wood and vanilla. It is lovely and sweet, with gentle aromas of honey and blossom.
The palate is mellow and smooth. Honey and earthy aromas of cut grass make it refreshing and bright. Citrus fruits, particularly lemon, come through and give it a nice bite. Sweet nuts, caramel, fresh cream and oak wood also appear. There are dessert-like notes as well, with more grains and malted bread coming out.
The finish is full of lemon cake and vanilla.
This is a brilliant malt. It fully lives up to Tomintoul's tagline of "The Gentle Dram" with an easy quality about it.
Have you tried any of Tomintoul' "gentle" drams? Let us know your thoughts in the comments!