It's no secret that the market for Whisky has exploded over the last decade.

Unsurprisingly, the opportunities this growth has presented have resulted in the emergence of not only a host of new, online auction services, but also new collectors and vendors keen to get involved too. If you're just starting out, this new and exciting market can maybe feel a little daunting. However, armed with the right information, buying at auction can not only be an exciting and exhilarating experience, but one that lands you a bottle for a bargain price or a rarity that isn't available anywhere else. Here, at Bonhams Auctioneers we hold regular auctions in Edinburgh, and Hong Kong. These sales are run by our team of dedicated Whisky Specialists, who are always on hand to offer expert advice or a helping hand.
If you are new to the world of whisky collecting, it might seem obvious, but first decide what you want to buy, and most importantly, why you want to buy it. Perhaps you are a lover of peaty Islay drams, or have visited a specific distillery, and fell in love. There is no better place to start, and nothing more important in collecting, than true passion. While there are many who successfully buy and sell whisky for profit, as a novice, it is unlikely that you are going to see immediate financial gain. The newspaper headlines exclaiming amazing returns are, by and large, discussing bottlings and collections that have been owned for years–often a decade or more. You are more likely to see a return on any purchases by keeping it for a significant amount of time, so it's important to have a passion that will endure this long wait.
Building on from this, it is vital to do your research – both into what you're buying and where you're buying from. It is important to buy from a source with a trained whisky specialist who can recognise a fake before it even comes to auction. Additionally, not all whiskies that come to the market are in perfect condition. A good auction house should include condition issues in the cataloguing, and very importantly the fill level. Wherever possible, ensure that you obtain bottles with a high level and a label in good condition. At Bonhams, we go one step further for you and provide a full condition report – this is an in-depth assessment of the bottle and details of any issues that you need to be aware of when bidding.                
One of the most important things to do before you raise your hand(or click your mouse!) is to check what additional costs are involved. Auction houses charge a premium on the winning bid, known as the buyer's premium, which will be a percentage of the hammer price. Remember this charge is subject to VAT, and that some online auction houses also charge registration fees. Having worked with both new and experienced bidders alike, one of the most common mistakes seen is not investigating shipping costs in advance of bidding. Shipping spirits comes with a certain amount of risk, and anything from leakage to loss to complete destruction can happenin transit, and as such it needs to be insured against. This can add considerably to the price. If you require shipping, before you decide on your upper bidding limit, get a reputable insured shipping company to give you a quote and factor this into your planning. At Bonhams we regularly work with a variety of shipping companies and are always happy to put you in touch with the most suitable option. In the majority of cases, the bottle will arrive with you in perfect condition, but when something goes wrong you need your shipper to have insurance, it's important to remember that the auction house isn't responsible once the lot leaves their premises.
Finally, a word of caution on new releases. In recent years it has become common for highly sought-after distillery releases to swiftly appear at auction with an inflated estimate. Whilst it is true that profit can be made this way, it is not guaranteed, and it is common to see a plateau in the pricing shortly after a few have made their debut at auction. If it is your favourite distillery and you just can't wait to get your hands on it, go for it, but if it is for any other reason, think it over and save your money for something you truly want to add to your collection.
At Bonhams, we are always here to offer helpto bidders whether it's their first or fiftieth time, although if you follow these broad points, you will be off to a good start. Our next Whisky sale in Edinburgh is on September 21st and contains a broad range of whiskies to suit many budgets; you can participate in a variety of ways, online, on the phone, via the Bonhams app or in person – head on over to Bonhams.com to take a look.
To hear more from the Bonhams Whisky team, follow @bonhamswhiskyandwine on Instagram' or contact [email protected]
Greg's Highlights from the Current Auction
LOT 54
Bowmore The Dynasty Decanter-31 year old

Bottled by Hart Brothers Ltd.
Sterling silver casing hall marked with gilt mounted medallions of the monarchs of The Royal House of Stuart. Atlantis Crystal decanter number 121 of 500 engraved on base, accompanied by certificate and stopper. In presentation case. Single malt, cask strength. 
Greg says… "For me there is always something special about truly ancient and unique Bowmore bottlings, you see some classics like Black Bowmore and various others, but this one has a quaint and ornate visual aesthetic I can only imagine what the actual whisky tastes like… maybe one day?!"
LOT 37
Dewar's Ancestor
£ 300 – 500
More information and bidding here
By Appointment to The Late King George VI. Specially selected and blended by John Dewar & Sons Ltd.
Sole Distributors in USA, Schenley Import Corporation, New York. Spring loaded cap, embossed lead capsule. Label discoloured with some staining, vertical crack top left centre. Level: top shoulder. 4/5 quart. Blended, 86.8 degrees US proof. 
Greg says… "I'm always a sucker for an old blend, the majority of my collection is built on them as they fascinate me and intrigue me in various ways, but to see one that was bottled in King George VI's reign, and bear his Royal Warrant is truly interesting to me… might just be bidding against you on this one…"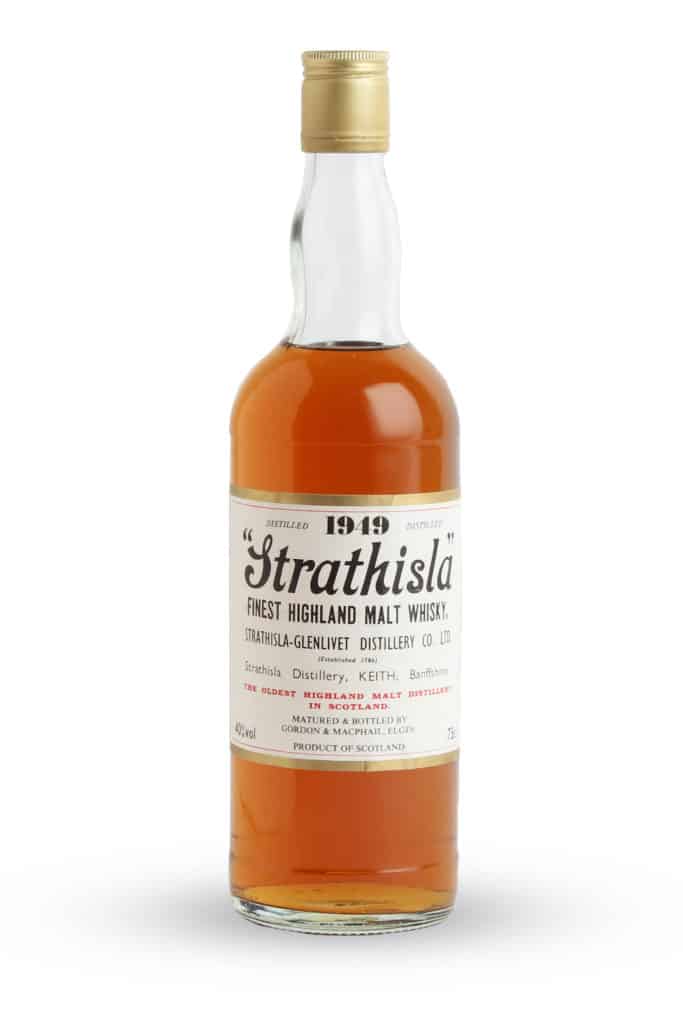 LOT 5
Strathisla-1949
£ 600 – 800
Distilled by Strathisla-Glenlivet Distillery Co.
Matured and bottled by Gordon & MacPhail. Good labelling, some bubbling to the upper and lower edges. Level: top shoulder. 70 cl. Single malt, 40% volume. 
Greg says…"Strathisla is essentially the distillery you see when you see a postcard of distilleries in Scotland; it is cute, quaint, über traditional and looks glorious both in sunshine and dusted with snow… I've been very fortunate to have tried this whisky on numerous occasions and each time I've been blown away, there is something about the monumentally old school Strathisla casks Gordon & Macphail have in their arsenal that not only stands the test of time but gives you a proper whisky moment with each sip."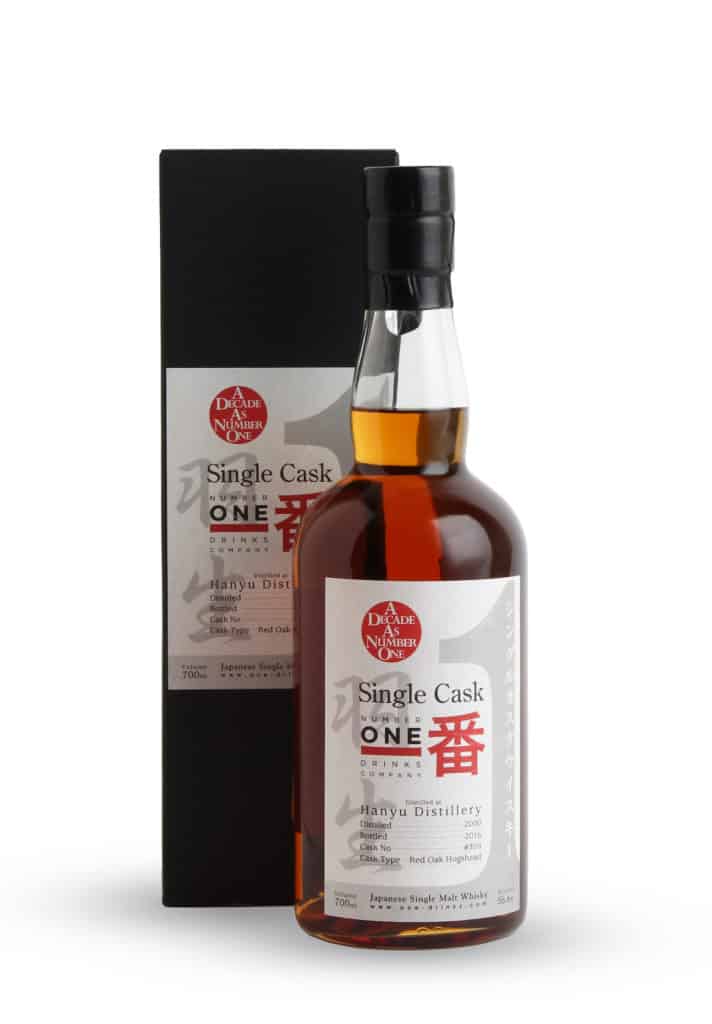 LOT 82
Hanyu-2000
Bottled in 2016 by Number One Drinks Company.
Red Oak Hogshead #359. In original carton. Good labelling. Level: very top shoulder. 700 ml. Single malt, 56.6% volume. 
Greg says… "There is just something really intriguing about this bottle… you don't see it come around all too often and just look at that colour too… one I think I could stare at for hours if it was on my shelves, let alone when it gets opened… "
LOT 58
White Horse-Bottled 1941
£ 300 – 400
By Appointment to His Majesty The King, Distilled, Matured and Blended in Scotland by White Horse Distillers Ltd., Lagavulin Distillery, Island of Islay and Glenlivet District.
Screw cap, lead capsule embossed 'White Horse Cellar Whisky, White Horse Distillers Limited, Islay & Glenlivet District' with small "v" shaped section missing. Good labelling. Level: low shoulder. Blended, no strength or capacity stated on labelling
Greg says… "I own a couple of these, and opened one a few months back expecting to have it knocking around for a long ol' time… sadly it is gone and the bottle is proudly living on a shelf of ancient bottles but it tasted amazing, cannot believe the lead capsule was so in tact and just look at the old bottle design too – a gem for any collection."