Another splendid expression from Suntory's Hakushu range, the Distiller's Reserve is a marvellous malt.
Japanese malt at its finest
Sales of Japanese malt whisky are booming right now. With a global rise in all categories of whisky, Japanese whisky is doing especially well.
In fact, they've been doing so well that some bottlings have had to be discontinued, including the Hibiki 17 Year Old. The 12 Year Old Hakushu was also stopped for a while, but was brought back recently, much to the joy of fans.
Suntory is one of the leading Japanese malt producers and are renowned world wide for their whisky. It's really no wonder that people have been buying their bottles in droves.
Since the Distiller's Reserve expression doesn't have an age statement, they are able to produce it more readily than other bottlings and thereby keep it going. Expressions with age statements have been suffering more because obviously they take a certain period of time to mature. If you didn't lay down enough casks 12 years prior to the boom, then of course you'll run out when the time comes.
Hakushu Distiller's Reserve Suntory Single Malt Japanese Whisky
The Hakushu Distillery is based in the glorious surroundings of Mt. Kaikomagatake. It would be hard not to create excellent malt here. The site of the distillery was chosen for its proximity to high quality water sources. With thick forests all around, Hakushu Distillery tries to reflect the freshness of the landscape in their malt.
The Distiller's Reserve Single Malt has been matured in a combination of Japanese oak casks, American oak barrels and Oloroso Sherry Spanish oak butts. The malt itself is a mix of peated and non-peated malt, giving it a well rounded body.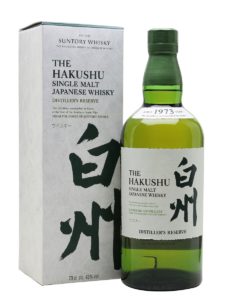 Tasting notes for Suntory's Hakushu Distiller's Reserve Single Malt Whisky
Bottle cost: £63.95
The nose begins with fresh notes of pine needles, dew covered grass and green apples. It is crisp and slightly herbaceous, giving it a richness overall. Hints of melon and other green fruits also appear.
The palate is full of mint and cucumber, bringing in a note of peat smoke to give it a nice edge. More fruit also comes through, making it a little bit sweet. Herbal notes waft throughout, with grapefruit and limes.
The finish lingers on smoke and green grass, ending on a lovely refreshing note.
The Hakushu Distiller's Reserve is an excellent malt with a full body and lots of flavour. Thank goodness this one hasn't been discontinued (yet)!
What are your thoughts on the Hakushu Distiller's Reserve? Start the conversation in the comments!