There are a lot of whisky distilleries in Australia, and one of the most impressive is Starward, who are making exceptional malt.
There has been huge increase in the number of Australian craft distilleries in recent years, with more brands turning to small batch, hyperlocal production. The global whisky market has been moving this way for years now, with most countries with an whisky industry seeing a rise in craft and small batch distilleries.
Small distilleries have usually always been a feature in any country's internal whisky market, but this is a recent development in Australian whisky. The country once had a law that did not allow whisky licenses to companies that had still under 2700 litres. Most small batch and newly founded distilleries start off much, much smaller than this, some even under 100 litres.
The law was challenged by Bill Lark, who wanted to open a distillery in Tasmania, but only had a 20 litre still to start with. He lobbied for change and is largely credited with the change in law. Bill went on to open the Lark Distillery, which is now incredibly well known across the world
Now, the country is blooming with up and coming craft distilleries.
Starward Distillery, based in Melbourne, got in there a little earlier than the most recent boom  started. It was founded in 2007 and has thrived ever since. They pride themselves on being the distillery for the foodie audience, naming Melbourne as the foodie capital of Australia.
What this means is that the distillery is proudly flavour forward. They focus on crafting a malt that is of the highest quality and best flavour. Melbourne is at the heart of Australian wine country, so Starward have to be making malt as good to really make their way there.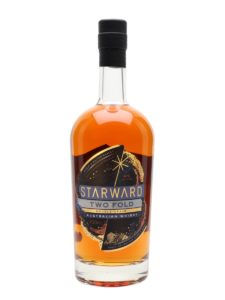 Tasting notes for Two-Fold Blended Australian Whisky
Bottle cost: £31.75
Starward's Two-Fold Blended whisky takes advantage of their position in wine country. It is matured in Australian red wine casks, giving it a rich, fruity flavour.
The nose begins with notes of pineapple, mango and coconut. It is smooth and mellow but packed with flavour. Notes of oak, vanilla and malted grains.
The palate has lots of plums, apples, pears and summer berries. The fruity notes are rich and elegant with a lovely vanilla, fudgey sweetness to them. Hints of caramel, oak wood and dark chocolate also appear.
The finish is full of oak and red wine fruitiness, rounding off well.
Starward's Two-Fold is a flavour forward blend that really makes something of the red wine casks it has been matured in.
Are you a fan of Starward Two0Fold Blended Australian Whisky? Let us know your thoughts in the comments?