Fine whisky often feels like treasure, but very few malts give us a veritable hunt.
Far from being readily available online, these whiskies evade us with their rarity, singularity and secrecy.
By invite only, here are Great Drams' Top 10 most unusual, mysterious and cult whisky bottlings.
The whiskey so difficult to source that people have resorted to stealing it, Pappy Van Winkle's 20 and 23 year old reserve is criminally good.
To give you an idea, the availability of Beam to Pappy ratio is 1000:1. These bottlings were made long before the bourbon renaissance, and their popularity was severely underestimated.
Every year Pappy's batch is released in a single go, with state by state allocation in the US, and a very select amount making its way to London. Maple syrup, spices, caramel, soft creams and honeyed oak make up the palate, should you ever get as far as tasting.
Julian Preston Van Winkle, heir of the drink producing dynasty, phrased the Pappy predicament perfectly to Louisville Magazine:
"There's nobody else in our situation. I can't think of another product. Ferrari, Lamborghini? But if you have the means, you can get one of those. That's not necessarily true with us. We have people with literally billions of dollars who can't find a bottle. They could by a private jet in cash. They'd have an easier time buying our company."
Pappy is picky about its consumers, which makes us covet it all the more.
Desire was stirred so successfully by Buffalo Trace, that in late 2013 the Kentucky distillery was broken in to and 73 cases of the bourbon were stolen.
Good luck getting hold of it, law abiding citizens. 
2. Whisky of a sunken ship, SS Politician
The SS Politician sank off the shore of Eriskay in the Outer Hebrides in 1941, and took cases of whisky to the sea floor with it.  The 8000 tonne cargo ship had been bound for Jamaica and New Orleans, and had 28,000 CASES of whisky aboard. The film Whisky Galore recounts a legend wherein Scottish locals attempt to loot the wreck for whisky and gold.
In reality, some whisky was discovered in 1987 by South Uist diver Donald McPhee, who thoughtfully brought a few bottles to the surface.
Sadly, the belief stands that seawater may have compromised the seal of the bottles, making the whisky unfit for human consumption.
This didn't stop the salty nectar going for £12,000 at auction.
Scarcity seduces customers, creating an impulse to lay claim to finite lo
There is no whisky more scarce, than one which hails from an extinct distillery.
Step forward Port Ellen's whisky. The distillery closed in 1983 during a time when demand for whisky was waning dramatically. Seeing as Port Ellen's produce was most commonly used for blends, it was assumed that the producer wouldn't be missed.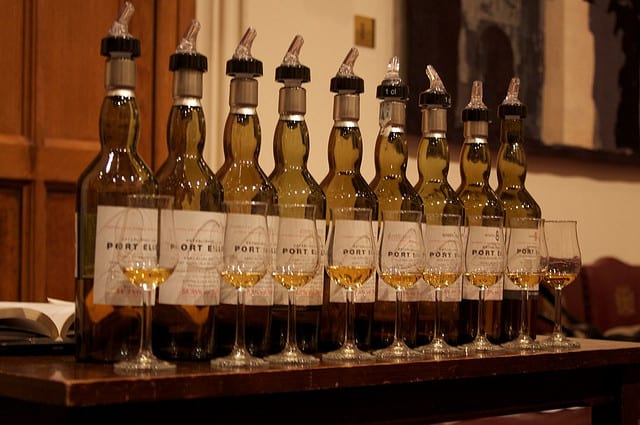 What wasn't taken into consideration was the addictive Islay smokiness that permeated Port Ellen's drams.
Today, it is generally regretted that Port Ellen's copper stills were sold for scrap. This whisky is fast reaching its final reserves, and in ten years could be gone. 
No wonder people will pay £1500 a bottle.
When a whisky is distilled near an active volcano, you know you're onto a winner. 
Imagine if this same distillery, nestled by the snow-capped volcano Mount Asama in Japan, also imported Golden Promise barley from Scotland and matured its whisky in Spanish oak sherry casks. Cosmopolitan, right?
Then imagine that this distillery shut down 50 years after its opening in 1951. 
You'd want to get your hands on some of its air-mile hungry hybrid before it ran out.
The Geisha and Samurai series, along with the Fire Dragon, are still sparsely available. Needless to say that people will pay through the nose for evocations of the hot spring baths, mountain dew and Japanese pine forests of yesteryears.
Crowned the world's best whisky in the 2015 World Whisky Bible, the Yamazaki Single Malt Sherry Cask only laps against the glass of 18,000 bottles in the world.
The secret to being the best whisky in the world is subject to opinion, but Japanese whisky's popularity could have something to do with the use of the Mizunara cask. The wood type offers a niche range of aromas to its malts, often described akin to sandalwood.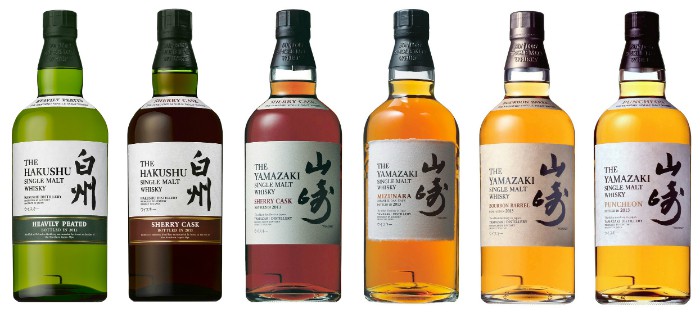 Whatever it is, it offers a distinct alternative to Scotch, and people like it.
Having said this, Suntory also use Oloroso sherry casks to mature Yamazaki, a bulletproof method of balancing acidity and fruitiness.
With so much focus these days on whisky's small print, from its age and ABV to its exact source, it's pretty ballsy to deny your consumer any of this knowledge. 
Glasgow Distillery Co. is pretty ballsy. 
A natural trait, perchance, for a distillery which has come back from the dead. 
The whisky must be from Glasgow, we hear you cry.
Almost; the Glaswegian whisky is currently maturing and by the time it is ready, will be the first single malt whisky to be produced in the city in 10 years.
But this isn't the malt in question.
A natural trait, perchance, for a distillery which has come back from the dead. 
The whisky must be from Glasgow, we hear you cryIn order to promote the Glasgow whisky, the company have decided to whet people's appetites with a whisky of secret origins.
Glasgow Distiller Co. CEO Liam Hughes came across a batch by chance and was granted permission to distribute under one condition;
"We can never reveal where the whisky came from, and when it's gone it's gone" 
What we do know is that Prometheus is a 26-year-old single malt from somewhere in Speyside.
We also know that it was made with peated barley, matured in oak sherry casks and boasts the taste of charred crème brulee.
The rest, as they say, is history.
Outlandish quirks go towards creating a cult bottling, as is the case with Jura's Superstition.
The superstition dictates that a bartender cannot open a new bottle of the spirit; the honour must go to the guest who ordered it.
Ensconced in legends of the Hebrides, and branded with an Egyptian Ankh hieroglyph on every bottle, the whisky must be opened with enough pressure to imprint this symbol onto the opener's palm.
What's more, an empty bottle of Superstition can only be thrown out once the Ankh is removed and hung proudly on the bar. The whisky is a union of Jura's two styles; strong peat married with grassy elegance.
Who doesn't love some fun and games?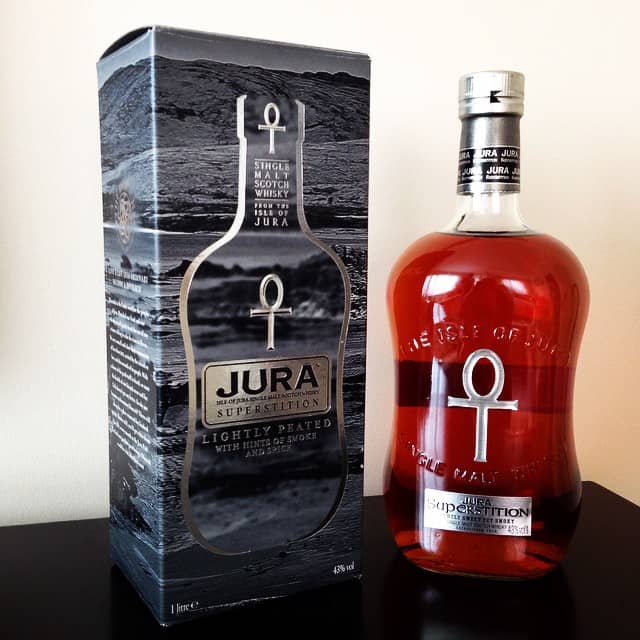 Macallan is champion of the classic cult bottling tactic; texturing malt with stories.
The Macallan M single malt has aged for up to 73 years and has only recently been released, whilst the 1939 Macallan was introduced as WWII broke out across Europe. Both come dowsed in nostalgia.
The latter is also smothered in smoke and smooth toffee, whilst the former is lashed with dried fruits, green apples, vanilla, cinnamon, nutmeg and ginger with undertones of wood spices, violets and even tobacco.
Such distinct flavour profiles, plucked at a particular moment in history, are the closest thing to time travel many of us can hope for.
Glenfiddich have found art in numbers;
The 50 year-old Glenfiddich was created from two separate casks, dating back to 1955, which were married for half a year before being bottled.
Only 500 bottles were produced, and only 50 bottles are being released per year, over a 10 year period.
Multiples of 5 have never sounded so symphonic.
This malt, also casked in 1955, shows how simple it can be to bottle a beautiful myth.
The whisky is named after Janet Sheed Roberts, a lady who lived in Glenfiddich all her life, and died in 2012 at the incredible age of 110. 
Only 15 bottles of this elixir were bottled, and represent this local woman's ability to defy time and relish every year of maturation.
Sometimes a personal touch is all it needs.
There's our ten, catch one if you can.