Scottish Whisky Regions: Highlands, Lowlands, Islands, Islay and Campbeltown
The Highlands region of Scotland is the largest region geographical. It has around 27 distilleries currently in production but represents a wide range of flavour profiles.
The Highlands differ from the other regions of Scotland as they have a broad flavour profile, ranging from peated and smoky to fruity and light. Geographical, the fruity spirits tend to be found in the south and east, and the heavier, spicier malts are more likely to be found in the North and West.
Big names from the Highlands region include Glenmorangie, Dalmore, Aberfeldy and Dalwhinnie.
Despite covering a reasonable amount of land, the Lowlands only has three remaining distilleries, Bladnoch, Auchentoshan and Glenkinchie. It was previously home to distilleries such as Rosebank and St. Magdalene
Malts from this region tend to have a light body with no peat flavours but a great tasting fruitiness. They also typically have a drier mouth feel.
A Typical Lowlander: Auchentoshan Three Wood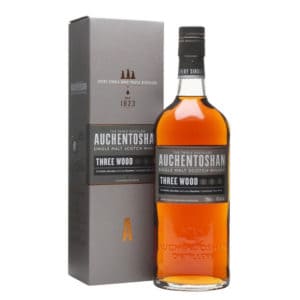 Speyside is the most densely populated region of Scotland, at least where distilleries are concerned. It is also the home of Glenfiddich, the world's best selling single malt.
The Whisky here tends to be light in body with sweet, sherried flavours and lots of fruit. There are less peated Whiskies to be found here as Speyside distilleries tend not to use peat, but there are some wonderfully smoky expressions to be found.
Like the Highlands, the distilleries on the Islands region produce a variety of different flavour profiles. Some people classify the Islands as part of the Highland region, but there is an argument that it stands as its own region. It is quite widely dispersed geographically, stretching from the Isle of Arran in the South to the Isle of Orkney in the North.
Flavour profiles from the Islands include big seaside malts with lots of brine and oil, and also lighter, sweeter malts with more focus on earthy tones. There is also a lot of influence from peat in these drams, but definitely not as much as with Islay malts.
Islay is one of the smallest but most renowned regions in Scotland. It is an island just off the west coast, but for its size it packs a big punch. The island has eight working distilleries, including Bunnahabhain, Bruichladdich, Laphroaig, CaolIla, Kilchoman, Ardbeg, Lagavulin and Bowmore.
The malt from Islay is brimming with peat and big smoke flavours. It also captures the coastal qualities of the island, with lots of brine and salt. There are of course variations in the malt, but for the most part peat and the sea air play a big part.
Campbeltown was once the hub of Whisky production in Scotland and had up to 34 working distilleries. Today it only has three, Glengyle, Glen Scotia and Springbank, but they present a breadth of flavour profiles.
Whiskies from Campbeltown tend to be quite oily, with a lovely seaside flavour to them. They tend to be very dry and smoky, with a lovely saline and ocean air flavour. These are definitely coastal malts.