With only a week to go until GreatDrams goes on a four-day tour of Speyside packing in a bunch of distilleries and even a brewery in it made sense to introduce the company who will be hosting myself and Kirsty on this adventure.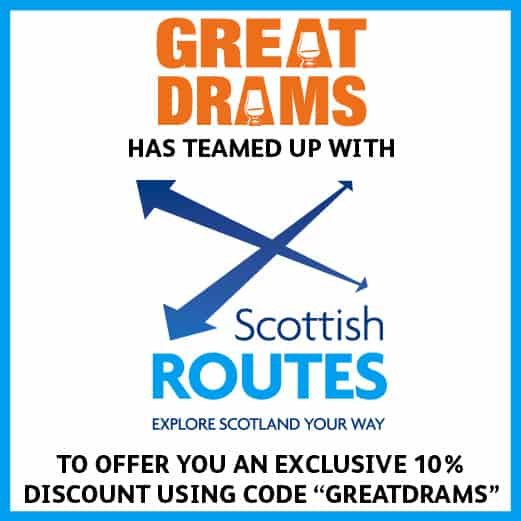 If you book your Speyside or Islay tour with them remember to use code GREATDRAMS to get 10% off your booking – what a treat!
It is every Whisky lovers' dream to visit the birthplace of the great Uisge Beatha, and with Scottish Routes you can do just that without the hassle of planning an itinerary.
Scottish Routes solves the problem of logistics by offering a range of Whisky tours. All you need to do is show up.
The company offers three different Whisky tours, giving you a choice of three destinations, Bespoke, Islay and Speyside.
The main tours last for up to four days and covering two of the most highly populated distillery regions, Islay and Speyside.
The Islay tour takes you on an exciting trip around the famous Scottish Island, stopping at all the biggest names in the Whisky world, and some of the smaller ones too.
You'll get the chance to sample the sea air that goes into making this Whisky so well known and loved, not to mention the many samples of great Islay Scotch you encounter along the way.
Starting at Deanston Distillery on day one, this trip will take you all over the Island, giving you the perfect opportunity to soak up the incredible surroundings as well as a rich history.
The tour takes you to famous distilleries including Ardbeg and Laphroaig, and with a tour guide there to tell you the history and culture of the surroundings, you will feel like you know Islay better than ever when you leave.
The same can be said for the Speyside tour, only this time you'll get to sample some craft beers as well.
This tour takes you to world-renowned distilleries like Glenfiddich and Dalwhinnie as well as many others in the region.
You will also have the opportunity to see such sights as Cairngorm National Park and other places of truly outstanding beauty.
Much like the other Whisky tours on offer, this is a trip for people who love a good dram, no matter where it comes from. Giving you the chance to visit so many distilleries, you never know, you might even find a new favourite!
So if you're at a loss of your next family holiday, or you just want a break away, Scottish Routes will look after you. On of their tours is the perfect way to indulge in something you love with friends or family.
They offer several other tours as well, so if these three don't catch your eye (although I don't know why they wouldn't) then there will definitely be something else for you.
In fact, they also offer the opportunity to tailor make your own tour, so what are you waiting for? Get out there and discover the land that created the water of life!
If you book your Speyside or Islay tour with them remember to use code GREATDRAMS to get 10% off your booking – what a treat.