The Scotch Whisky Association (SWA) has hailed the Coalition Government's decision to cut excise duty on spirits by 2% in today's Budget as historic. It said it is a move that is both fair to consumers and a significant boost to a home-grown industry.
George Osborne's announcement marks the first cut in spirits duty in almost twenty years and is only the fourth time that excise on whisky has fallen in a century.
The Chancellor's landmark decision to reduce duty by 2% a bottle was widely welcomed across the whisky industry and would, the SWA added, be cheered by consumers. The Chancellor's recognition of Scotch Whisky as one of the UK's biggest exports has also been welcomed.
Building on last year's duty freeze, the announcement was described as a show of support for a major UK industry and its supply chain, which is responsible for more than 40,000 jobs. It will benefit the wider hospitality industry and help underpin investment across the sector which, in turn, will boost public finances.
As a result of the 2% cut in excise, the duty burden on a 70cl bottle of Scotch at the average price of £12.90 has been reduced by 16 pence from £7.90 to £7.74. The total tax burden, including VAT, now stands at £9.89, or 77% of the average price of a bottle of Scotch, down from 78%.
David Frost, Scotch Whisky Association chief executive, said: "This is a historic decision and only the fourth time whisky duty has been cut in a century.
"The Chancellor's announcement will be toasted across the whisky industry and by consumers who are getting a fairer deal on tax when they have a drink of Scotch. The move is a major boost to our industry as we look to grow again in the UK, and equally sends out an important signal on fair taxation to our export markets.

"The industry is raising a glass to George Osborne and his Treasury team, as well as to all those who have supported our campaign over the last two decades."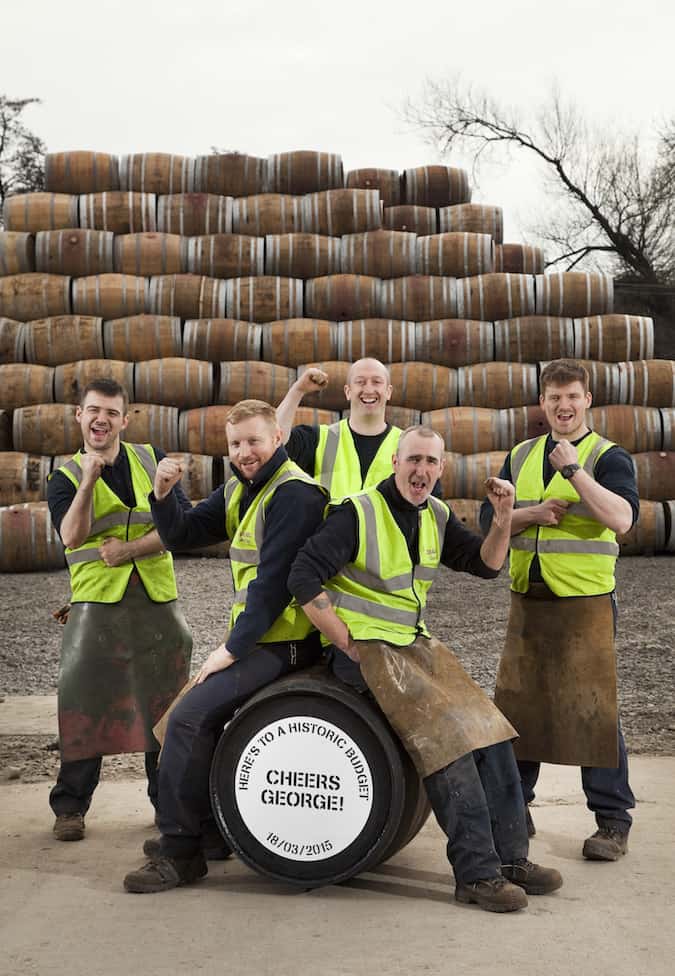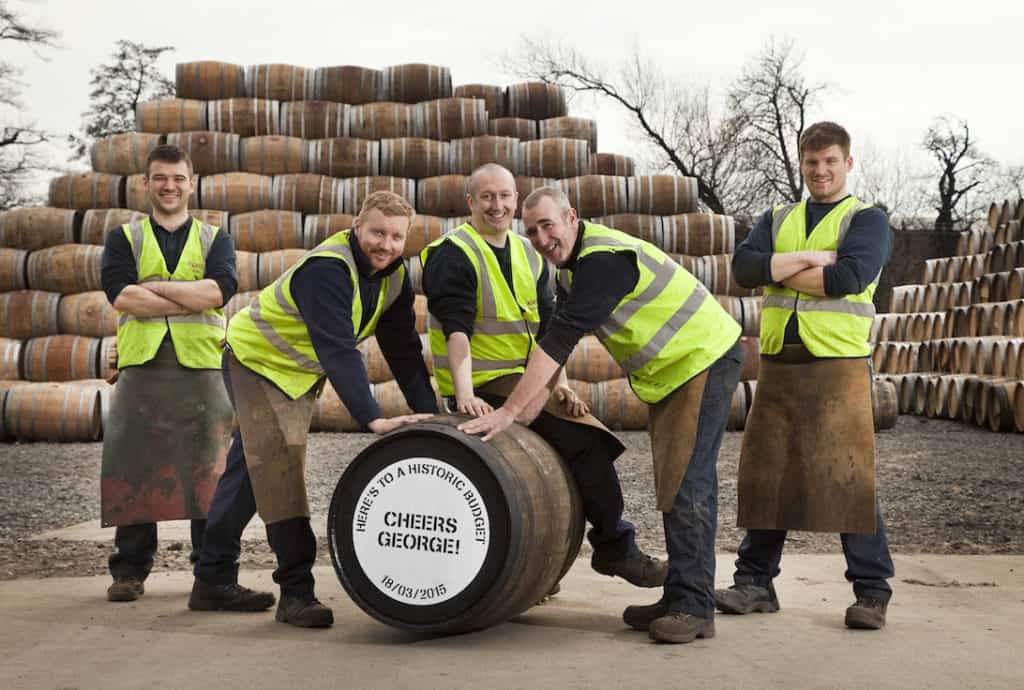 VAT is charged twice on Scotch Whisky – on duty and on the final selling price. The total VAT on a bottle of Scotch is now £2.15.
This is only the fifth spirits duty cut since the landmark 1823 Excise Act.
The only spirits duty cuts since then are:
1995 and 1996 (Ken Clarke);
1973 (Anthony Barber) – this excise duty cut was made to compensate for the introduction of VAT (as a condition of UK entry into the Common Market).
The overall tax burden did not decrease; 1895 (William Harcourt).
For more information on the SWA visit www.scotch-whisky.org.uk and follow us on Twitter @ScotchWhiskySWA
Even better… want to see how the industry reacted? Here's a couple of pics of coopers at Diageo's Cambus Cooperage in Alloa Scotland celebrating and thanking George Osborne…