Irish Distillers, makers of some of the world's most enjoyed whiskeys, has joined forces with Eight Degrees Brewing to create a second experimental limited edition of the beloved Jameson Crested.
Launching this month, Jameson Crested Finished in Devil's Ladder Belgian Tripel Barrels is the next step in an exciting collaboration between Irish Distillers and its Co. Cork neighbour, Eight Degrees.
Making the most of their close relationship, in 2020 Eight Degrees finished their Beligian Tripel craft beer in Jameson sherry casks. Named Devil's Ladder after the best-known hiking route up Ireland's tallest peak, the beer truly takes taste to new heights.
Always seeking an opportunity to innovate, Jameson returned the compliment by selecting a special whiskey to mature in the beer-soaked barrels. After four months of maturation, the result is a stunning evolution of Jameson Crested, with abundant spices, floral hops and sweetness, while the oak and malt work in tandem to add a toasted cereal character.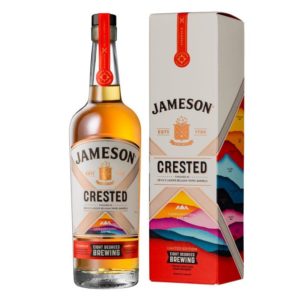 "It's no secret that the flavours found in beer and whiskey complement each other," explains Irish Distillers' Blender Dave McCabe.
"We are delighted that in recent years our relationship and indeed proximity to Eight Degrees Brewing here in Cork has created a canvas for collaboration and experimentation in this space, both as part of the Jameson Caskmates Series and beyond. 
"The Belgian Tripel beer finish brings a balanced contribution to Jameson Crested, accentuating elements such as sweetness in the form of vanilla and brown sugar, as well as a roasted malt character and elevated clove notes," adds McCabe.
Daniel O'Shea, Head Brewer at Eight Degrees Brewing adds: "It was in the spirit of innovation that we decided to rest Devil's Ladder in Jameson sherry casks, adding sweetness and Christmas cake notes to our Belgian Tripel. We are thrilled that the story has now come full circle, with our beer imparting a delicate hoppy character to this iconic Irish whiskey."
A limited-edition release of fewer than 6,000 bottles, Jameson Crested Finished in Devil's Ladder Belgian Tripel Barrels will launch in O'Brien's Wines from 23rd April, specialist retailers off licenses from 26th April, and select markets through Jameson's online shop at jamesonwhiskey.com from 28th April priced at €50 (70cl)[1].
---