As fantastic as single malt can be, and take it from us, it really can be fantastic, we like it when we come across something a bit different and a bit unique.
Now, don't get us wrong, there's a reason why ex-bourbon and sherry casks are the most popular choices for aging and finishing a Scotch, but here at Greatdrams.com we're not afraid to push the envelope and try something new.
Thanks to this Craigellachie 10 Year Old Single Malt Rum Cask Finish, we've certainly achieved that. This is our first use of an ex-rum cask here at Great Drams, and thanks to the amazing finish given to this Scotch, it won't be the last.
All of the whiskies found in our Rare Cask Series are incredibly rare and completely unique, meaning you can't find them anywhere else. We do not blend them as we want to remain as true to the character that the distillery was aiming for as possible.
Speyside is synonymous with whisky, and this is evident more than ever, thanks to the Craigellachie Distillery, situated in the centre of Speyside between Dufftown and Rothes.
In close proximity to the River Spey, here you'll find purple heather, lush green pastures, dramatic scenery, and everything you'd expect from the Scottish Highlands, or the sub-regions of the Highlands, if you want to get pedantic about it.
Located high up on the rock of Craigellachie, the name literally translates to 'rocky hill'.
Built in 1891, the distillery is today operated by Bacardi, who run it via Dewar's, which is one of their subsidiaries. It is primarily used for Dewar's blended whisky, though they do also produce a handful of original bottlings, which have proved hugely popular.
When GreatDrams released their 50th bottling, they knew they needed something special. 50 is an important milestone, and it is something that needs celebrating. Well, what better way to celebrate, than with an amazing single malt?
Distilled in October 2012, and bottled in July of 2023, this single malt spent more than 8 years of its life inside an ex-bourbon cask, before being finished in an ex-rum cask for 16 months. The use of a rum cask is unique in the world of whisky, and we can't quite figure out why that is. People use bourbon, sherry, wine, brandy, and port casks, so why not rum?
The final 16 months of aging in the rum cask have taken this whisky to a whole other dimension. The sweetness of the rum really shines through here and compliments the smoky notes of the whisky perfectly. At 48.2% ABV, there's some definite burning present, but it is balanced out by the sweet and smoky notes beautifully.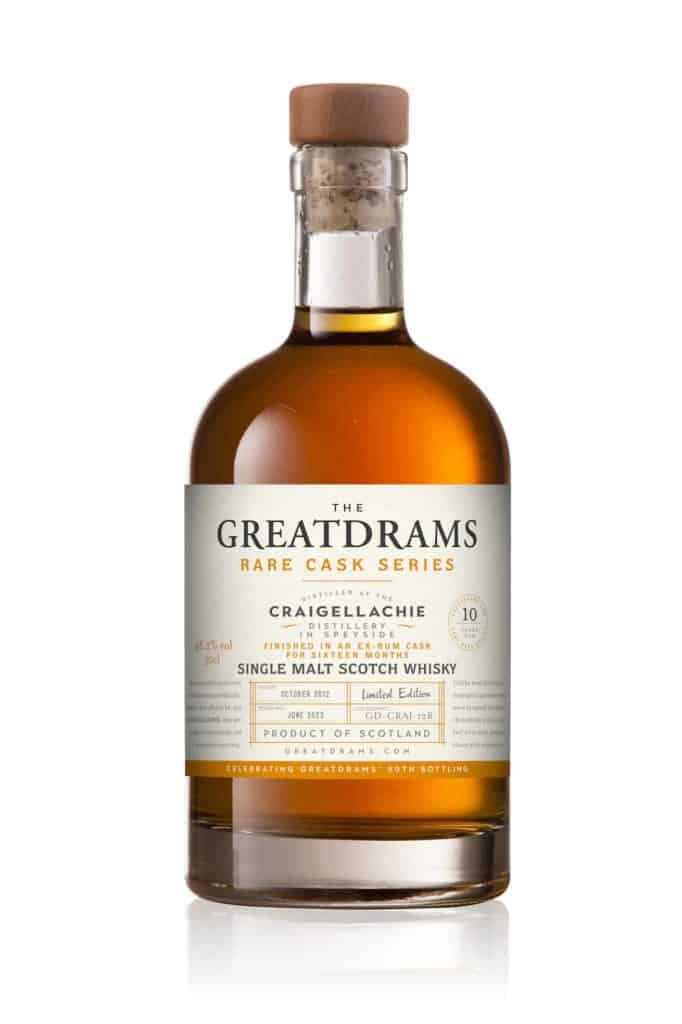 On the nose, this caramel coloured whisky offers notes of caramelised pineapples, toasted oak, maple smoke, dates, grapes, and sticky summer berries.
On the palate you really pick up the tropical notes from the rum, with pineapple once again being the star of the show, accompanied by sweet mangoes. You can also detect a hint of vanilla, more smoke, a touch of cloves and nutmeg, and toasted honeycomb.
The finish is medium, with more tropical notes shining through, being accompanied by notes of rum and sherry, and a gentle breeze of oak smoke. This is a wonderful whisky to sip on a warm summer's evening, or in front of a roaring fire with a good book on your lap.