The first of an annual release series, Mr George 67 Year Old Scotch Malt is sure to be a triumph among fans.
For a long time Blends were the Kings of the whisky world. They were known as the pinnacle of taste and most Scotch was used to make them. These days it is quite the opposite and that is down in part to the legacy of Mr George.
Mr George was the second generation of the family that started Gordon and MacPhail and played a pivotal role in growing the company. As independent bottlers, Gordon and MacPhail were up against the biggest names in the game and had to make themselves known.
In order to grow their international market, Mr George would travel across Europe, introducing countries to the Single Malts made by Gordon and MacPhail. The plan proved to be a success and soon enough the company became a key player in the export of Single Malt in Scotland.
At the end of their 125th anniversary celebrations, Gordon and MacPhail have released this 67 Year Old Single Malt to commemorate Mr George and the long history of the company.
Gordon and MacPhail Mr George Legacy 1953 67 Year Old Single Malt Scotch Whisky
Distilled in 1953 at Glen Grant Distillery, only 355 bottles are available of this incredibly aged Single Malt. A truly perfect way to remember a man who championed Single Malts long before they were as adored as they are now.
The whisky has been bottled at cask strength, which is 59.4%, having spent the last 67 years in first fill Sherry butts.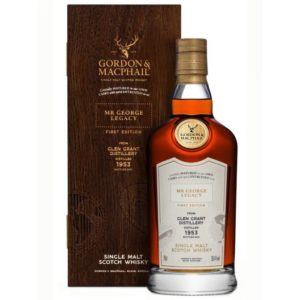 Tasting notes for Gordon and MacPhail Mr George Legacy 67 Year Old Scotch Whisky
Bottle cost: £4,162.50
The nose is deeply aromatic and wafts of wax, mahogany, and fruit. It is sweet and warming, with cinnamon, nutmeg and black treacle giving it a rich background.
The palate is slightly smoky, with more spice and fruit notes. Apple, pears and plums come through. There is a slightly sharp edge to these that goes excellently with the spices.
The finish lingers on fruit and smoke.
For a 67 Year Old, this malt certainly has a lot of life in it. We are sure the Mr George would be very proud of his legacy malt!
What are your thoughts on the Gordon and MacPhail Legacy malt? Will you be following the series as it grows? Let us know your thoughts in the comments!