At one time I would only be seen dipping my nose into a glass poured from a distillery on the whisky isle of Islay, And certainly why not! It's a unique island whose malts sport some of the finest and most exciting smells and flavours in the world.
Now a few years into my malt journey I am seen dipping that nose into a far wider range of smells and flavours. Quite recently I have come across one very delicate but extremely refined creation. I have been exploring my way steadily through two expressions of Glengoyne. Both the 10 year old and the 12.
Glengoyne is quite a unique distillery. Located around 30 minutes north of Glasgow at the foot of a striking hill named Dumgoyne. The distillery was founded in 1833 by George Connnell and was originally named the Burnfoot Distillery. It was sold on 43 years later to the Lang Brothers from Glasgow and renamed eventually the Glengoyne Distillery in around 1894. Now owned by Ian Macleod Distillers Ltd the production at Glengoyne has gone from strength to strength creating a fantastic range of single malts.
On my desk this evening as you know are two entry level offerings being the 10 and 12 year old expressions. Glengoyne's character is not peated whatsoever and the distillers pride themselves on the process of simply drying by air never peat.
This leaves a very clean, crisp aroma and sweet velvet taste which to me is like no other. So lets begin with the 10 year old. What do we get here?
The 10 year old sits at the foot of the core range offered by the distillery. From what I've heard many whisky drinkers claim this dram as understated and lacking in character which I disagree. This entry level expression does exactly what the makers intended it to do which is to introduce us to the aroma and flavour of a very traditionally crafted single malt. The 10 year old sports an incredible nose beginning from freshly cut ripe green cooking apple to a hick toffee aroma. Drop a small measure of water in and wait for up to five minutes and what greets you is the oak cask interweaved with a citrus overtone. Take the whisky onto your palate and this allows you to taste some rather complex flavours for the age. What strikes me is the powerful taste of banana skin if you get my drift! Sure we all smell and taste differently but to me this stands out. Vanilla is there from the cask but it is not by any means a dominant tasting note in my opinion.

With the addition of water it allows the spirit driven character to slightly diminish letting those base molecules to erupt with flavours of almond, clove and a potent maltiness. So how can this be understated and lacking in character? To me the only improvement could be by increasing the strength to 43% which it already is in the United States and quite frankly should be standard globally.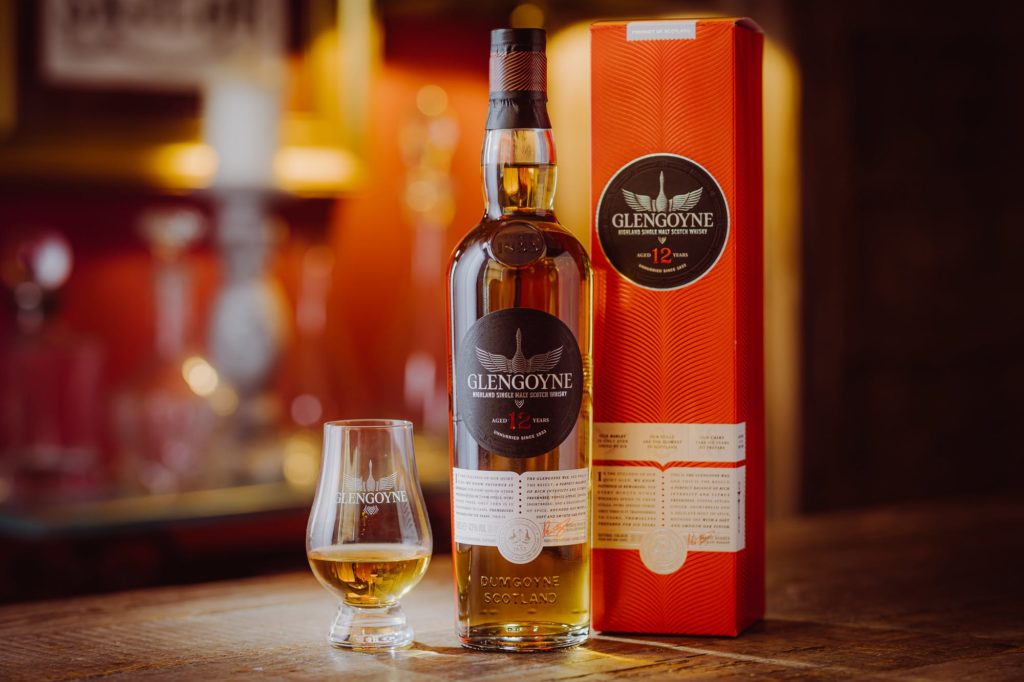 Moving onto the 12 year old and we immediately see a slight darker appearance. Both of these whiskies are light in colour due to no caramel colouring being added which I do commend!
I do like it when producers don't look to deceive the consumer. I understand this is consistent throughout the Glengoyne range.
What I do notice about the 12 year old is the fact that it is simply a step up from the 10 in means of depth of character. On the nose are all the aromas that we get in the 10 year old with the addition of a stronger citrus punch, And the vanilla here is more prominent also which will be from the fact there's a minimum of another two years maturation here.
Take a sip and you are greeted by a very sweet toffee flavour that to me dominates this expression. The fact that ex sherry casks have been used here allow some dark fruit notes to come through but are very much in the background in comparison to other whiskies which we associate as sherry cask matured. For me the finish has to be the exciting part about this dram. I encourage you to breathe out through your nose after swallowing and what you should get if I am right is an aroma of walnut..yes walnut! This has to come from the variety of oak which has been selected to mature this fine spirit.
So in a nutshell (See what I did there!) I find both of these single malts very good expressions indeed and I encourage you to try them if you haven't done so far.
Comparing the two I have to say I personally prefer the 10 year old which I wouldn't have expected but if I was to introduce a friend to Glengoyne then the 10 has to be the one to go for.
Both are very high in terms of quality of production and maturation but I feel the 12 year old demands a more experienced drinker to explore the depth of aroma and flavour. I can expect to discover a very wide range of flavour as I in time work my way through the Glengoyne range with I feel the 12 year old cask strength being my next purchase.
One question does come to mind though! If the distillery decided to make 46% the standard strength and chose to barrier filter only, What would be found in the glass? Something exquisite I bet.
Sláinte