The world's most awarded Single Malt Scotch Whisky1 will launch the Archive Collection, another defining moment of Glenfiddich's rich and long standing history. The Archive Collection comprises rare family casks, which unlock a moment from the distillery's warehouses in Dufftown to share some of the finest whiskies created that were laid down over the last half century.
While the world has changed almost beyond imagination during this time, these whiskies have been quietly maturing, ageing and taking on the unique qualities of their oak casks and the exceptional climate of the 'Valley of the Deer'. Accessing the Glenfiddich Archive Collection is accessing the archive of Single Malt. It is tasting and experiencing the vision of William and Elizabeth Grant and the generations of the Grant family that followed; unlocking the history of Single Malt.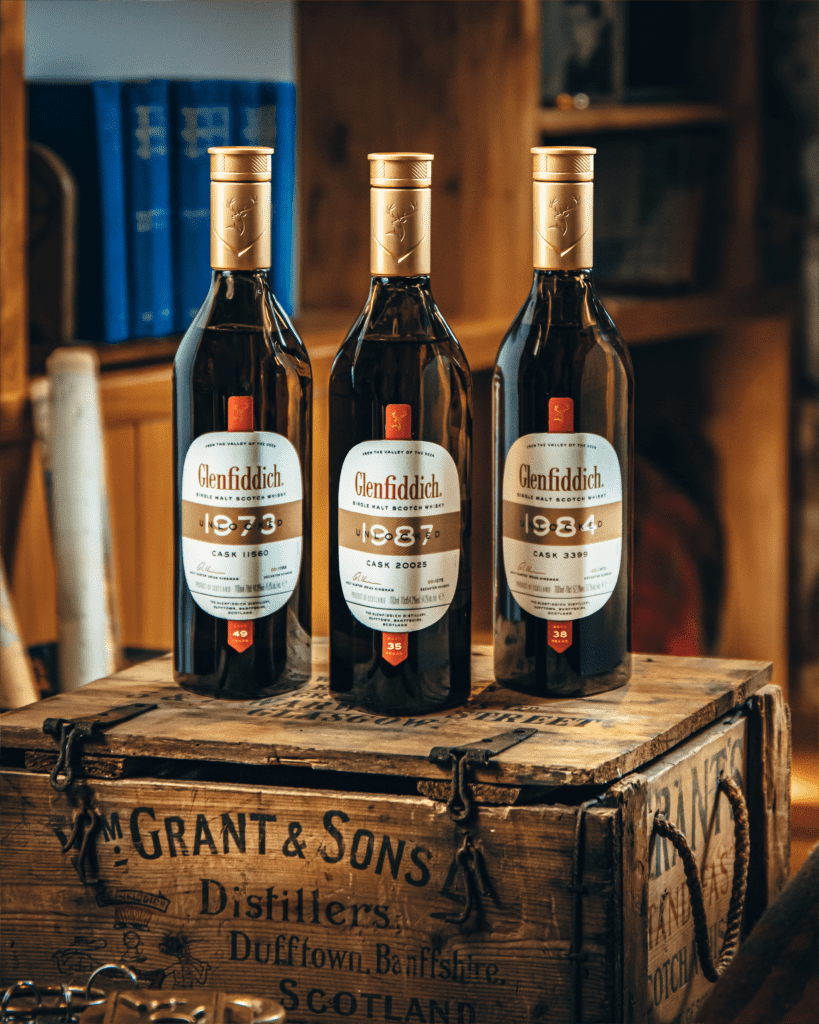 In 2023 a limited number of hand-picked casks will be available in select countries across the world as part of an annual release. The Archive Collection launch consists of three remarkable Single Malt Scotch Whiskies distilled in 1973, 1984 and 1987.
The rarest within the collection is the 1987 Christmas centenary cask; laid down on Christmas Day by the Grant family to celebrate the distillery's 1st Centenary milestone. Only 75 bottles will be produced and these will be exclusively available at the Distillery Boutique in the brand's home, Dufftown.
Brian Kinsman, Glenfiddich Malt Master said:
"The Archive Collection seamlessly bridges the gap between Glenfiddich's spirit of innovation and its rich history, bearing witness to the heritage of craftsmanship, pioneering spirit, and the passing on of knowledge and experience. By releasing hand-picked rare casks we are looking to the foundations of the brand to inform the future. Casks which were laid down long ago, have been allowed to mellow and mature over the decades, are now to be awakened and bottled for the first time, allowing a taste of unrepeatable character.
"Whilst some of our series look to innovative finishes or experimental methods, we have curated the Archive Collection in the knowledge that each bottle from the single cask will be truly unique because of the time it has spent developing; a key element in the whisky making process which may sometimes be overlooked." Claudia Falcone, Glenfiddich Global Brand Director commented:
"They say that good things come to those who wait, and greater treasures come to those who wait longer still. The Archive Collection is a true testament to patience, and a celebration of Glenfiddich's place in history, paying homage to the visionary founder of our Speyside distillery. These three expressions capture the rich heritage that William Grant founded and allow us to share a very special part of our brand's history."
Limited to just a few markets, the Archive Collection will be available from spring 2023 with exclusive releases in China and Taiwan, the UK, and at The Glenfiddich Distillery Boutique in Dufftown.