Another exciting release from one of Scotch's most loved brands, Glenfiddich Snow Phoenix is a remarkable malt.
FINALLY ! I OWN THIS BOTTLE !
Oh man, owning this bottle has been about six years in the making, I have wanted one for AGES but the auction prices were either way too much or the people who promised to help me get one failed to come through… so I'm super chuffed to have finally bought a bottle at a (vaguely) reasonable price at auction – £280.
This remarkable malt has been made and released to commemorate a pretty dramatic moment in Glenfiddich's history. It's not unusual for brands to release a malt and give it something of a back story by using it to remember a moment in the brand's history. Consider how many "Founder's Reserve" expressions exist, and how many are named for distilleries and warehouses.
In fact, Irish whiskey brand Tullamore D.E.W. actual have a Phoenix whiskey themselves, released to commemorate a similar disaster as Glenfiddich; the moment that a fire swept through their distillery and burned it to the ground.
For Glenfiddich, it was not fire but snow that caused havoc in their warehouses. In 2010 after heavy snowfall, the roof of one of their main warehouses completely collapsed, leading to a rather dramatic sight. Snow continued to pour in and the barrels were covered in a dusting of the stuff.
Snow Phoenix is an excellent malt to remember this event with. It is bold and full of crisp, fresh flavours.
The nose begins with big notes of orchard fruits and blossom. The gentle floral flavours add a wonderful depth to the overall aroma. Apples, pears and oak wood make for a fruity start, with a wonderfully sweet vanilla and caramel undertone.
The palate is well rounded and mellow but with plenty of flavours. There is a delicate herbal flavour and a wonderful note of honey. This goes perfectly with the earthy orchard flavours and adds a nice refined edge to it. It is rich and soft, with a slightly warming hint. Behind it all is a luxurious hint of dark coffee and chocolate.
The finish is warming and hearty, with hints of sherry and florals.
Snow Phoenix is a well rounded and sophisticated dram. It is packed with rich flavours that create a perfect harmony from nose to finish. This is a brilliant dram you can enjoy easily but with the highest quality to it.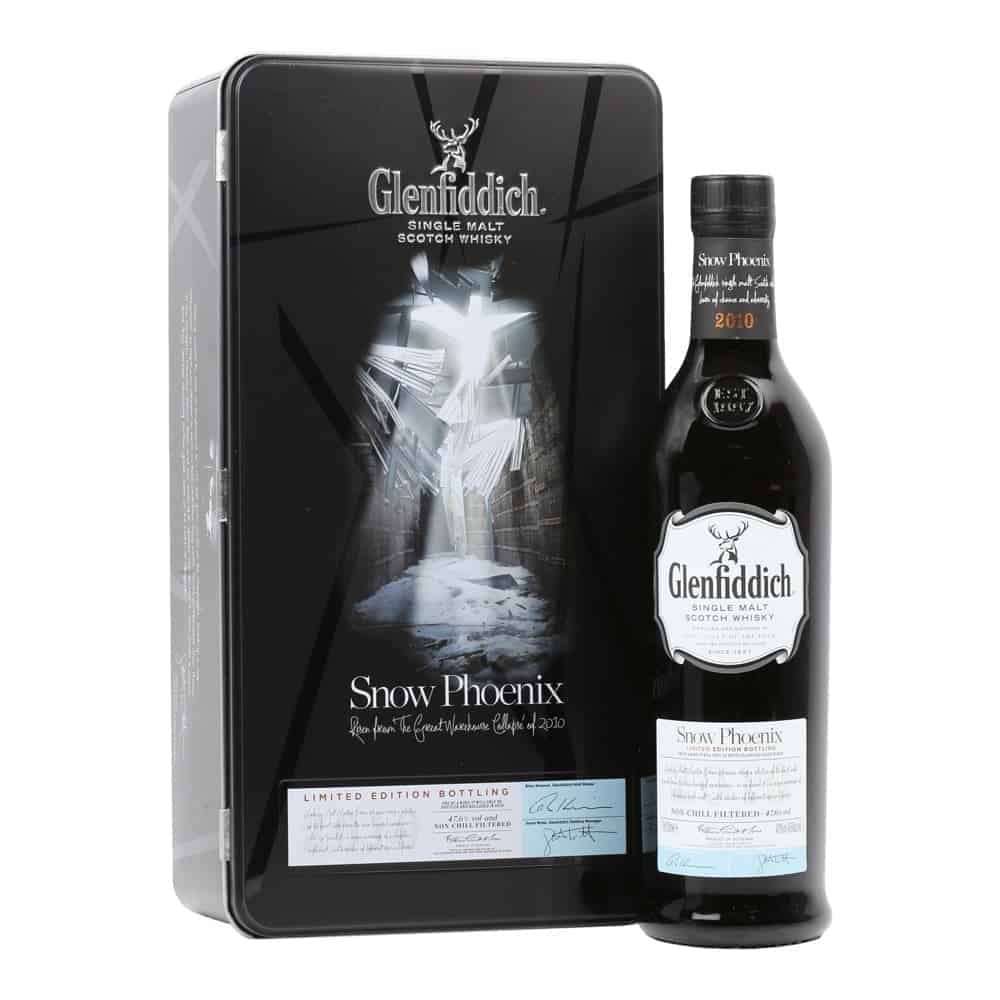 What are your thoughts on Glenfiddich Snow Phoenix Single Malt Scotch? Let us know in the comments.