The Bastion of Northern Irish distilling, Bushmills is centuries old and but all they need is 10 years to make an expert malt.
Bushmills Distillery, on the north coast of Ireland, has been distilling whiskey since before 1608. This is the year they were first granted a license to distil whiskey, meaning they can lay claim to being the oldest licensed distillery in the world.
In the centuries since then, a lot of change has gone on at Bushmills, all for the better of course. They are one of only 3 distilleries in Ireland that was operating in the 1900s. Most recently the distillery was sold to Casa Cuervo by Diageo, who had owned it sine 2005.
They actually swapped the distillery for Casa Cuervo's Don Julio Tequila. That might not have been the smartest move for Diageo, Irish whiskey has boomed since the deal was made. In fact Diageo have returned to the Irish whiskey market with their Roe & Co. Distillery in Dublin.
Since the sale, Bushmills has been doing pretty well. With the big boom in Irish whiskey the market has become more and more saturated and the older brands have had to develop new drams to make themelves better known.
Of course Bushmills has its reputation to help and its old favourites are simply brilliant. Their 10 Year Old is one of those.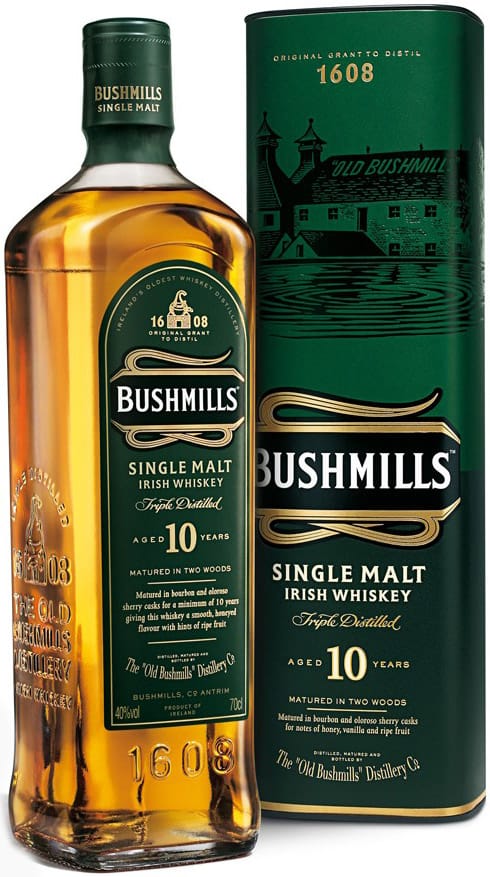 Tasting Notes for Bushmills Distillery Single Malt 10 Year Old Irish Whiskey
Bottle cost: £25.38
Matured in bourbon seasoned casks and sherry barrels, the 10 Year Old opens with a bright and sweet nose. Vanilla, oak wood and honey give it a lovely richness. It has a thick, sugary nose with a lovely earthy quality.
The palate is full of crisp orchard fruits, milk chocolate and more oak wood. There is a hint of cinnamon warmth and warm pastries. Malted grains and honey round it off well.
The finish is full of oak wood and vanilla sweetness.
Bushmills 10 Year Old is a staple in the Irish whiskey line up, and for obvious reasons. Well worth adding to your whiskey cabinet as a solid dram.
Do you enjoy Bushmills whiskey? Let us know your thoughts in the comments!