Known for their experimentation, Bruichladdich have once again created a single malt that throws off trends and looks to create something new.
Ternary – meaning consisting of three parts –is an exploration in taste and quality. Like everything that Bruichladdich do it is focused on the final flavour, and on challenging how things are done.
The distillery, which was first founded in 1881 but established as it is today in 2000, is renowned for innovating with their malts. Being based on Islay means there is stiff competition, with so many other distilleries being based there (and more to come). Bruichladdich have set themselves up as something slightly different. They are a very modern brand that wants to honour tradition but also challenge it and see what else it out there.
With The Ternary Project they are reflecting on a lot of work that has gone on before and bringing together big flavour profiles from the distillery's past. It is a work of magic, combining three malts with three vintages and three different cask types.
In this release, the first in the series, the single malt is made up of a Bruichladdich Single Malt (30%), Port Charlotte Single Malt (40%) and an Octomore Single Malt (30%).
The Bruichladdich has been matured in ex-Bourbon hogsheads and finished in both French Red Wine casks and Pedro Ximenez Sherry casks. The Port Charlotte has also been matured in Sherry casks, this time Oloroso, as well as first fill new oak. Finally, the Octomore has been matured in Sauternes, French Mourvedres, Bourbon, ex-Amarone and Austrian sweet wine casks.
That is a lot of casks! And each one brings its own unique flavour the final malt.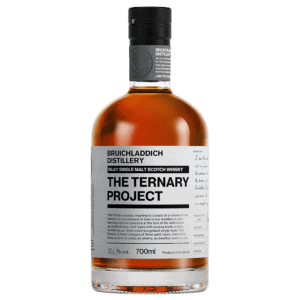 Tasting notes for Bruichladdich The Ternary Project Islay Single Malt Scotch Whisky
Bottle cost: £275
The nose is rich and intense, with dark notes of mahogany, tobacco and dried fruits. Big notes of peat smoke also appear, with sweet vanilla, caramel and chocolate. Citrus fruits and seaside notes round it all together.
The palate is full of peat smoke and oak notes. They resound throughout and help bring out sweeter fruit flavours and some gentle florals. Seaside flavours of salt, iodine and tar appear delicately in the background.
The finish is strong and smoky, with some lovely oak flavours.
The Ternary Project is bound to impress. It is a walk through all of Bruichladdich's endeavours so far and will certainly be enjoyed by fans of the distillery.
Are you a fan of The Ternary? What are your thoughts on the project? Let us know in the comments!