Part of the core range, this Bowmore Darkest 15 Year Old is a wonderful medley of peated sweetness. This bottle was a gift from The Whisky Exchange for Christmas, very kind of them.
Bowmore itself is the oldest distillery on the Isle of Islay (or at least the oldest legal distillery!). Islay is a region of Scotland that is well known for its boldly peated flavour profile.
The distillery has been around since 1779, when it was first founded by James Simpson.
It has been operating almost continuously since then, with only a brief period of silence during World War II, when it was home to the Royal Air Force Coastal Command, particularly their anti-submarine branch.
Today they are flourishing but have close links to their past, especially through maintaining one of the oldest maturation warehouses in Scotland, as well as being one of only six distilleries to still operate a floor malting.
Today it is owned by Morrison Bowmore Distillers, who also own Auchentoshan and Glen Garioch. Morrison Bowmore in turn is owned by Japanese brand Beam Suntory. That's quite a family tree!
They have a core range of five Whiskies, aged from 12 to 25 years and headed up by a new, no age statement release titled No. 1.
Their Bowmore Darkest 15 Year Old is a brilliant example of how good they are at crafting malt that captures the spirit of Islay but does not allow itself to be overwhelmed by smoke.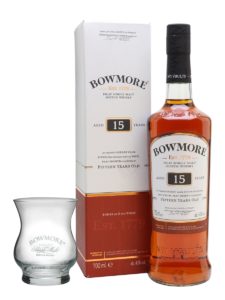 Bottle cost: £54.95
It has won a Gold medal at the 2017 International Wine and Spirits Awards, as well as two silver from the International Spirits Challenge and the San Francisco World Spirits Competition.
This malt has been matured in ex-Bourbon casks before being transferred in oloroso sherry casks to finish for three years.
The nose opens with brilliantly bitter dark chocolate and cigar smoke. It packs quite a punch from the get go.
There are chewy dried fruits here as well, that you just can't wait to sink your teeth into. Every inch of it is sweet with vanilla and caramel and has a subtle waft of peat.
The palate is booming with more dried fruits and smoke. Raisins, dates, apricots and even a hint of pineapple all appear. There is a lovely liveliness to this dram.
The smoke is soft and thick, with lots of peat to it. there is a hint of salty sea ai in the background, with little flecks of iodine in it.
The caramel becomes thicker and chewier, giving the mouth feel a really smooth feel. There is also a warming feeling that is layered with cinnamon and nutmeg spice.
The finish is tough, with big notes of smoke and sweet vanilla.
This is an excellent malt that captures so much that is key to the flavour profile of Islay. An ideal malt for both Islay lovers as well as haters.
What are your thoughts? Leave a comment below and let's have a chat!