A History of Boone County
Boone County in Kentucky is very rural and very beautiful. It is also the homeplace of some great distilleries, including Boone County Distillery where Boone County 12 Year Old is made. The first Boone County Distillery was started way back in 1833 by William Snyder and became massively popular.
Today, the brand chooses to honour his contribution to distilling by creating a brilliant Bourbon and naming it Boone County. It was first opened in 2015 and they have quite a line up for being so young. This includes two white Whiskies and three barrel aged Bourbons.
Boone County 12 Year Old Kentucky Straight Bourbon
This particular expression is wonderfully sweet.
It might seem a bit implausible that a 4 year old distillery would be able to produce a 12 Year Old Bourbon, but this Whisky was distilled at Seagram's Distillery in Louisville.
This Bourbon has a mashbill of 75% corn, 21% rye and 4% malted barley, giving it a sweet flavour profile.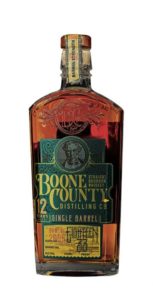 Tasting notes for Boone County 12 Year Old Kentucky Straight Bourbon
The nose begins with thick treacle and caramel, with lots of woody vanilla and cinnamon spice.
The flavours are well rounded and are joined by a tangy orange peel and hints of other citrus fruits.
The palate is chewy and dense, with big, bold sweet notes of caramel, vanilla and butterscotch.
The butterscotch really takes over and is lovely and rich. It is complemented by smoky notes that bring the charcoal flavours of the barrel out really well.
Vanilla, oak wood and spice take over. The heat of the spices makes the smoke come to life. Subtle hints of cherry and blackcurrants add some depth and zest.
The finish lingers on dark fruits and vanilla with creamy caramel. The sweetness is slightly overwhelming at points, but this is still a great Bourbon.
Boone County are not as well known as some of their Kentucky counterparts, but having produced excellent Whiskies like their Boone County 12 Year Old within a few years of opening, there is a lot of promise of what's to come.
What are your thoughts? Leave a comment below and let's have a chat!