Ballantine's 17 Year Old blend, a stunner from one of the biggest brands in Europe and across this globe, this is a brilliant blend that should be key to your collection.
Established in 1827 in a similar fashion to many brands of Scotch, including Johnnie Walker and Dewar's, Ballantine's started out life in a grocery store. Ballantine's continued to garner interest and became very successful over the next few decades, even counting Hindu Royal Family as customers.
Our own Royal Family also honoured the brand when Queen Victoria granted them a Royal Warrant. They first blended their flagship expression, Finest, in 1910. It has been selling ever since and still uses the same recipe.
Today the brand is owned by Pernod Ricard and has picked up many accolades in its time, including being the number 1 selling Scotch blend in Europe, and being second only to Johnnie Walker in the world.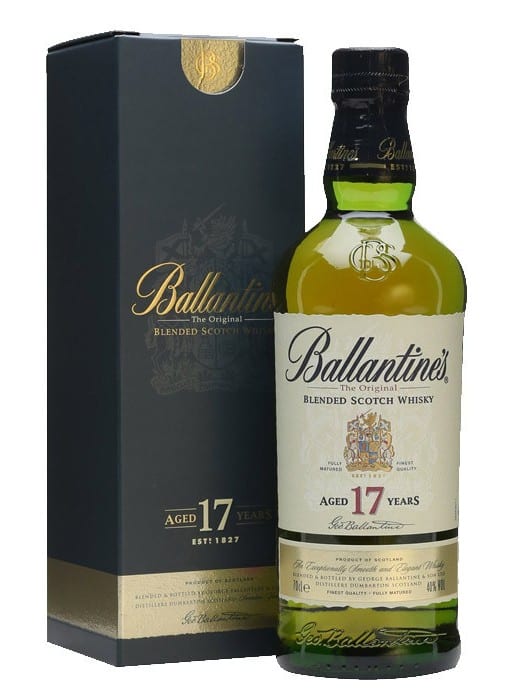 The Ballantine's 17 Year Old Blend
Bottle cost: £57.95
Ballantine's has core range that consists of a really great range of expressions. Taking a closer look at their Ballantine's 17 Year Old, we can see just why they are so popular.
This dram is packed with flavour and opens with a nose of sweet caramel, vanilla and wooded notes. There is also a delicate smoky note that wafts through and mingles really well with the sweeter notes. It is dull and reassuring, giving the brighter flavours a backboard to bounce off.
The palate is elegantly sweet. Caramel, vanilla and big notes of honey take over. These give it a smooth and mellow mouth feel as well. The honey is earthy and thick, with a really lovely orchard flavour to it. it ties in well with oak flavours and a little hint of spice that also appears.
There is a dash of cinnamon and nutmeg that combine everything together and give a lovely warming sensation to the smoke.
The finish is long and lingering with caramel and smoke.
This is an excellent expression from a well known and well loved brand. You should have it in your drinks cabinet as a staple of the blended genre.
You can watch my YouTube review below:
What are your thoughts on Ballantine's 17 Year Old? Leave a comment below and let's have a chat!