As we head into winter and the days get shorter, one thing is certain; cheese knives around the country will be dusted off for the forthcoming seasonal indulgence. Before you reach for your favourite bottle of plonk, however, it could be time for a change.
The award-winning Scotch whisky producer, Isle of Arran Distillers have produced three cask matured whiskies which will liven up any cheese board.
First up is the bold Arran Malt Port Finish (£42.99). After initially maturing in traditional oak casks for approximately eight years, The Arran Single Malt is finished in a selection of Port casks sourced from an artisan producer of the Portuguese fortified wine.
The end result is a Single Malt full of charm, complexity and quality. Left to rest amongst the rich flavours of the Port-infused oak cask, this scotch is packed full of the wintery tastes of cinnamon, baked apples and plums – ideal for Christmas parties.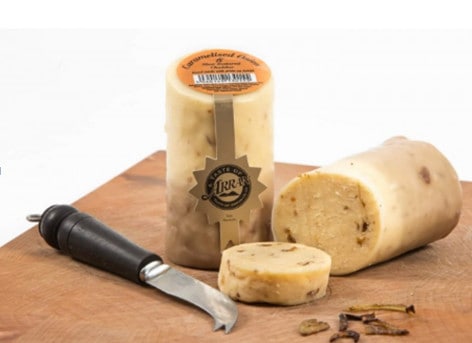 And it is the perfect bedfellow for thestrong, yet sweet flavoured Caramelised Onion Cheese (£4.50), produced by the distillery's neighbours; The Island Cheese Company. This slow matured Scottish Cheddar is combined with Arran Fine Foods' Caramelised Onion. Its sweetness balances the rich fruity full flavoured Port Cask Finish.
The room falls silent as the dangerously drinkable Amarone Cask Finish(£42.99) enters the festivities. As the name suggests, this offering sees Arran's Single Malt soaking up the characteristics of thefull bodied Italian red, made using partially dried Corvina grapes, Rondinella grapes and Molinara.
An altogether sweeter partner, it compliments Arran's inherently citrusy taste and therefore is in need of a cheese that packs a hint of sharpness. Time for a taste ofCrushed Stem GingerFlavoured Cheddar (£4.50). The nip of ginger in this slow matured cheeseis just enough to balance the light and fruity Amarone flavours.
Prefer a lighter dram? Introducing the Arran Malt Sauternes Finish (£42.99). Aged with thelegendary Bordeaux sweet white wine it has an initial hint of acacia honey, which then opens up to apricots, bananas and pears.
A dessert in a glass, with a floral elegance. You'llneed a bolder cheese to take on theever so delicatehoneyed sweetness.Oak Smoked Cheddar provides that balance. A deliciously creamy cheddar,smoked slowly over oak whisky barrel shavings, it packs the punch needed to compliment the fruity sweetness in the Sauternes Finish Single Malt.
James McTaggart, Arran's Master Distiller, said: "We're really proud of the results of our whisky which is married with wine casks. Whisky purists should rest assured,as we always closely monitor the secondary maturation process, to ensure the perfect balance is struck between the casks and the intrinsic sweet-fruity character of The Arran Malt."
For something extra why not try a taste of a cheese inspired by the Arran Malt itself? Infused with the Arran Lochranza Reserve, the Arran Whisky Cheddar (£4) shares the fresh and light tones of dram itself.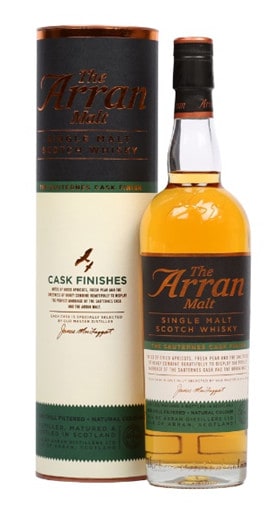 Arran Whisky is available from arranwhisky.com and at independent whisky retailers. For Arran Cheeses, visit www.arranscheeseshop.co.uk