One of the smokiest Highland malts available, this is a dram with lots of character.
Hailing from the Knockdhu Distillery, the AnCnoc (pronounced a-knock) brand was created in 1994 so as not to cause confusion with the Knockando Distillery.
The Knockdhu Distillery itself has been around since 1894 and sits on the border between the Speyside and Highland Whisky regions.
It was founded when John Morrison, who owned the Knock Estate, discovered the high quality of the water that ran through the estate.
The estate already had lots of peat and barley, so with the new addition of the water, it made sense to start a Whisky distillery.
These days Knockdhu is owned by Inver House Distillers, who made the decision to change the name of the malt produced there in 1994.
The malt produced by Knockdhu tends to be light and sweet, with a delicate floral taste and lots of citrus.
Peatheart changes all that and brings in a bold peaty flavour to rival even Islay malts. It is peated to 40 ppm (Parts Per Million), inching towards Islay expressions that tend to be upwards of 55ppm.
This is the smokiest malt available from AnCnoc and is the last in their Peaty Collection, a series of limited editions released to celebrate all things peat related.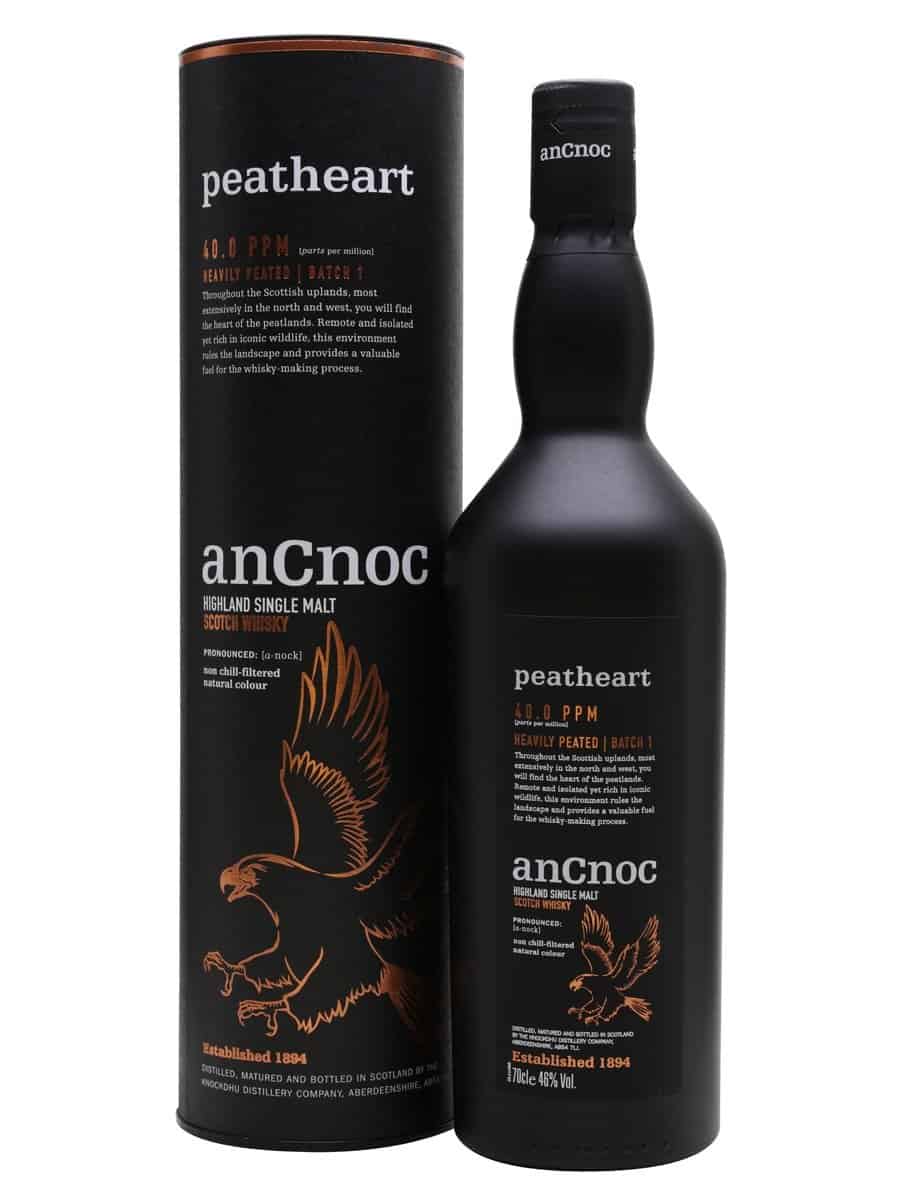 Bottle cost: £51.95
Unlike the others in the collection, Peatheart will become a permanent part of the AnCnoc range.
This malt brings together the classic fruit flavours and light body of AnCnoc expressions and pairs them with a rich peat smoke.
The nose opens with lots of orchard fruits and citrus notes. It is packed with apples, pears, apricots, oranges and limes.
These are sweet and juicy, with big, bold flavours that get right under the smoke.
The peat is thick and pungent from the beginning but really reveals itself on the palate. Here it takes over and has lots earthy notes.
The citrus fruits also appear, with more tang and zest. They bounce of the peat and really bring it to life.
There is a warming sense to this malt, with a little hint of vanilla and oak wood in it.
The finish is strong, with lots more peat and fresh green apples.
This is a remarkable malt from a Highland distillery that offers up a pretty good challenge to the reigning peated malts from Islay. Not to be missed.
This bottle was sent to me by the brand, but my views and thoughts remain impartial. 
What are your thoughts? Leave a comment below and let's have a chat!