Innovative and fresh, the Amrut Naarangi signals the continuation of a theme from the leading Indian distillery.
Amrut
 are one of the leading distilleries in India. The name means nectar of gods and with a malt this good, it is easy to see why.
They were first formed in 1948 when they were set up by Shri J.N. Radhakrishna. The company has remained in the hands of the same family since its inception. They soon grew and became a major supplier to the Indian military. Over the ensuing decades, they also added Rum and Brandy to their portfolio.
The brand grew and became one of the most popular in India itself. Then in 2004, Rick Jagdale, the grandson of Shri J.N. Radhakrishna, started an MBA in the UK.
Part of his dissertation was to introduce Amrut malt to UK audience and observe their response. It went pretty well, and the brand was launched in Glasgow in 2004.
The brand stormed the market in the UK and impressed consumers and critics alike. The high point of their success was probably in 2010, when Amrut Fusion was crowned 3rd best Whisky in the world by Jim Murray.
The Amrut Naarangi Single Malt Whisky
Amrut Naarangi has been matured like no other malt. it is a testament to the innovation at Amrut.
The casks used were first filled with oloroso sherry, matured wine and orange peels. This was allowed to rest for 3 years before the casks were emptied and refilled with Amrut malt that was already around 3 or 4 years old. It was allowed to finish for a further 3 years.
This makes for a wonderfully spicy and sweet dram.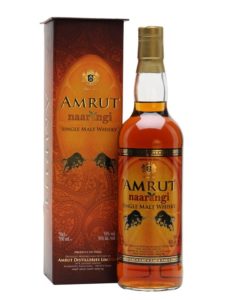 Tasting notes for the Amrut Naarangi Single Malt Whisky
Bottle cost: £104.17
The nose opens with lots of oak wood and spices. It is warming and gentle, with an excellent note of citrus fruit. Oranges and limes come out with a thick stream of soft caramel. The oak is rich and well developed.
The palate is bold, with more citrus notes and lots of heat. Cinnamon and cloves are bright and punchy, giving a lovely warmth. More oranges with a hint of vanilla and hazelnut add a great depth and elegance to the overall flavour.
The wood really takes over and livens up this dram. It is smooth and sweet, with a slightly spicy vanilla note.
The finish is long and lingering, with lots more citrus and sweetness.
Not a dram to be missed, Naarangi is an exciting development from Amrut that certainly showcases the best they have to offer.
What do you think of the Amrut Naarangi? Let us know in the comments!