Want to warm up with a whisky this autumn? Why not spice your dram up with our top 5 whisky cocktails for Autumn? We've created a list that will bring together the heat of summer with the crispness of Autumn. You'll wonder why you ever wished it was July again. Even when it's raining.
Nothing beats an Old Fashioned, at any time of year. It's been about since the 1800s so clearly it's doing something right. We love it for its simplicity and ease. You don't have to be in a trendy bar to enjoy an Old Fashioned, you can throw it together in your kitchen and still make the best drink you've ever had. We've gone with Auchentoshan for its light bodied malts, but feel free to add your favourite tipple!
Recipe:
60ml Auchentoshan Scotch whisky
3 dashes Angostura Bitters
1 Sugar Cube
Soda water (optional)
Poured over ice
Orange peel to garnish
While many might think that the Mint Julep is the perfect cocktail for summertime, we beg to differ. Pour in some of your finest lightly peated Scotch (not the traditional spirit used but who's going to argue) and you have the best autumn cocktail. Popularised during the 1920s, the Mint Julep is a standard at any Great Gatsby themed party. Lightly peated Scotch will allow the freshness of the mint and the sweetness of the sugar to create the perfect flavour.
Recipe:
Mint Leaves
2 sugar cubes
90mlTomatin Cu Bocan Scotch Whisky
Mint Sprig to garnish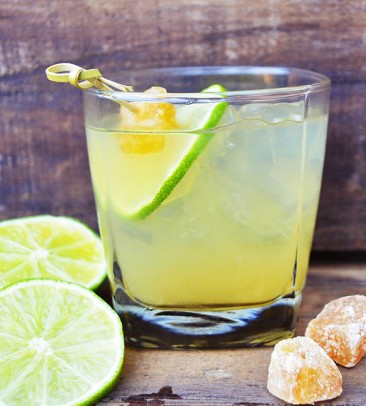 A wonderful mix of lemon, honey and whisky, this is a cocktail everyone can enjoy. It is wonderful for autumnal days watching the leaves coming off trees. Again, we recommend peated scotch for this one as it is the best flavour alongside the tartness of the lemon and the sweet richness of the honey.
Recipe:
60ml  Talisker Dark Storm Scotch Whisky
2 tbsp Fresh Lemon Juice
2 tbsp Honey
Ginger or lemon to garnish
This is the perfect cocktail for when those winter blues start to feel like they're creeping in faster. It's also supposed to be restorative, but we can't guarantee it'll fix you up better than cold and flu medicine, although it definitely tastes better. It's similar to a Penicillin, but its served warm and this recipe has a kick of Sriracha for added warmth
Recipe:
½ tbspSriracha
1 tbsp Lemon Juice
2 tbsp Honey
200ml Water
60ml Bushmills Whisky
Having lasted since the 1930s and made it through Prohibition, the Rusty Nail is somewhat of a classic. It's made with Drambuie, a Scotch Whisky Liqueur with lots of honey and herbal notes. Again, this will wrap you up warmly for all those cold Autumn nights.
Recipe:
60mlBallantine's Blended Scotch Whisky
15ml Drambuie
1 dash Angostura Bitters (optional)
Lemon twist to garnish
What are your thoughts? Leave a comment below and let's have a chat!