There are some familiar names in this latest round-up, meaning a number of brands have managed to sustain their impressive trajectory for yet another year.
Having loitered around the million-­case line for two years, Don Julio Tequila zoomed over the threshold in 2017, while Black & White Scotch comfortably hopped over the 2m­-case barrier with room to spare.
Brand owner Diageo also had success with Tanqueray – the group previously announced its intention to grow the brand in the US – and White Horse Scotch.
While the fastest­-growing spirits brands span all types of categories, price points and geographies, most seem to be smaller-­scale – at least among the ranks of million-­case brands.
2017: 1.5m
2016: 1.3m
% change: 15.4%
Returning to growth last year was Diageo-owned Scotch whisky brand White Horse. The brand, which previously featured on our fastest-declining list, increased by 15.4% to reach 1.6m cases – its highest growth in five years.
The historic brand that boasts Lagavulin as one of its key components sits within Diageo's lower-priced Scotch brands.
2017: 1.6m
2016: 1.4m
% change: 15.7%
Fabrica de Alcoholes y Licores de Antioquia-­owned brand Ron Medellin achieved impressive double-­digit growth of 15.7%.
Made in Colombia, Ron Medellin is predominantly consumed in Latin America. Its core range consists of a 12- and an eight-year-old expression.
2017: 3.5m
2016: 3.0m
% change: 16.7%
Diageo-owned Tanqueray gin experienced rapid growth in 2017, notching up 16.7% to 3.5m cases – the fastest growth rate for any gin among our million-case brands.
In the six months to 31 December 2017, Tanqueray grew by double-digits, bolstered by sales in Europe. The brand also drove category growth in Brazil and Mexico. As part of Diageo's plan to increase Tanqueray's presence in the US, the drinks giant teamed up with Snoop Dogg to appoint 10 key "influencers" called The Tanqueray Ten.
2017: 19.5m
2016: 16.6m
% change: 17.5%
The world's best-selling rum brand, Tanduay, achieved huge growth in 2017 to reach 19.5m cases. The Philippine rum brand overtook Bacardi in the volume stakes with an impressive increase of 17.5% – the most of any rum brand among the million-case sellers.
Tanduay rum signed a multi-year partnership to become the official rum sponsor of US basketball team the Brooklyn Nets in April last year. The deal comes as Tanduay looks to boost its business in the US.
2017: 4.0m
2016: 3.4m
% change: 17.6%
Our Speciality Spirits Brand Champion for the second year in a row, Aperol, broke the 4m case barrier last year. The brand, which grew by 17.6%, also contributed substantially to the full-year growth for parent firm Gruppo Campari.
"The potential for growth is very huge," Andrea Neri, Gruppo Campari's managing director of Italian icons told The Spirits Business. "The brand's expansion has been helped by a global consumer trend of easy low-alcoholic drinking."
2017: 7.0m
2016: 5.7m
% change: 24.2%
Radico Khaitan's 8pm had a good year in 2017, posting 24.2% gains. Hitting the 7m case-mark for the first time, the brand's new 180ml Tetra-Pak format helped to boost its growth. The packaging increased the product's reach through "efficient logistics and enhanced distribution".
2017: 2.4m
2016: 1.8m
% change: 33.3%
Exceeding sales of 2m cases for the first time was Diageo's Black & White Scotch whisky brand – our Scotch Whisky Brand Champion 2018 – with a huge 33.3% increase.
"Black & White has doubled in size in five years, and we can attribute this to our strategic mix of brand building and strong commercial planning, as well as ongoing collaboration with our market teams," says Bruno Scaranello, global marketing manager, Diageo primary Scotch. "We've run communications in every market, from out­-of­-home to point­-of-­sale visibility; communicating the smoothness and quality of our Scotch whisky led to consumer trial and sales."

2017: 1.4m
2016: 0.9m
% change: 54.4%
Stock Spirits Group's Prestige vodka brand showed the second fastest growth rate of any million-case spirit brand last year, prompting The Spirits Business to name it Vodka Brand Champion 2018. The brand witnessed an impressive 54.5% increase to exceed sales of 1m cases.
Richard Hayes, group sales and marketing director at Stock Spirits, told The Spirits Business: "Prestige's growth has been driven by sustained, consistent awareness and trial­-building. This is converting an increasing number of consumers who have ever tried the brand into regular drinkers overtime."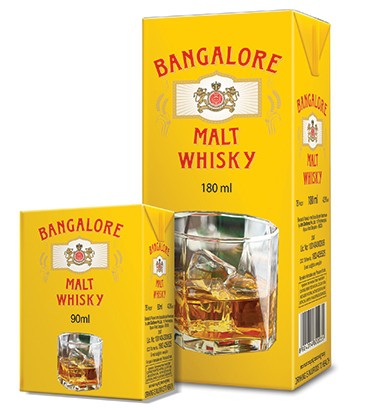 2017: 3.5m
2016: 2.1m
% change: 69.8%
Bangalore Malt Whisky was the fastest­-growing million-­case-plus spirit brand in 2017 – the second consecutive time it has clinched the title – with enormous gains of almost 70%. The Indian whisky's volumes have grown from 100,000 cases in 2013 to 3.5m a mere four years later.
Owned by John Distilleries, Bangalore has executed a plan for national expansion in its domestic market over recent years, and its potential has not gone unnoticed by international drinks groups. Last October, US-­based Sazerac bought an equity stake in John Distilleries for an undisclosed sum.