Bringing distilling back to Long Island, Rough Rider Bourbon is a part of the Long Island Spirits Family.
Long Island Spirits have been open since 2007, but their vision goes back a lot longer than that. Rough Rider Bourbon is a brand within the company.
There hasn't been a distillery on Long Island since the 1800s and is a deeply American brand.
The barns that house the machinery were originally built in the early 1900s by Polish immigrants, who changed their name from Palumbus to Columbus to sound more American.
Eventually the family lost their money and success and the barns fell into disrepair. The land around the buildings were worked on by local farmers for years later, and it wasn't until 2006 that Long Island Spirits were able to restore the barns and bring them back into use.
The distillery is surrounded by potato farms and is incredibly proud of their rural, family heritage.
Rough Rider Double Casked Straight Bourbon
Long Island Spirits do a wide range of products and one brand that falls under their umbrella is Rough Rider Bourbon. It is named for the Rough Riders, a group of volunteer cavalry men who worked for Teddy Roosevelt.
Part of a recent movement of Bourbons, which also includes Angel's Envy, that have been finished in casks once containing wines, this Whisky has been matured in new American oak casks before being finished in French oak Brandy casks.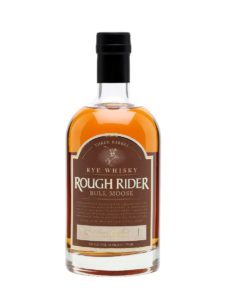 Tasting notes for Rough Rider Double Casked Straight Bourbon
Bottle cost: £59.95
The nose begins with lots of spice and sweetness. Cinnamon buns, nutmeg and cloves, creamy caramel and rich vanilla all combine to make a really good start.
Citrus fruits with some apples and pears also appear, adding a nice crisp edge.
The palate brings in notes of oak wood, sweet nuts, dried fruits and apricots. It is chewy and smooth and the caramel adds a lovely gentle texture. The fruits are really excellent and go well with the sugary notes. The spices also bring in some warmth that sits perfectly with the caramel and vanilla.
The finish is long and drawn out, with lots more oak wood and cinnamon. It round off perfectly.
Rough Rider Bourbon is a brilliant Bourbon and the double casking works well with the flavour profile. The fruits and spices of the brandy complement the sweetness of the Bourbon in the best way.
What are your thoughts? Leave a comment below and let's have a chat!