New collection includes the unveiling of the first Jameson single pot still whiskey in decades available via two online ballots
This week saw Greg head to Dublin for the launch of The Jameson Anthology, a curated collection of unique limited-edition Irish whiskeys from the whiskey makers at Midleton Distillery – each release will draw inspiration from the past as well as thinking around the new.
Jameson Remastered, the first volume within The Jameson Anthology, celebrates the spirit of classic discontinued whiskeys, by reinventing them with modern techniques to deliver a new taste experience. The soon to be released second volume, Jameson Remixed, meanwhile will explore and experiment with new tunes from Jameson for an altogether different take on the classic Irish icon.
Jameson 15 Year Old Single Pot Still, the first release within the Jameson Remastered Volume, is a reinvention of a much loved classic which was last produced in 2000 as a limited edition offering. This IWSC Gold award-winning liquid is composed of three exceptional whiskey styles, spanning 15 to 17 years of maturation in carefully selected American bourbon barrels and Oloroso sherry butts. This single pot still whiskey raises a glass to history by featuring a significant contribution of sherry casks, paying tribute to traditional whiskey making in Bow Street Distillery.
At the launch we were treated to a deconstructed whiskey tasting, whereby we went through all three components to the final blend. 
Each shows the character of the three types of single pot still that is produced at the Midleton distillery, exemplifying the distillation curve – the lighter style comes from the centre cut, where the medium and heavier style comes from later cut. The later you cut the spirit and extract it from the distillate, this also creates less volatility and less reflux too through steam control in the still…
The types of distillate are: 
Lighter
Medium
Traditional pot
Tasting component one
B1 cask @ 58.9% ABV, 15 Year Old 
Lighter style
On the nose were waves of honey, pineapple, toasted oak, citrus peel, oriental spices, the palate was so deceptively smooth given the ABV, super easy drinking, fruity, lemony, white pepper spice, orange marmalade note with a medium spice finish – mouthwateringly good… wonder if they will release a deconstructed set? Please… 
Tasting component two
First fill ex-bourbon cask @ 56.9% ABV, 15 Year Old
Midleton malt pot medium distillate
The nose on sample two was full of green apples, vanilla, caramel, black peppercorn notes with a palate full of ginger spice, orange fruitiness, vanilla and a much bigger spice character… delightfully spicy finish… 
Tasting component three
Oloroso Jerez Sherry casks  @ 54.2% ABV, 17 Year Old
Traditional pot 
This one was all about a nose of dried fruit, raisins, figs, creaminess… the palate was much lighter than nose, relatively fresh, long lingering spice finish with winter spice and fruit notes. 
Interestingly, IDL had 47k barrels in 1971, 30% Sherry, 25% wine barrels from Europe then bourbon – hence why this is a Sherry driven blend as it makes sense to relate it to original blends which were Sherry cask heavy… over 50% of the 15 Year Old final release is the 17 Year Old Sherry component.  
Tasting the final version of the Jameson 15 Year Old 
56.4% ABV €300 50cl – available through two ballots from April 4th. 
The nose has a big sherry character as you might expect, the trad pot nuttiness raisin, super fruity… the palate was impossibly smooth, tropical, toffee, dates, juicy… man alive it is good… punchy both in flavour and strength, but also in price given the allocation of 2,220 bottles and the €300 price tag but it is an exceptional whiskey that I truly hope I get to try again. 
Kevin O'Gorman, Master Distiller of the Year 2022. by the way, takes guardianship of the new release in which he combined the original distilling methods with modern-day techniques, whilst retaining a clear reference to Jameson's unmistakably smooth DNA.
The distinctive packaging of Jameson 15 Year Old Single Pot Still is designed to appeal to the nostalgia of Jameson, with nods to the past and the present. The bottle is wrapped in newspaper, with one side uncovering Jameson's heritage and the other marking the present day and comes in recyclable honeycomb cardboard packaging.
Master Distiller Kevin O'Gorman comments: "It's been more than two decades since the last Jameson 15 Year Old was created and it has been a great opportunity to remaster this classic whiskey.
"For this limited-edition bottling, we seized the opportunity to combine the traditional single pot still style with the strong influence of the sherry casks, which was integral to historic whiskey production. We're confident to have developed a contemporary iteration of Jameson 15 Year Old that pays tribute to the torch bearers who put Irish whiskey on the map, whilst nodding to the current generation of talented crafts people at Midleton Distillery. We can't wait for Jameson fans to sip, savour and enjoy it to the very last drop."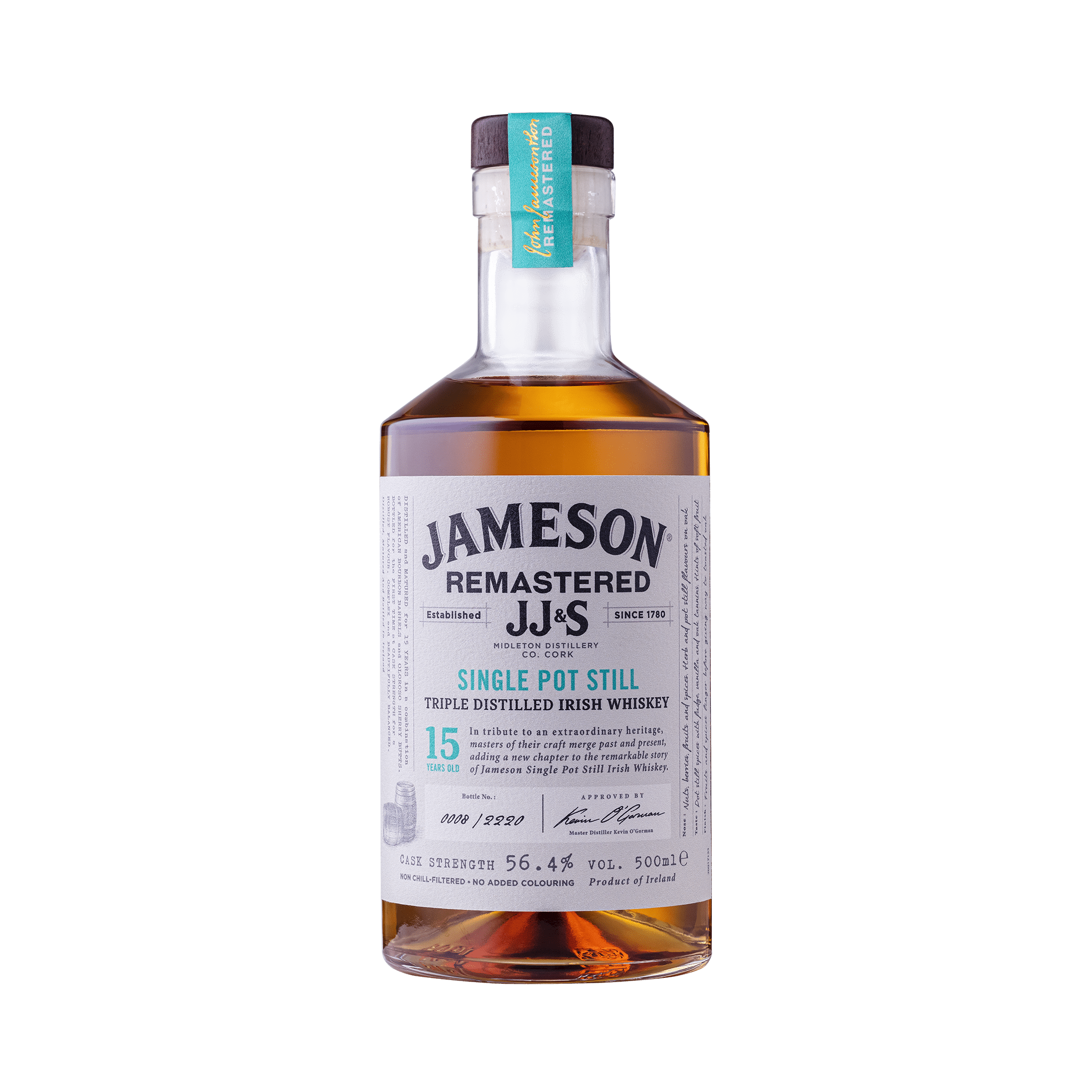 Blender Deirdre O'Carroll adds: "It has been a pleasure and a privilege to work with the team to bring Jameson fans a new 15 Year Oldthat has been remastered for the modern day. The inclusion of the sherry casks creates incredibly rich flavours and an extra-long fusion of fruits and spices, in line with traditional pot still flavours that are known and loved. We're looking forward to continuing to delight fans with more to come within The Jameson Anthology, which we hope will be music to whiskey fans' ears."
Bottled at an ABV of 56.4%, Jameson 15 Year Old Single Pot Still comes in a 500ml bottle and will retail at €300 with a limited quantity of 2,220 bottles available through two online ballots.
The first ballot will open to members of Barrel Club Midleton Distillery at 9am Irish Saving Time (IST) on Monday 4th April and the second ballot will open to all other whiskey fans at 2pm (IST) on Friday 8th April. 
For the chance to get your hands on this unique bottle of Jameson 15 Year Old and to enter the ballot, visit https://www.jamesonwhiskey.com/en/our-whiskey/jameson-15-year-old-single-pot-still/ballot and sign up.