There is no denying that Italy does things right. Whether its holidays, fine dining or wine, the Italians are doing it how it should be done. One question we're going to answer today remains however, what about their whisky?
The Ebensperger family not only started the first Italian whisky distillery, but they actually built it themselves. Albrecht Ebensperger is a builder by trade and so when the idea came to him to start a distillery, it made sense that he would lay the foundations himself.
That was in 2010, when PUNI was first created. The distillery sits just outside the town of Glorenza, based in the Venosta Valley. Here the Puni River runs as well, which is where the distillery gets its name.
The distillery itself is quite striking architecturally. It is cube shaped and made from red bricks, giving it an excellent contrast against the bright blue sky and its incredible natural surroundings.
Everything about PUNI is cutting edge in design. From the building to the bottles, everything is modern with sharp edges and neat lines. It is stunning in how it looks, but the real question is about the malt.
PUNI has a wide range of exciting Italian malts, each with a different maturation profile. The hot climate in Italy gives it a great environment for maturing malt, where it will take a lot less time than in colder places like Scotland and Ireland.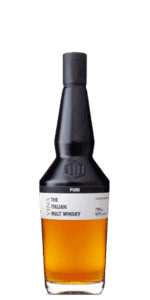 Tasting notes for PUNI Vina Italian Single Malt Whisky
Bottle cost: 54,90€
The PUNI Vina expression has been matured in Marsala Vergine red wine casks for 5 years.
The nose starts off with notes of dried fruit and sweet nuts. It is slightly sweet and there is a hint of malted grains as well. Oak wood is subtle in the background.
The palate is rich and full of dark fruits, oranges and tart summer berries. Cherries, almonds and pecans give it a lovely contrasting quality. The citrus fruits are soft and mellow, going well with the sweeter flavours. It is delicately warming.
The finish is strong and lingers on dried fruit flavours.
PUNI is a truly interesting and intriguing brand. They create high quality malt and stand out from the crowd with their excellent use of design. For Italy's first whisky distillery, they are certainly doing things right.
What are your thoughts on PUNI Vina Single Malt Italian Whisky? Let us know your thoughts in the comments!